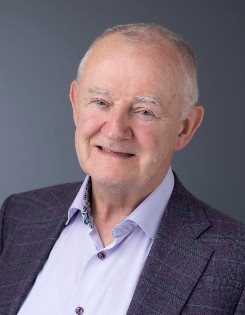 UCD Alumni Award in Health and Agricultural Sciences 2022
MVB 1970
Michael H. Burke is the Founder and Executive Chairman of Chanelle Pharma, Ireland's largest indigenous manufacturer of generic pharmaceutical products.
Headquartered in Loughrea Co. Galway, Chanelle Pharma is a trusted partner to 10 of the top 12 global human generic and animal health multinationals.
The company exports to over 90 countries with key markets in Europe, Australia, New Zealand, Japan, South Africa, Canada, the Middle East and the USA.
Chanelle Pharma employs over 600 people on a 350,000 square foot site which includes, three manufacturing plants and four research and development centres. The company has a fifth research and development centre in Amman Jordan, along with sales offices in the UK and India.
2020 marked a gamechanger for Chanelle Pharma as the company secured FDA approval for Europe's first dedicated Spot On Manufacturing Facility. The company has grown organically every year since it was formed in 1985 and today has sales worth over €150 million.