Cormac Kilty
UCD Alumni Award in Science
BSc 1975, PhD 1985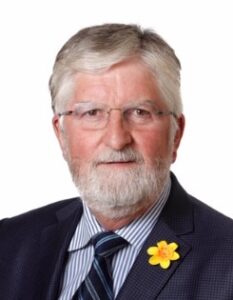 Cormac is a biotech entrepreneur, manages a biotech investment portfolio and is involved with two angel investment groups in Ireland. He was the founder of Biotrin, a virology diagnostics company, and Argutus Medical, and is currently Adjunct Associate Professor of Medicine and Medicinal Chemistry at UCD.
Dr Cormac Kilty who was born in Cork and following his early education in Cork moved to Dublin where he attended CBC Monkstown.
Dr Kilty next attended UCD to study science where he reached two milestones, obtaining his BSc degree and meeting his future wife, Anne. He subsequently went on to obtain a PhD in Zoology and Biochemistry from University College Dublin, Ireland.
Dr. Kilty has carried out post-doctoral research in protein chemistry and immunology at the University of Texas at Austin and at University College Dublin.
His subsequent career exemplifies that of the rare individual with a passion for science married to keen business acumen. It is often said that scientists and doctors make poor businessmen and managers, Dr Kilty has proven that is not the case.
He joined the Diagnostics Division of Baxter Healthcare in 1986 and served as the Head of their European Research and Development group in Switzerland from 1987 to 1991.
He was founder and CEO of Biotrin Technologies Ltd. in Dublin from 1992-08, founder and past Chairman of Opsona Theraputics, Dublin 2004-09 and founder and CEO of Argutus Medical, specialising in the development of novel biomarkers of kidney damage. He is the founder and recent past Chair of the Irish BioIndustry Association.
More recently he has served as the Chief Technical Officer of EKF Diagnostics and a Director of Nexvet Bioparma.
He was a previous Director of NovaUCD and has received a number of prestigious awards over his career including the Biolink Life Science Achievement Award which was presented to him by Mary McAleese in 2007.
Despite the successful career in biotechnology he has maintained strong links with UCD. Dr Kilty represents all that we strive for in research excellence and innovation. He is Adjunct Associate Professor of Medicine and Medicinal Chemistry at UCD, and also has strong ties to UCD hockey having served as its President since 1998.
In December 2013 Dr Kilty received an Honorary degree of Doctor of Science from UCD.