Jack McCaffrey
UCD Alumni Award in Sport
MB BCh BAO 2018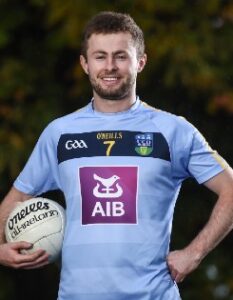 Jack has been a key part of Dublin's all-conquering Gaelic football side. At 26, he already has five All-Ireland titles to his name and he was on the team that won an unprecedented five titles last year. He plays his club football with Clontarf. His father Noel also represented Dublin in football.
McCaffrey studied medicine at University College Dublin (UCD), where his classmates included middle-distance runner Mark English. English issued a challenge to McCaffrey, himself considered football's fastest player, to take him on over 100 metres. Jack McCaffrey is a qualified medical doctor at St Luke's Hospital, Kilkenny, specialising in paediatric medicine.
Playing career
In April 2013, McCaffrey won a National Football League winners' medal as Dublin defeated Tyrone by 0–18 to 0–17 to win the 2013 National Football League. He made his championship debut against Westmeath in the 2013 Leinster Senior Football Championship. He scored a solo goal in the 2013 All-Ireland quarter-final against Cork. Still teenaged, he played in the 2013 All-Ireland Senior Football Championship Final, the first such final he would play in. McCaffrey, who was substituted at half-time, recalled how he "got roasted by Kevin McLoughlin". He played twice and netted for Ireland against Australia in the 2013 International Rules Series. In November 2013, he was named as All Stars Young Footballer of the Year.
In November 2015, McCaffrey received the highest individual honour in the sport when he was named as All Stars Footballer of the Year. He did so in spite of contracting food poisoning "in around the Thursday" before the 2015 All-Ireland Senior Football Championship Final, which left him unable to finish the game.
McCaffrey missed the 2016 All-Ireland Senior Football Championship due his travels to Ethiopia, then Kenya, Zambia, Malawi and Tanzania.
In December 2016, McCaffrey confirmed that he would be available again for selection in 2017.
McCaffrey played in the 2017 All-Ireland final win but left the pitch early after sustaining what later proved to be an anterior cruciate ligament injury. A month after the final, McCaffrey had surgery.
McCaffrey returned for Dublin against Longford as a substitute in June 2018. Another substitute appearance in the Leinster final against Laois followed.
McCaffrey was named Man of the Match after his team's 2018 final victory. Another All Star followed, as did a second Footballer of the Year nomination.
McCaffrey won the man of the match award in the drawn 2019 All-Ireland Senior Football Championship Final as well; a second consecutive award, "RTÉ veterans" were reported to be finding it difficult to recall such an occurrence ever before. He was top scorer (1–3) from open play. This compared with the 3–14 from his previous 38 championship games. The three points were also a classic hat-trick, sent over with fist and both feet. Defensively, he forced eight turnovers of possession.