Ciaran Connell & Michael McLaughlin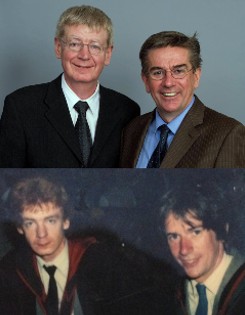 UCD Alumni Award in Engineering and Architecture 2022
BE 1982 & BE 1982 MEng 1992
Michael McLaughlin BE 1982 MEng 1992
Jobs were scarce in Ireland when Michael McLaughlin graduated from UCD in 1982 so he spent two years dividing his time between painting and decorating with his uncle "Dimmie" and writing code for a BBC Micro to do stock tracking and prescription labelling for pharmacies. He went on to work for Lake Datacomms (formerly Cornel Electronics) for 18 years. Then, after two years at Parthus Semiconductor, he decided to start his own venture, co-founding the microchip company Decawave in 2004. Decawave chips enable things and people to be located to centimetre level accuracy. It was the ideal application for Michael's Ultra-Wideband (UWB) inventions and has led to UWB being incorporated in every new smartphone design.
Michael's work was recognised by the Irish Academy of Engineering and he was awarded the 2019 Parsons Medal for outstanding achievement in Engineering Sciences. When Decawave was acquired by Qorvo in 2020, in Europe's largest tech exit of the year, Michael became a Senior Fellow and Head of Algorithm Development in the Qorvo UWB division. Michael has been at the forefront in defining international telecoms standards with the ITU and the IEEE since 1989 and is the inventor of 89 international patents.
Ciaran Connell BE 1982
Ciaran Connell (born 1960) graduated from University College Dublin in 1982 with a degree in Electronic Engineering and in 1990 with a Masters Degree in Business Administration from the University of Texas at Austin, U.S.A. He worked for Cornel Electronics in Dublin on Baseband Modems, and in Austin, Texas for Motorola Semiconductor focusing on Wireline and Wireless semiconductors for ISDN, xDSL and Cellular communications. He then moved to Toulouse, France where he continued to work for Motorola / Freescale again in the field of semiconductors for wireline and wireless communications, specialising in Business development and Strategy.
In 2007 he started to build DecaWave with Michael McLaughlin, with Ciaran being based in Toulouse, France until 2015 when he relocated to Silicon Valley, California. As CEO of DecaWave his key roles included Corporate and Business Strategy including building the company and its Board and investors. In 2020 he led the sale of DecaWave to Qorvo for $400M, which resulted in every one of its 250+ Angels making money as well as its VC investors (Atlantic Bridge, ACT and Enterprise Ireland). This was selected as the Irish Times "Deal of the Year" for 2020.
Qorvo continues in this field in Dublin and in Toulouse building on DecaWave's pioneering work in IR UWB. Ciaran is currently GM of the UWB Bu at Qorvo and is the Chairman of the Board of Irish start up Danalto and Director of French start up Nestwave, both also pioneers in semiconductor communications.