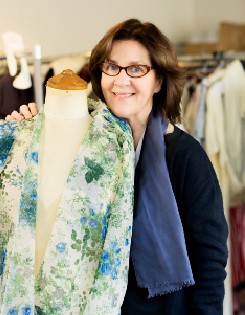 UCD Alumni Award in Arts and Humanities 2022
BA 1972
Consolata Boyle trained as a designer (for both set and costumes) at the Abbey Theatre, after graduating from UCD, where she studied Archaeology, History, and English. Her work was seen at all major theatres in Ireland as well as in London, at the Edinburgh International Festival, and on Broadway, before she began to concentrate on designing costumes for film and television.
She has received Oscar nominations for Victoria & Abdul, Florence Foster Jenkins and The Queen, and two Primetime Emmy nominations, winning for The Lion in Winter. Consolata has won a Costume Designers Guild Award (plus three nominations), two BAFTA Film nominations, and multiple IFTAs.
She has been conferred with an honorary postgraduate degree by the University for the Creative Arts, an Honorary Fellowship by the Institute of Art, Design & Technology, Dún Laoghaire, home of The National Film School, a Volta Award for career achievement from the Dublin International Film Festival, and the Craft Award by Women in Film and Television UK. Consolata was invited to become a member of the Academy of Motion Pictures Arts and Sciences in 2007.