Our popular virtual UCD In Conversation series continued in September 2020 and over the course of the year we were delighted to engage with tens of thousands of alumni and supporters from over 65 countries worldwide. The series reflects UCD Strategy 2020-2024 Rising to the Future and its four strategic themes were carried through the conversations: Creating a Sustainable Global Society, Transforming through Digital Technology, Building a Healthy World, and Empowering Humanity. The series kicked off with The Role of the Arts in Restorative Justice, led by Dr Marie Keenan of the School of Social Policy, Social Work and Social Justice. Also in September, an inspiring In Conversation with award-winning authors Emma Donoghue and Professor Sarah Moss generated huge interest.
To mark Bloomsday 2021, Why Ulysses Matters featured Simon O'Connor, Director of the Museum of Literature Ireland (MoLI), Professor Anne Fogarty, Professor of James Joyce Studies at UCD, and Katherine McSharry, Deputy Director of the National Library of Ireland, who discussed the significance of Ulysses for the work of MoLI and Joyce's significance for UCD.
Two events featured marking the most important election in US history and 100 Days of Biden with Professor Liam Kennedy of the UCD Clinton Institute, Professor Scott Lucas of the University of Birmingham, columnist and broadcaster Sarah Carey and Dr Suzanne Lynch, the Washington Correspondent for the Irish Times.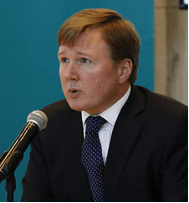 In February, Dr Cillian de Gascun from the National Virus Laboratory at UCD hosted a discussion on COVID-19 and vaccines.
To mark International Women's Day in March, Frances Fitzgerald MEP and Professor Ursula Barry of the Centre for Gender, Feminism and Sexuality at UCD explored the gender impacts of COVID-19, based on a report delivered by Fitzgerald to the European Parliament.
The summer programme culminated amid great engagement with alumni on Ireland's Housing Crisis and included Social Democrat TD Cian O'Callaghan, Director, at the Geary Institute for Public Policy at UCD, Michelle Norris and Associate Professor, UCD School of International Politics and Relations Aidan Regan.
Our Golden and Diamond jubilee reunions were celebrated online with the Class of 1960 and 1970, attracting speakers from the classes that included alumni Una Claffey, Mary Finlay Geogheghan and Mícheál Ó Muircheartaigh.
Watch the In Conversation series on our YouTube channel and find out more on our website www.ucd.ie/alumni/ucd-in-conversation-a-virtual-series.