Take The Next Step In Your UCD Journey: Update Your Contact Details
By keeping your contact details up to date, you can make the most of your alumni benefits, whilst staying in touch with us in the UCD Alumni office, with the University, and with each other. So, if you have changed your name, your home or email address, your phone number, or have moved jobs, please update your details and be in with a chance to win a great prize. If you have any further questions about the alumni community at UCD, please get in touch at alumni@ucd.ie.
Be in with a chance to win
Travel voucher worth €500
Blue Book voucher worth €250
Terms and conditions apply. Closing date: 31 October 2023.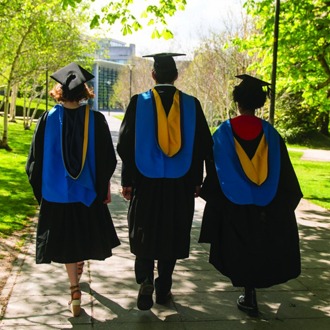 Build Communities
With the UCD Alumni office, you can stay connected to the growing alumni community of more than 310,000 graduates who live and work in 184 countries around the globe. Your UCD community is always close at hand – online or in person – anytime, anywhere. Connect with us by phone on 01 716 1447, by email at alumni@ucd.ie , or join our UCD Alumni LinkedIn page.
Enhance Alumni Life
Our collection of alumni benefits allows you to unlock exclusive discounts on and off campus, and a range of online resources. Take a look at what's available on our website: www.ucd.ie/alumni/benefits
Celebrate Your Success
Our UCD Alumni team keeps you up to date and shares your success with the community. With resources like this magazine and our online Q&Alumni series, you can learn about UCD's life-changing academic and translational research, alumni achievements and much more. Talk to us today to stay in the loop and build your profile: www.ucd.ie/alumni/contact-us/
Give Back
The Annual Giving team can assist you with information about the opportunities to support scholarships, student supports, mental health services, or a project close to your heart. By donating today, you can make an impact on the cause that inspires you the most. Connect with us by phone on 01 716 1406 or by email at info@ucdfoundation.ie
Make A Difference
Our alumni volunteer programmes help you give back to the UCD community: you can support student careers, inspire school-goers considering UCD, advise on committees, and support events on campus and abroad (including your class reunion). You can also help to improve our students' employability by acting as mentors, speaking on career panels or offering internships. To learn more and get involved, email alumnivolunteer@ucd.ie
Build Relationships and Grow Your Network
You can connect, learn and engage with fellow alumni at events on campus, virtually and around the world. We can also help you organise or attend your class reunion. Stay informed on these events by updating your contact details at www.ucd.ie/alumni , and build relationships online on the UCD Alumni Network at www.ucdalumninetwork.com