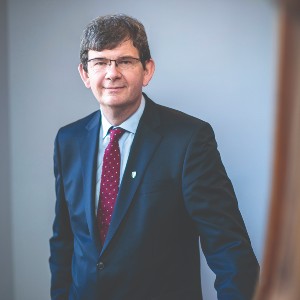 ONE OF MY first activities as Acting President was to visit as many faculty and staff as possible across campus through a series of town hall meetings. Accompanied by Acting Registrar and Deputy President, Professor Barbara Dooley and Vice-President for Research, Innovation and Impact, Professor Orla Feely, together, we listened to people.
What we heard was a strong, communal belief that the primary purpose of the university is education and research for the benefit of society, for the public good. UCD has a strategic plan in place which informs what we do and what we need to achieve. But, as long as we're focused on those two primary purposes: on the education and holistic development of our students; and the scholarship and research impact of our faculty, then everything we do will be in the right space.
Given the period we have just been through, the immediate future is all about making sure the pandemic and its legacy are left behind and that faculty, staff and students alike come back and re-engage with campus and fill the empty spaces that COVID-19 left behind. Everyone can be a part of the next chapter of our UCD story.
In a post-pandemic educational setting, reimagining the university experience is one of the biggest challenges we face. A significant number of students have not experienced the University in the same way as students before COVID-19. They have been studying in their bedrooms, often isolated from their peers. We must help them to re-engage with campus life.
UCD is all about community. That is, the faculty, the staff, the students, the alumni. A university is only as good as its people. They are its lifeblood, they define it.
We need to make sure that everything that we do on campus has a purpose. We need peer-to-peer interaction and engagement between students and clubs or societies – all those activities which were hybrid over the past two years – to get back to being fully face-to-face. Then the real benefit of the on-campus experience becomes evident.
It is important that we also get our faculty and staff back on campus – the experience is not just about students, it is about the overall UCD community and bringing it back to life in a meaningful way. It is important to focus again on that collegiate experience. If we can get that vibrant atmosphere going again, people will really see the rationale, the benefits, the reasons, for coming back.
The UCD Student Village is open. Adjacent to our newest on-campus residences, is a welcoming hub with a vibrant range of food outlets, gym, dance studio and adaptable spaces. This provides a central location for students to meet, talk, study and collaborate on a whole range of activities.
We also want to ensure that student facilities and supports are readily available. We are very aware of the national trend of students facing mental health and other challenges. We're working hard to ensure that our facilities, our supports, our student advisors, our counselling services, are geared up to best support the issues that students will face as they re-engage with, not just a different way of learning, but a re-entry to the social scene which is such an important aspect of university life.
There will also be a significant effort to make sure that the research and scholarship that have been going on throughout the pandemic are brought back up to full speed, resulting in a level of activity that fully supports the University's strategy of delivering impactful teaching, learning and research.
We want our students to receive an impactful education, not just in their own chosen discipline but also in their personal and professional development. I am enormously proud of our students, our future graduates – the future leaders who pass through these doors. Making sure we are focused on the impact and quality of our teaching, learning and research is of the utmost importance.
Education is a balance – students should leave UCD equipped with the skills to tackle the challenges the world faces on both an academic and personal level.
I am also enormously proud of you, our alumni community worldwide. We celebrate and acknowledge your achievements in these pages. We love to hear memories of your time in UCD and we thank you for your commitment to us in so many different ways. We look forward to connecting and reconnecting with you in the coming year.