When Professor Orla Feely stepped forward as a candidate for President of University College Dublin, she spoke with her father. Frank Feely, a former Dublin City and County Manager, age 91, was very unwell, but he was also determined to support his daughter in her history-making move, as he had supported her throughout her life. "In the run-up to the interview, when I was preparing for it, Dad said 'I'm not going to die until you get that job'," recalls Professor Feely. Frank Feely passed away the day before his eldest daughter was officially announced as the next President of UCD. But, crucially, she had been able to tell him in time. "Shortly before he died, I got to tell him that I was the candidate recommended by the interview board to UCD Governing Authority," she says, sitting in her new office, which overlooks Belfield's famous lake. "He died assured that I had the job. He supported me right to the end. He kept his promise."
Professor Feely's appointment as the first female President of UCD in its 169-year history is the latest chapter in a career that has seen her shine as a researcher and lecturer in electronic engineering, and as a leader of national and European organisations. One of her driving ambitions now is to tell the world more of UCD's story. "Visitors to UCD are very impressed, but often also surprised, when they encounter our amazing students, our research successes, our impact on society and the economy, our beautiful campus," she says. "I don't want these to be hidden jewels. I want us to tell our story with ambition and pride and curate that story for the 21st century, to tell people where that story is now leading.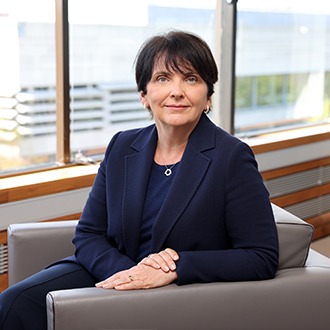 I want people to know more about UCD and the difference we make. That's the key for me in all this, that we are making a difference, that we are tackling major global challenges, through our rich array of disciplines and our links around Ireland and internationally."
I want us to tell our story with ambition and pride … I want people to know more about UCD and the difference we make."
Engineering A Future
Professor Feely has witnessed the transformative power of universities at many levels. Growing up in south Dublin, she was the first in her family to attend university, and her parents, Frank and Ita, created a supportive environment for Orla and her three siblings – Ronan, Niamh and the late Emer – to study at third level, all of them in UCD. "I was very fortunate to grow up in a household where education was so strongly valued and in a country that was investing in education," she says. "I loved maths, and at Our Lady's Terenure, unlike most girls' schools at the time, we had a very strong honours maths programme. There was a real sense that engineering offered a bright future to Ireland and to students like me, and there was a particular effort to promote the profession to women.
Christina Murphy was writing compellingly in The Irish Times about engineering as a choice for women, and I went to an open day in UCD where John Kelly, then Dean of Engineering, also encouraged young women to study the subject. I sat there in UCD Merrion Street, now Government Buildings, with the grandeur of the building around me and the future laid out before me, and it all felt very exciting." She excelled academically, winning first place in her UCD exams and receiving PhD offers from all the major colleges in the USA where she had applied. She chose to study in the University of California, Berkeley. "I was uncertain as to how I would fare in Berkeley, surrounded by top students from all around the world, but I quickly found that the quality of my UCD education left me at least as well prepared as any of those students," she says.
"The PhD preliminary exams in Berkeley were a very intense experience, where you were interviewed by nine separate professors in their offices, answering rapid-fire questions and solving problems on the blackboard. I got the highest marks in those exams because what I was encountering there was no more or no less academically demanding or rigorous than what I had experienced in UCD." She was part of a talented group of Irish students in Berkeley, many of them engineers and physicists, who made a real impression. They fitted into a trend more broadly in the US, where Irish graduates were making their mark in academia and in industry.
"A buzz was developing around Ireland. You also had U2, the Jack Charlton years in soccer, and Mary Robinson's election as President of Ireland. It felt like big things were about to happen. And of course many Irish graduates like myself returned to the country and started to build a powerhouse tech sector in Ireland," says Professor Feely. "This is something that has stayed with me: how Irish universities – and in particular UCD, given our scale and impact – were central to the transformation of Ireland at that time." Professor Feely won awards in Berkeley for her doctoral work in non-linear circuits, in which she explored the mathematics of complex electronic systems. She received a fellowship from Intel, through which she met the late Gordon Moore, co-founder of the company and a hero of hers. "He took a real interest in Ireland, and he asked me what I was going to do when I was finished my PhD," she recalls. "I told him I was taking a faculty position in UCD, and he nodded approvingly and said 'Yeah, that'll do.' That was a good endorsement for the move home, had I needed it."
Systems-level Success
Professor Feely loved lecturing to engineering students in UCD, and built a successful research team, many of whom have gone on to make their own mark in research. Then came opportunities for leadership roles, including as Chair of a newly configured research funding body, the Irish Research Council, and as Chair of the EU Advisory Group on Marie Skłodowska-Curie Actions.
"I didn't consciously move into leadership as a career strategy," she says. "I greatly enjoyed conducting research and teaching our brilliant engineering students, and would have been very happy to continue on that track throughout my career. But then I found I also really enjoyed being able to work at the system level, figuring out what levers to pull to exert influence and how to engage effectively with stakeholders from industry and government." In 2014, Professor Feely was appointed Vice-President for Research, Innovation and Impact at UCD, and she served in this role with considerable success until she became President in 2023. "It is the greatest honour to serve as President of UCD and to lead this wonderful university as we write the next chapter in our story," she says.
Professor Feely's time as UCD President will feature enormous societal and educational change. She recognises that the climate emergency, Artificial Intelligence and the post-COVID student experience will shape her tenure to a significant extent, and she believes in the power of UCD to help in addressing these challenges.
Sustainability Matters
Sustainability is at the heart of Professor Feely's presidential perspective, and it has already been a central focus of her time at the helm of UCD's research and innovation. "At a time when individuals can feel powerless at the scale of the sustainability challenge, I want them to know that working together as a community, we in UCD can make a real difference," she says. "For example, through our research and those we have educated, UCD has had major impact on Ireland's very impressive performance in the integration of renewable energy onto our electricity grid, and in sharing that know-how internationally." This work is now advancing through the NexSys research programme, led by Professor Andrew Keane, which explores next generation energy systems.
Other multi-disciplinary sustainability research initiatives at UCD include BiOrbic, the Bioeconomy SFI Research Centre, led by Professor Kevin O'Connor, which uses renewable resources from nature to produce food, feed and energy while reducing waste, and the work of innovators such as Professors Eileen Gibney and Fiona Doohan to increase the resilience of our food supply. Such challenges need many minds to solve them, notes Professor Feely.
"We need to have economists and behavioural scientists working with engineers and scientists, lawyers, business experts and many more," she says. "In UCD we have the range of disciplines, the scale, the expertise and the collegiality to work together, and to work in a meaningful way with all the many stakeholders nationally and globally who are needed to find solutions to these crises." UCD also has the power to support change through education, notes Professor Feely. "We have a new and very popular BSc in Sustainability, and I also see sustainability as a cross-cutting feature of our education." she says.
"I want all of our students to emerge from UCD with an awareness of the sustainability and climate crises and what we can do together to make a positive difference. We have just appointed Professor Tasman Crowe as our first Vice-President for Sustainability, and this area will be a priority for UCD throughout my presidency."
AI Transformations
Artificial Intelligence too, will shape many aspects of education, work and life in the coming decade. Generative AI, such as ChatGPT, has already sent shockwaves through the education sector. But Professor Feely sees it, and AI more generally, as an opportunity as much as a challenge. "This is such an interesting and disruptive time," she says. "We need to think deeply not only about immediate needs such as student assessment and enhancements to our operations, but about how work and life will be impacted by AI over the coming decades and how we prepare our students for this, how we support success for Ireland and how we champion the ethical use of AI." UCD has a strong activity in AI and machine learning stretching back decades, notes Professor Feely, with discoveries translating into the commercial and clinical spheres. "We have many pioneering and inspiring uses of AI, including AI_PREMie led by Professor Patricia Maguire, which is using machine learning to develop new ways to diagnose and predict preeclampsia, a potentially life-threatening condition in pregnancy," she says.
We want to design our programmes as well as our buildings to support a really engaged, flexible, multi-faceted approach to education in the 21st century."
Student Connections
The student experience is to the fore of Professor Feely's mind. Her twin sons are currently university students – one in UCD, one in Trinity College Dublin – and she knows from her own experience at UCD and Berkeley how important these years are for a student's personal and social development. "I'm very aware that every student who joins UCD directly from school throughout my tenure will have had their education disrupted in a real, material way by the COVID-19 pandemic. It will have left its mark," she says. "So how do we ensure a sense of community, connectedness and resilience? That is so important to me.
These are formative years in university, when you are figuring out what kind of life you want to lead, you are finding people who will be around you into the future and you are working out how you will make a difference in the world. We want to help our students to make those connections and find their path." Professor Feely is particularly excited to see the cranes up on campus to build the Centre for Future Learning, soon to be followed by further ambitious capital developments. "We are exploring new spaces and approaches for teaching and learning," she says. "University education is about so much more than sitting in a lecture theatre. We want to design our programmes as well as our buildings to support a really engaged, flexible, multi-faceted approach to education in the 21st century."
Bringing UCD's Jewels To Light
Just a few months into her new role, Professor Feely is relishing the varied nature of the President's work. "UCD is a large, complex organisation, and you have to operate across various axes," she says.
You need to make sure the internal systems are running as they should, and you also have to carry the University's messages externally. You are an academic leading an academic community, and you are also leading a major complex organisation.
Day to day, you need to respond to immediate challenges and questions, but you also need to think very strategically – universities by their nature are looking decades into the future." Interactions with people are at the heart of it all, she notes, and this is something she particularly enjoys. "I really love that," she says. "I love interacting with our students, our staff, our alumni and the many, many communities that work with UCD to make a difference."
So, rolling forward to 2033, when Professor Feely closes her presidential chapter and welcomes her successor, what does she hope is conveyed in the book of UCD when she hands it on? "I want UCD to be delivering an outstanding and distinctive education that opens up new vistas well into the 21st century for our students, just as it did for me back in the 1980s," she says. "I want us to be making a difference through our research in areas of global challenge, and to be a valued partner worldwide.
I want us to have supported a strong and vibrant society and economy in Dublin, Ireland and beyond, with a strong ethos of public service. I want our story and our reputation out there in the world, no more of the hidden jewels, with UCD recognised and respected globally as an effective force for good.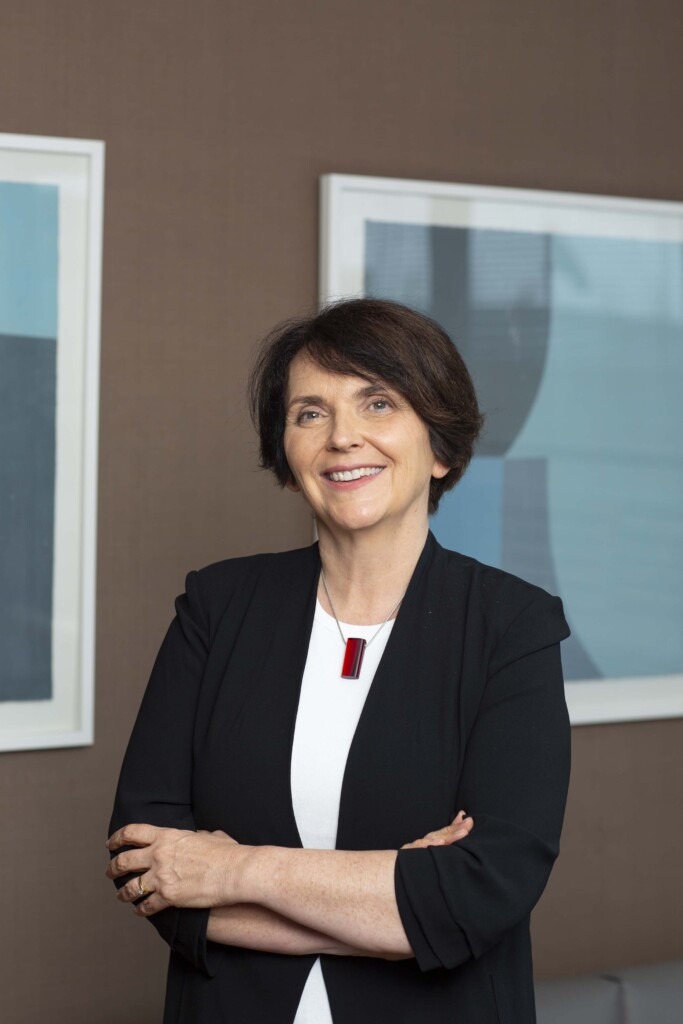 Circles of Impact
"As a child, did you ever write your address starting with your house number and street, then your town and keep widening out? Mine started in Templeogue, then Dublin, then Ireland, then Europe, then the world," says Professor Orla Feely, President of UCD.
"It's similar with UCD. We have ever-widening ripples of influence – starting locally then broadening out to Dublin, nationally to Ireland, then out to Europe and the world. The reach gets wider and wider." In Ireland, UCD has a strong history of influence, not least by being writ large through the foundation, development and identity of the Irish State, she notes. "Many of the key figures in the early days of the State studied or worked here," says Professor Feely.
"And our staff and graduates have continued to play major roles in Ireland's political, social, economic, scientific and industrial development." Under the guidance of Dr Sandra Collins, UCD Library is now curating and digitising the University's cultural collections. "This will bring to the fore valuable stories and perspectives from Irish history and culture, making them accessible for new audiences," says Professor Feely. She also highlights UCD political scientist Professor David Farrell's work on Citizens' Assemblies. "This has driven changes to legislation based on deliberative democracy, it has changed how we think about ourselves as a society and a country, and it has inspired other countries," she says.
UCD's researchers across the board have been shaping modern Ireland in many other ways too, supporting developments across society, creative and cultural sectors, sustainable energy and food systems, healthcare, a resilient technology sector and Ireland's response to the COVID-19 pandemic. But it's not just Ireland where UCD makes a difference, notes Professor Feely, expanding the circle to the wider world. "We are Ireland's global university," she says. "Of the 33,000 or so students we have here in Dublin, about 7,500 come from outside Ireland. We have a real global presence of students on our Dublin campus and a strong global footprint through the international activities and collaborations that connect us around the world. We are the clear leader nationally in securing research funding in the EU's Horizon Europe programme. We have always been strong international collaborators, and recent years have seen UCD do this with greater ambition and scale.″