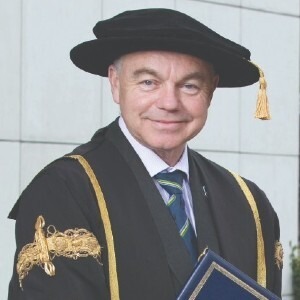 READING THIS EDITION of UCD Connections, I am struck by a line written by alumnus Dr Mike Ryan, Executive Director of WHO Health Emergencies Programme, "For those of us in the academic, health and scientific communities, we have a responsibility".
Part of that responsibility is to help build a healthy world. This agenda stretches beyond research into diseases and advances in healthcare, into food supply and safe water, and crosses into environmental spheres that cause climate change and impact on society. Before the COVID-19 pandemic we had identified Building a Healthy World as one of our strategic themes in our UCD Strategy 2020-2024: Rising to the Future. The health of all living things on Earth is intimately connected and must be considered at multiple levels. UCD is the only Irish university that brings together human and animal health sciences, agriculture and food sciences, and environmental and social sciences and we are uniquely positioned to address the education and research synergies across these disciplines. UCD, through our faculty and our alumni, seeks to advance human, animal and environmental health and wellbeing for the benefit of all society. In this issue of UCD Connections, Building a Healthy World gives you a sense of the wide-ranging work being carried out by the UCD community towards this global objective.
Over the past year, we have continued to teach and to research. But, of course, COVID-19 restrictions have meant that many students and staff could not come to campus and therefore lost out on that wonderful campus experience. There is a palpable sense of energy and excitement as we plan for a return to campus life with the prospect of spontaneous interactions and social gatherings. I was delighted to be able to get my second vaccination at UCD O'Reilly Hall, one of the Health Service Executive's vaccination centres in Dublin. The steady stream of people coming here is a testament to the very high vaccination uptake in Ireland.
We know that the nature of this pandemic means that national governments have to react and respond to surge waves and we will continue to comply with all public health directives. In this issue, you will read how 26 current and former UCD students represented Ireland at the Tokyo Olympics this summer. The enjoyment they gave to everyone back home – despite the time difference – almost compensated for fans not being there. UCD has always provided support for elite athletes so that they can be dedicated to their sport while also maintaining their studies. The much-anticipated opening of the new running track, funded by a generous donation from an alumnus, will add to the excellent sports facilities for on-campus training and competition. While these facilities are used by high-performance sports students, they are also available to all students and help us to live up to our healthy lifestyle ethos.
While campus seemed quiet over the past year in terms of the number of people here – we dropped from a daily population of over 17,000 to around 3,000 – progress was being made with our Future Campus development plans. Construction of the Centre for Creativity and the Centre for Future Learning commenced. Phase 1 of the new student residences at Roebuck was completed. UCD is fulfilling its promise in Rising to the Future to provide worldclass academic facilities and student amenities that enable everyone in the UCD community achieve their potential and contribute to a better society.
Many alumni joined us throughout the year for online events or strolled around Belfield to visit the outdoor exhibitions. As we look forward to this academic year, I hope that we will meet in person and come together for reunions or, more informally, at the UCD University Club.