COLLEGE OF ARTS AND HUMANITIES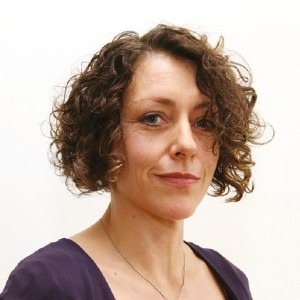 COLLEGE PRINCIPAL
Professor Sarah Prescott
ALTHOUGH A YEAR of remote learning brought its fair share of challenges, there was much to celebrate from our staff, our students, and alumni.
UCD College of Arts and Humanities, in partnership with NCAD and IADT, secured €10m in funding from the HEA Human Capital Initiative, to develop the groundbreaking Creative Futures Academy, to shape the future of Ireland's creative sector. The initiative will be led in UCD by Professor Sarah Prescott and Associate Professor PJ Mathews.
In April 2021, Professor Kathleen James-Chakraborty, UCD School of Art History and Cultural Policy and UCD Humanities Institute, won a top European Research Council award worth over €2m, for her pioneering research on the role of women and ethnic minorities in the transmission of modern architecture.
Alumna and author Niamh Campbell, 2020-2021 UCD Writer-in-Residence, led Conversations with the Contemporary – discussions with eight writers on the process, craft and contemporary life.
In March 2021, Associate Professor Dr Catherine Cox, UCD School of History and UCD Centre for the History of Medicine, won the UCD Research 2020 Impact Competition with her case study on the mental health crisis in Irish prisons. In November 2020, the UCD Alumni Award for Arts and Humanities was presented to Dalton Philips, CEO of the Dublin Airport Authority.
Professor Sarah Prescott chaired the biannual virtual meetings of the Alumni Advisory Group, which brings together BA graduates from media, government, business and other sectors to advise on College employability initiatives. Associate Professor PJ Mathews, Director of the Creative Futures Academy, chaired the biannual virtual meetings of the UCD Creative Fellows, a fellowship of Ireland's leading musicians, curators, creatives, writers and directors.
The Schools of History and Art History and Cultural Policy held a series of virtual alumni lectures. Among the speakers were Art History and Cultural Policy alumna and UCD Creative Fellow Oriole Cullen, and History alumnae Anne Anderson and Dr Anne MacLellan.
History and Politics graduate and CNN correspondent Donie O'Sullivan joined Professor Liam Kennedy for a Q&A event to mark the launch of the new MA in Journalism and International Affairs, co-designed and delivered by UCD Clinton Institute and CNN Academy. The 2021-2022 Joseph M Hassett Creativity Bursary was awarded to poet and writer Christodoulos Makris. Starting in September, Makris will work with the RTÉ Radio Scripts Collection in the UCD Archives.
https://www.ucd.ie/artshumanities/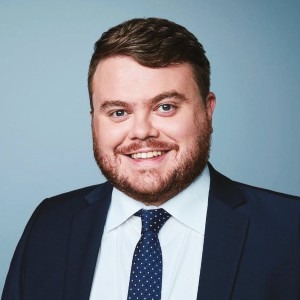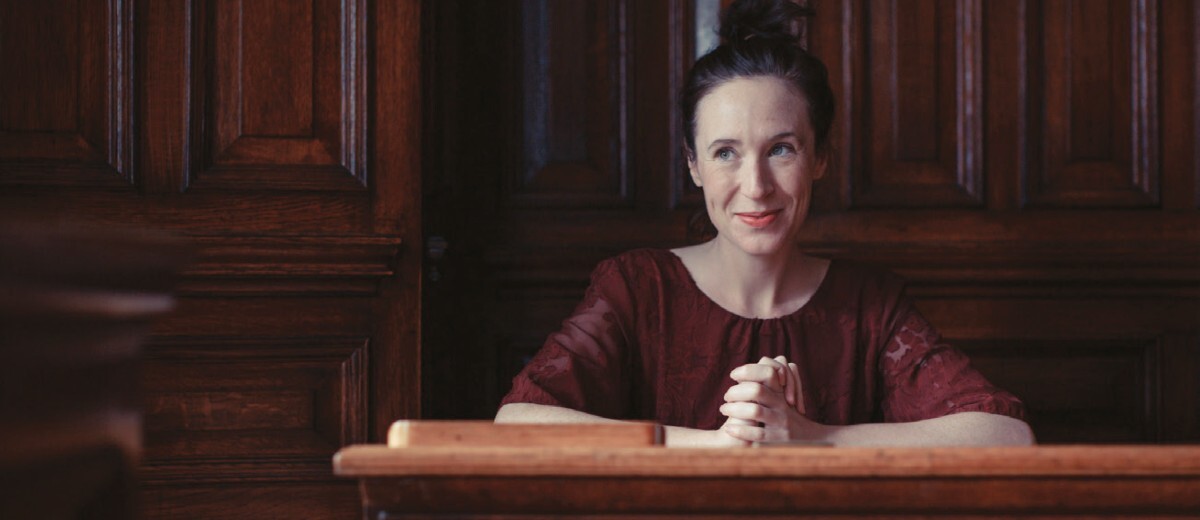 COLLEGE OF BUSINESS HIGHLIGHTS 2020-2021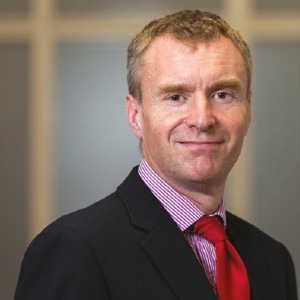 COLLEGE PRINCIPAL
Professor Anthony Brabazon
IN AN UNPRECEDENTED environment, students, faculty and staff came together to continue to deliver world-class business education, maintain high learning standards and enhance our reputation as an international leader of relevant and impactful business research.
Faculty were highly active with research projects spanning fintech, AI, sustainable finance, cryptocurrency and more. They continued to lead internationally, securing several awards, with Associate Professors Ciaran Heavey and Dorota Piaskowska winning in the Strategy and General Management Category at the Case Centre Awards, Professors Federica Pazzaglia and Karan Sonpar's winning the Best Overall Paper Award at the Academy of Management 2020 Conference and Dr Penelope Muzanenhamo awarded Best Critical Management Learning and Education Paper 2020. In addition, Professor Gerardine Doyle was named President of the European Institute of Advanced Studies in Management, only the second-ever female president in the network's history.
Despite a shifting landscape, the College of Business came together as a community to innovate. In February, the inaugural UCD Business Alumni Challenge, Around the Globe in 30 Days, saw almost 1,000 alumni in over 40 countries participate in this virtual wellbeing initiative.
The UCD Business Impact podcast launched in April 2020 to highlight the depth and breadth of expertise in our international business community. The award-winning podcast now has close to 20k listens.
A new modular Executive MBA has been launched, designed specifically for those with busy professional and personal schedules. UCD Quinn School has joined a new UCD cross-disciplinary BSc Sustainability Pathway degree programme, which shines a light on the business and economic dimensions of sustainability.
Additional mentoring programmes, facilitated by alumni mentors, were introduced to empower students to become impactful leaders with a global mindset. UCD Smurfit School alumni and students also launched the UCD Smurfit Women, Inspiring More initiative to address issues around gender equity and organised a series of events to inspire and encourage debate.
As we move through uncertain times, we will continue to champion informed debate, decision-making, and leadership as we seek to rebuild economies and rethink our institutions and societal priorities.
In Memorium: Professor of Supply Chain Management, Brian Fynes, 1959-2020; Dr Laurence G Crowley, CBE, UCD Smurfit School's first Chairman, 1937-2020; PwC Professor of Accounting Eamonn Walsh 1960-2021; Cormac McCarthy, Chairman of Aspire, Chairman of UCD Foundation 1962-2021.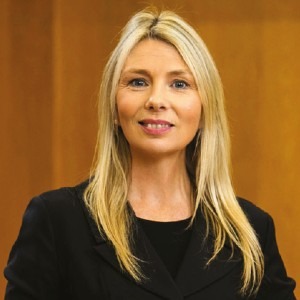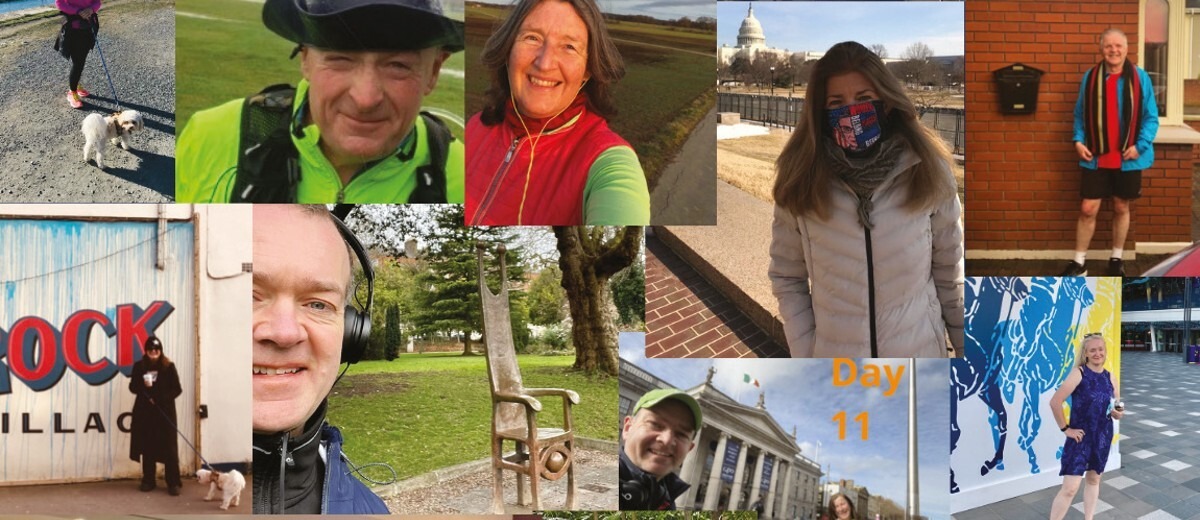 COLLEGE OF ENGINEERING AND ARCHITECTURE HIGHLIGHTS 2020-2021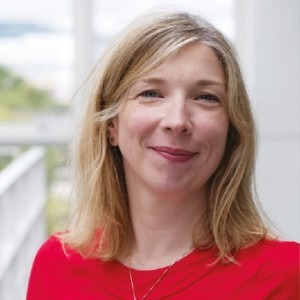 COLLEGE PRINCIPAL
Professor Aoife Ahern
UCD COLLEGE OF Engineering & Architecture continued to deliver a world-class education to students virtually this year, with staff and faculty rising to the challenge and supporting students in every way possible. Faculty and research staff continued to innovate with research projects and spin-out activity. UCD Vice-President Professor Orla Feely was inaugurated as the 129th President of Engineers Ireland, with fellow engineering alumnus Professor Edmond Harty appointed Vice-President of Enterprise Ireland.
UCD Engineering Graduates Association (EGA) connects graduates, industry professionals, students and staff to drive national and economic sustainable development through enterprise, research, and innovation. At the AGM in December 2020, Donal Wyse was elected President, succeeding Majella Henchion.
The EGA welcomed a panel of experts to deliver the virtual Autumn Panel Discussion on The Future of the Pharmaceutical & Biopharmaceutical Industry in Ireland, in October 2020, and the Spring Panel Discussion on Inclusive by Design: Applying Inclusive Design Methods to Engineering, in March 2021.
The 2021 EGA Distinguished Graduate Award was presented to Ciaran Connell and Michael McLaughlin, CEO and CTO of Decawave. The EGA also conducted the 2020 Gold Medal Award Ceremony virtually in October 2020, with 24 awards presented.
The three-day Engineering Careers Bootcamp took place in March 2021, with students receiving career guidance sessions and advice from alumni in the industry.
Equal1 Labs, founded by Dr Dirk Leipold, Professor R Bogdan Staszewski and Mike Asker, a spin-out from the UCD School of Electrical and Electronic Engineering, won a NovaUCD 2021 Innovation Award. Dr Paul Cuffe, UCD School of Electrical and Electronic Engineering, was awarded the 2021 NovaUCD Innovation Champion of the Year Award for his work with engineering students to unlock the commercial trajectory of their final year dissertation projects.
We welcomed UCD Architecture alumni Amanda Bone and Even Fuglestad, along with Denis Brereton from RKD Architects, to speak to students at the annual APEP Careers Panel in February 2021. Foreign Exchange: Conversations on Architecture Here and Now, the 2020/21 UCD Master of Architecture Lecture series, continues. With a specific focus on architecture in Switzerland, leading Swiss architects discussed their work in conversation with invited guests and public audiences.
UCD graduate Aisling Mulligan received the President's Medal from the Royal Institute of British Architects in December 2020, one of architecture's top awards, for her postgraduate thesis on restructuring the construction sector towards a circular economy.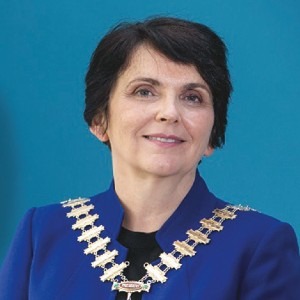 COLLEGE OF HEALTH AND AGRICULTURAL SCIENCES HIGHLIGHTS 2020-2021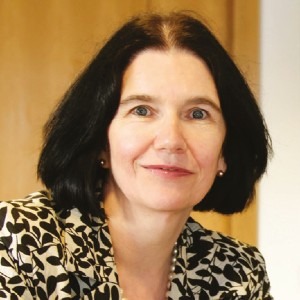 COLLEGE PRINCIPAL
Professor Cecily Kelleher
THE COLLEGE OF Health and Agricultural Sciences, amid a challenging year, would like to pay tribute to its staff and students, both in achieving academic objectives and also in the engagement with services as part of the National response to the pandemic during the period.
"Never waste a good crisis: what have we learned about classroom and clinical educations from a global pandemic?" was the topic when UCD College of Health and Agricultural Sciences hosted the virtual Irish Network of Healthcare Educators (INHED) Annual Scientific Meeting in March 2021 with keynote speakers Professor Rachel Ellaway, University of Calgary, Professor Walter Eppich, and Dr Lara Varpio, United Services University, Washington DC.
Congratulations to Professor Frank Monahan who was appointed to the role of Dean of Agriculture and Head of UCD School of Agriculture and Food Science.
UCD Medical Graduates Association presented Distinguished Graduate Awards to three outstanding graduates: Dr Paul O'Byrne, (1975), respirologist and Dean of the School of Medicine at McMaster University, Ontario; Sr Marian Scena, (1975), Faraja Hospice and Palliative Care Programme, Tanzania; and Dr John Donohue (1967), retired consultant nephrologist.
On International Women's Day on March 8 2021, Veterinary Medicine graduates Delia Grace Randolph (1990), Ciara Feeny-Reid (1996) and Patricia Reilly (1996) came together in a webinar to discuss their careers.
In April 2021, Animal Emergency, a five-part TV series, took viewers behind the scenes of UCD Veterinary Hospital, where thousands of animals are cared for each year, from sick pets, to farm animals, to injured seals and exotic birds.
In June 2021, the School of Veterinary Medicine received full Royal College of Veterinary Science accreditation which means graduates holding a UCD Veterinary degree have an automatic right to join the UK register. Veterinary nurse Jessica Duignan won the British Veterinary Behaviour Association Veterinary Studies Award.
In November 2020, UCD School of Agriculture & Food Science presented 39 awards, including AIB Best in Class Food & Agricultural Business Management (Clodagh Dolan) and AIB Best in Class Dairy Business (Eoin Heffernan).
The Podcast series Agrifood Matters, hosted by Seán Duke and covering topics such as sustainability, biodiversity, food and health, innovation, crop sciences, agricultural economics and humanitarian action, was also launched.
A new quarterly newsletter, SPHPSS in Focus, includes research highlights of three projects: the PREPARE project, which assesses public health and clinical preparedness in the event of an infectious disease pandemic, REFOHCUS (Reimagining the Future – One Health, COVID and Us) which seeks to build science capital in socially disadvantaged areas where progression to careers in science is less common; and ALPHABET, which focuses on early life programming of childhood health.
In June 2021, Simon Harris TD met the staff at UCD's National Virus Reference Laboratory and UCD researchers who have helped Ireland and the global community tackle the challenges of COVID-19. UCD welcomes Sport Management Professor Eleni Theodoraki. Professor Theodoraki brings with her 25 years of experience at Edinburgh Napier University and De Montfort University, UK.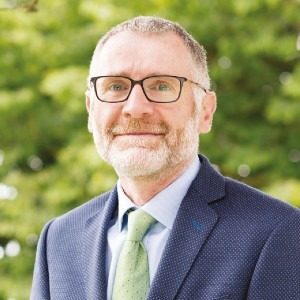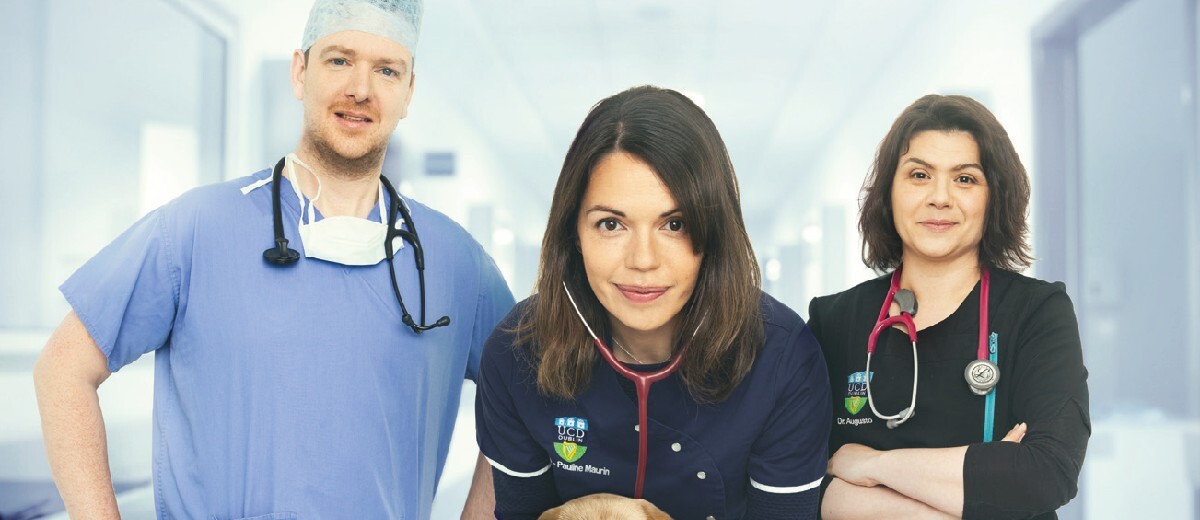 COLLEGE OF SCIENCE HIGHLIGHTS 2020-2021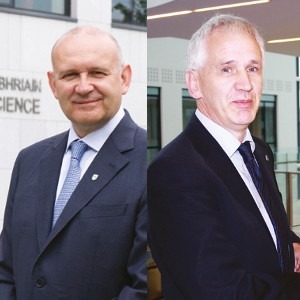 OUTGOING COLLEGE PRINCIPAL
Professor Joe Carthy
INCOMING COLLEGE PRINCIPAL
Professor Jeremy Simpson
IN THE PAST twelve months, in spite of significant challenges, it has been business as usual for UCD College of Science. Graduation ceremonies were celebrated virtually and a blended approach to teaching was delivered.
Outgoing College Principal Professor Joe Carthy will be succeeded by Professor Jeremy Simpson.
In November 2020, Professor Pat Guiry from the School of Chemistry and Patricia Maguire from the School of Biomolecular and Biomedical Science were named winners of the prestigious Science Foundation Ireland (SFI) Science Awards which recognises outstanding mentorship by a researcher.
In December 2020, epiCaPture, a university spin-out that developed a test to help eliminate unnecessary procedures when it comes to prostate cancer won UCD's 2020 Start-Up of the Year Award and its €32,000 prize fund.
In January 2021, UCD launched C-Space, the UCD Centre for Space Research, the first dedicated hub of excellence for interdisciplinary collaborative space-related research, innovation and education in Ireland.
In February 2021 The Irish Centre for Research in Applied Geosciences (iCRAG) at UCD received €28m in funding from SFI to support approximately 1,060 graduate and postdoctoral students and research fellows, including over 130 researchers, at iCRAG across eight research institutes.
Also, in February it was announced that UCD will lead a project to help develop healthy and climate-resistant oats, in partnership with Aberystwyth, Swansea Universities and Teagasc after securing €2.7m in funding for the Ireland-Wales Healthy Oats collaboration.
In March 2021, Professor Declan Gilheany from UCD School of Chemistry won the top award from the Institute of Chemistry of Ireland, one of Ireland's greatest accolades for those working in the industry, in recognition of his significant contribution to the advancement of chemistry.
Also in March, UCD School of Physics was awarded Juno Practitioner Status, recognising steps taken by the school to understand and improve gender balance.
In June 2021, the National COVID-19 wastewater surveillance programme began following a successful pilot scheme by UCD researchers who demonstrated the usefulness of wastewater surveillance as a SARS-CoV-2 early warning system.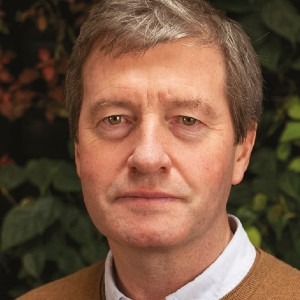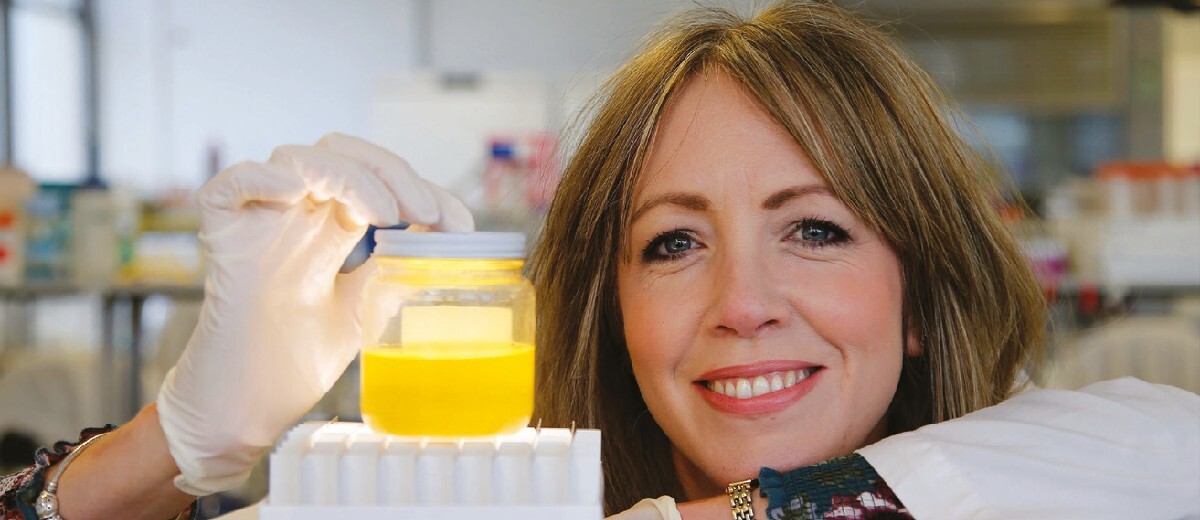 COLLEGE OF SOCIAL SCIENCES AND LAW HIGHLIGHTS 2020-2021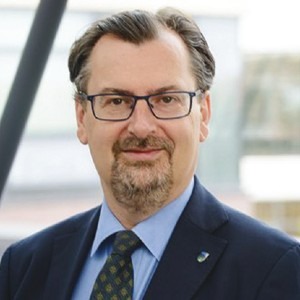 COLLEGE PRINCIPAL
Professor Colin Scott
AMID A YEAR of uncertainty, while supporting our students, faculty and staff through challenging times, the College of Social Sciences and Law was proud that QS World University Rankings 2021 ranked five subjects in the College in the top 100, with Library and Information Management ranked within the top 50 subjects and Archaeology, Philosophy, Law, and Politics and International Studies ranked in the top 100.
Professor David Farrell, Head of School in UCD School of Politics and International Relations has been elected Chair of the European Consortium for Political Research, the first Irish person to be elected to this role.
Associate Professor William Kinsella, Head of UCD School of Education, recently secured a €2.7m contract from the Department of Education to establish a national online training programme for Special Needs Assistants in Irish schools.
The UCD Rights Education Network, an interdisciplinary and cross-institutional network, was joined at a recent webinar by human rights champion, Dr Mary Robinson and author and journalist, Caitriona Palmer, to discuss the power of narrative and storytelling as a means of rights education.
Minister for Further and Higher Education, Research, Innovation and Science, Simon Harris TD joined in a virtual event to mark the commencement of Ireland's first Digital Policy Academic Programme, a collaboration between Microsoft and UCD to build digital policy capability in the public and private sector in Ireland and across the wider EU.
Dr Liam Thornton of UCD Sutherland School of Law co-hosted a series of online webinars with Nasc, the Migrant and Refugee Rights Centre focusing on proposals to end Ireland's direct provision system. In May 2021, the UCD Centre for Human Rights held a successful international online conference on Critical Exploration of Human Rights: When Human Rights Become Part of the Problem. The event was organised by Dr Marie-Luce Paris (Law, Director of the UCD Centre for Human Rights) and Dr Lea David (Sociology), and co-funded by the UCD Sutherland School of Law and the UCD School of Sociology.
Grace Oladipo, 2020 Law graduate, has been awarded a Fulbright Scholarship to study International Human Rights Law at the University of Notre Dame. Dr Joe McGrath, UCD Sutherland School of Law, will take up a research role as a Fulbright Scholar at UC Berkeley in the USA.
Dr Mark Coen has secured a Visiting Fellowship at Oxford University in 2022 where he will work on a number of projects relating to the history of trial by jury.