FOR MORE THAN 50 years, the UCD campus at Belfield has witnessed the arrival of new buildings and the latest addition is among the most striking. It is the UCD University Club, located just across the road from the School of Veterinary Medicine.
Opened in May 2019, and designed by acclaimed Irish architects Scott Tallon Walker, this wonderful, light-filled building has been specifically built for UCD's alumni and UCD staff.
With nearly 300,000 former students, it was only fitting that Ireland's largest university created the country's first on-campus centre dedicated for the use of alumni and UCD staff.
The idea, according to Anne-Marie Fisher, Sales and Marketing Manager at the UCD University Club and O'Reilly Hall, is to give alumni a world class private members' club and venue at the heart of Belfield.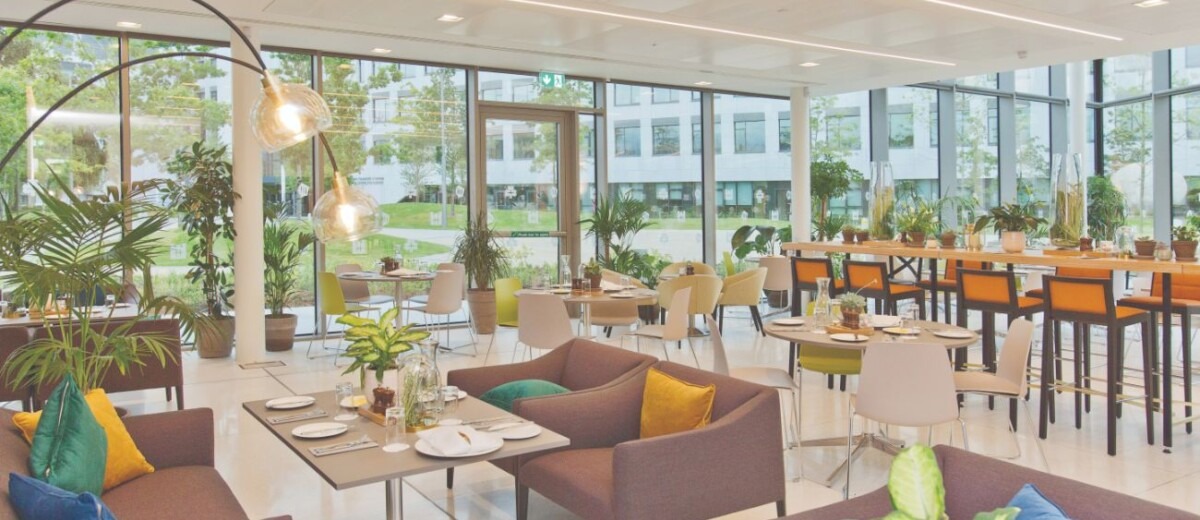 "We can cater for all alumni," she says, "and we have wonderful facilities here for them to socialise with fellow graduates and UCD staff, enjoy family celebrations, have business meetings, conferences and even product launches. We like to think of it as a home away from home for our alumni.
"BMW chose the UCD University Club to launch the new all-electric Mini, while past pupils from Blackrock College had their Union lunch here – two very different events, with great feedback from both."
It is not difficult to see why. The UCD University Club has been designed to accommodate virtually any need an alumnus might have, whether it's a catch- up with a former classmate over artisan coffee or a delicious lunch in the Club Café, availing of one of the high-spec meeting rooms (each complete with the very latest in audio-visual technology), or using the large Bar and Restaurant for a professional or social function or family occasion.
Unlike many hotels and conference centres, natural light plays a key part in making the UCD University Club such a pleasant place to be. There are floor to ceiling windows throughout the ground and first floors and a huge skylight ensures that the foyer is bathed in sunlight.
"One of the things our members most love about the UCD University Club is the fact that it's at the very heart of the campus," Anne-Marie says. "Being here can bring them back to their student days and the time they spent at UCD."
If you take a seat at the Bar, you can see what she means. The heart of the UCD campus, with its distinct library building designed by Polish architect Andrzei Wejchert, can be seen on the other side of the man-made lake, a familiar place, of course, to any student who studied at UCD over the past half-century.
The large scale of the UCD University Club makes social distancing considerations ideal. "We weren't to know when we were building this space with large, well-
ventilated rooms with high ceilings, just how important it would be for our members to be able to come here and be able to observe social distancing," Anne-Marie says.
"We have fantastic staff who will ensure that any time you spend with us is as comfortable as possible. Your safety is of paramount importance to us and we guarantee that we will take each and every social distance and hygiene measure very seriously. If you visit us here you will be able to see for yourself just how easy social distancing can be. We have taken great care to follow the latest health and safety guidelines and we're confident that you'll have no concerns."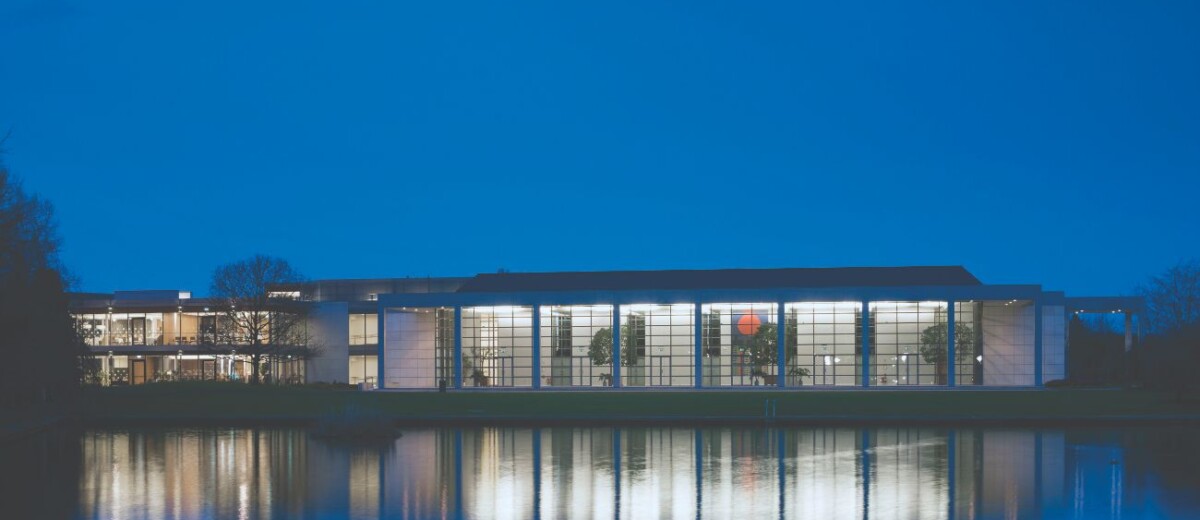 Ever since the UCD University Club opened its doors, Anne-Marie has seen the positive impact on alumni. "They really love it here," she says, "especially because it brings them back to their UCD days. And it has been really heartening for us to see just how alumni have been able to catch up with new friends here, and how they've formed new contacts and relationships too. That's how we see it – very much as a club in a really great building that alumni and UCD staff can feel is their own."
The UCD University Club adjoins O'Reilly Hall, which has long been regarded as one of Ireland's premier conference centres. And that building, also the work of Scott Tallon Walker Architects, received a substantial makeover this summer, allowing it to be used in a host of different ways.
The latest refurbishment of O'Reilly Hall ensures that the venue, which can normally seat up to 1,200 people for conferences, concerts and gala dinners, can be quickly and easily subdivided into meeting rooms of various sizes. The new changes ensure that the space can be reconfigured with ease thanks to "moving walls" engineering and the latest in audio-visual technology.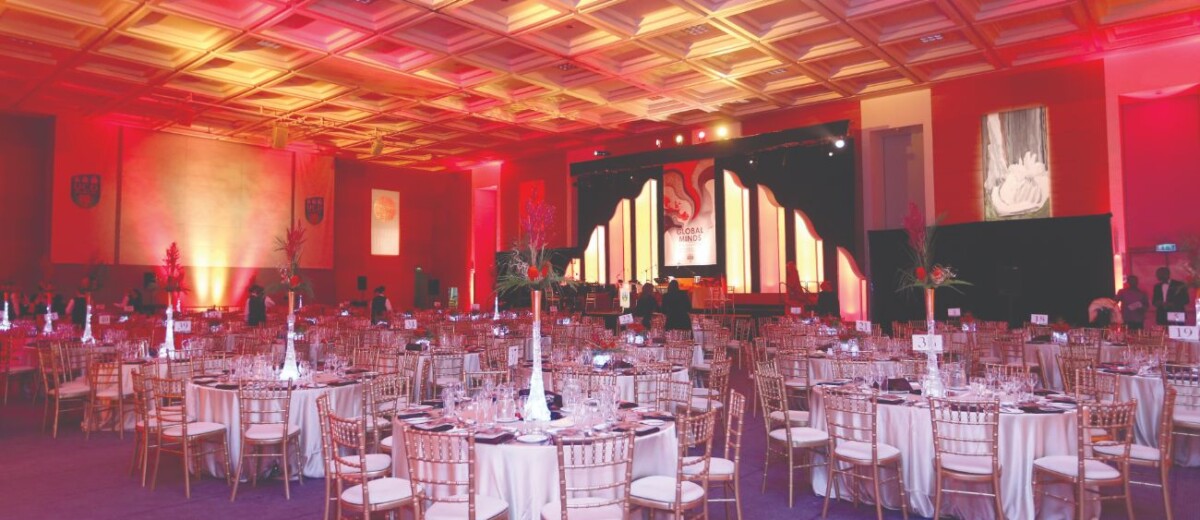 "It means that alumni who require meeting rooms and conference facilities will be spoiled for choice at Belfield, with both the UCD University Club and O'Reilly Hall offering a range of facilities to suit all needs and budgets. Companies may opt for virtual or hybrid events, utilising the new technology facilities we have put in place. But while physical distancing and other measures must be observed, the 'new normal' does not mean postponing events which are important, or vital, for your business to survive and thrive," Anne-Marie says.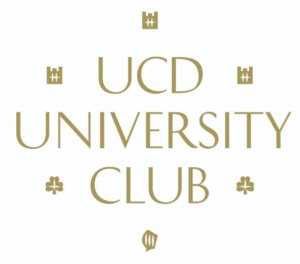 The proximity of both the UCD University Club and O'Reilly Hall to the manicured lawns adjoining the lake ensure that large outdoor spaces can be utilised. "There's so much room for outdoor events such as barbecues, drinks and canapés on the lawn in front of the lake," says Anne-Marie. "And what a beautiful setting it is too. Again, having this extra space is invaluable when social distancing is so important. It means that we can accommodate a lot of people and we can ensure that everyone enjoys the requisite personal space."
There are individual and corporate memberships and Anne-Marie says the rates are exceptionally competitive. "I think we're offering something unique here," she says. "Not only is it the first of its kind in an Irish university, but both the UCD University Club and O'Reilly Hall are world-leading in terms of design and facilities. And, for our alumni, there's the fact that they're getting to spend time again on a campus that, hopefully, meant a lot to them in their student days."
Membership comes with numerous benefits, including the fact that each member is permitted to bring three people with them on each visit and they don't have to have been former students of UCD.
"We would really love to see you here," says Anne-Marie. "Let us know if you're coming to Belfield and we will happily give you a tour. We think you'll be impressed with what's on offer."
CORPORATE MEMBERSHIP
With fantastic facilities coupled with competitive corporate membership rates, it's easy to see why corporate membership of the UCD University Club is growing. The flexibility of meeting spaces, private members' lounge and superb dining facilities add up to productive time well spent away from the office. Corporate membership is open to companies on application and subject to meeting UCD University qualification criteria.
Membership and Event Enquiries
Anne-Marie Fisher, Sales and Marketing Manager
annemarie.fisher@ucd.ie
www.ucd.ie/universityclub
www.ucd.ie/conferenceandevents
"The UCD University Club is a refreshing new dimension to campus life, a place to bring visiting academics and corporate partners for meetings over lunch or dinner in a bright, cheerful setting with a very warm welcome from the team."

Professor Gerardine Doyle, Director, Michael Smurfit Graduate Business School
"The UCD University Club is a super venue with excellent modern comms and catering facilities. Anne-Marie and the team are always on hand to make sure that everything works well. In the post Covid-19 world there's lots of space, with safe solutions for our new ways of working. It's also a great location with plenty of parking and transport options."

Alan Holmes (BComm 1989) Consumer Digital Leadership, Websure
"The UCD University Club is fantastic. The Restaurant's attentive service makes the experience extra special. Staff are friendly and helpful."

Rosemarie Gannon, Project Manager, UCD School of Computer Science
"I enjoy meeting former classmates for coffee or lunch in spacious, bright surroundings. I attended one of the themed dinners in the Restaurant: the food was excellent."

Patricia O'Loan, BA 1969, DipSoc Admin 1979
"The Club gives me access to so many activities. I use the Café every day."

Mairéad Magee, Student Records Administrator, UCD Registry
"It's so nice to step into the oasis of quiet and calm which is the UCD University Club. The food is great and you can recharge, catch up with colleagues and return refreshed to your desk."

Emma Acton, Operational Purchasing Coordinator, UCD Finance Office
"The UCD University Club has become my daily starting point: I prepare my lectures and research while enjoying the Club's excellent cappuccino."

Professor Jan Rosier, Professor of Business and Biotechnology, School of Biomolecular and Biomedical Science
"We host our annual Blackrock Union lunch every year in O'Reilly Hall. The University Club Bar was the perfect spot for the reception. With over 600 members, friends and guests attending the event in November, we couldn't have been happier with the service received from the events team. O'Reilly Hall and the UCD University Club are the perfect settings for our events and we look forward to returning again and again."

Stephen Mullin, President, Blackrock College Union
"Aware hosted its Future of Mental Health conference at UCD in October 2019, its first conference involving both the general public and professionals from the medical community. UCD provided a convenient and accessible location with O'Reilly Hall the impressive focal point for keynote talks. The events team were very professional and responsive, dealing with all our queries and requirements quickly and efficiently. Their extensive experience is evident and their support, in advance and on the day itself, was invaluable."

Dominic Layden, CEO, Aware
"Our three-day conference took place in O'Reilly Hall and the Conservatory. As news of the Covid-19 lockdown broke, the team quickly sprung into action and the programme was realigned to accommodate as many parallel sessions as possible. A big shout-out to the team at O'Reilly Hall, the catering team and the wonderful facilities at UCD."

Lynne Hughes, Professor, UCD School of Veterinary Medicine
"We have used the UCD University Club on many occasions for individual meetings and larger group presentations. It is bright, modern and impressive. The Restaurant is excellent and the management and staff have always treated our team and our clients with great professionalism. The membership of the Club has proven to be very successful and adds great value to our business."

John Molloy, Managing Director, Orca Financial
"Huge thanks for all your help with my event. The breakfast meeting went superbly well, feedback was brilliant, and breakfast buffet delicious. Pre-booked parking and the natural light in the meeting room was a big bonus along with excellent AV support. I am delighted to continue to recommend the UCD University Club to all my clients as my number one venue."

Sarah Mortimer, Founder, Babylon events
"The launch event for BMW's all-electric Mini was fantastic: it was great to work with an organisation that was very accommodating to our requirements and requests; the staff ensured the event was seamless and the food was spot on. We would love to organise more meetings and events at the UCD University Club as a result."

Laura Condon, Communications, Sponsorship and Events Manager, BMW Group