UCD takes pride in its students and its staff, whether their achievements are sporting, academic or personal. A number of competitions over the year acknowledged both the effort and endeavours of UCD athletes and those who support them.
In January 2019, UCD President, Professor Andrew J Deeks, announced the UCD Teaching and Learning Awardees for the 2018 calendar year. Awards for Outstanding Contribution to Student Learning recognise individual staff or teams including staff and faculty, who have made outstanding contributions to student learning in a specific area. This year, UCD Sport staff Suzanne Bailey, Paula Cashman and Georgina Dwyer, were presented with a team award for Outstanding Contribution to Student Learning.
Professor Deeks, speaking about the awardees and those nominated said: "It is wonderful to see that the effort that goes into providing educational excellence for our students is brought to light through these awards, both in terms of the nominations and the inspirational work of the awardees. Congratulations to all." In March 2019, the Bank of Ireland UCD Athletic Union Council Sport Awards ceremony took place at the UCD Student Centre. Almost 400 students from 21 different sports clubs were honoured for their sporting achievements over the last year. A number of special awards were presented on the night.
The Dr Tony O'Neill Sportsperson of the Year Award was given to the World Under 23 Irish Lightweight gold medallists Shane Mulvaney and David O'Malley. Crowned SSE Airtricity League First Division team in September 2018, the men's soccer team was promoted to the Premier Division, earning them the title of UCD Elite Team of the year.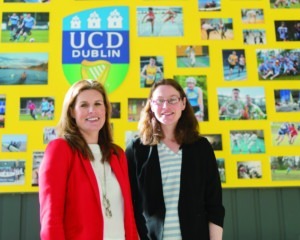 The Ladies Hockey Club won Elite Club of the Year for both their win at the University Championship (Chilean Cup), and their superb organisation off the field. Following University Championship victory for the fourth year in a row, the Ladies Tennis Team was deservedly named the Varsity Team of the Year.
The Karate Club was named Varsity Club of the Year. Hurler Paul Crummey and GAA Club's Sean Brennan were awarded the David O'Connor Memorial Medal and Dr Padraic Conway Memorial Medal respectively. The Gerry Horkan Club Administrator of the Year was presented to Tennis Club captain, Sam Totterdell.
The Men's Boat Club's senior treasurer and coach Niall Farrell was the recipient of the Bank of Ireland Graduate of the Year. The Mountaineering Club received the Bank of Ireland Club Inclusion Award. The Volleyball Club won the Bank of Ireland Event of the Year Award for hosting the Volleyball Intervarsities and club blitz.
Commenting on the sporting achievements, Professor Deeks said that "Sport is an integral part of student life at UCD and the fact that we have so many students from so many clubs who are not only triumphant at Intervarsity level, but many others taking on the cream of competition nationally and internationally, underlines the quality of our sportsmen and women."