Darragh McElhinney helped Ireland win gold at the European Cross Country Championships in December 2021. McElhinney claimed the silver medal in the Men's 8000m U23 race. His performance saw Ireland edge out Great Britain and France to win gold.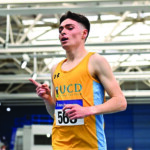 The National Indoor Championship saw four UCD Ad Astra Elite Athletes achieve gold-winning performances. Sarah Healy set a new U23 national record of 8:53.67 in the Women's 3000m. In the Men's 3000m, McElhinney won in a time of 8:02.84. In the Men's 60m, Israel Olatunde won his first national indoor title in 6.62 seconds. Luke McCann also won his first national indoor title in the Men's 1500m in a time of 3:45.14.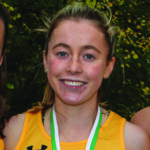 At the Irish Universities Athletics Association Indoor Track and Field Championships, UCD had success in the Women's 1500m (Kate Nurse – 2nd, Róisín O'Reilly – 3rd), Women's 3000m (Danielle Donegan – 3rd), Men's 60m (Israel Olatunde – 1st, Toluwabori Akinola – 3rd), Men's 1500m (Darragh McElhinney – 1st, Mark Milner – 2nd), and Men's 3000m (Conor Maguire – 3rd).
Four UCD athletes were selected for the World Indoor Championships in March 2022. Olatunde (Men's 60m), McCann (Men's 1500m), McElhinney (Men's 3000m), and Healy (Women's 1500m) were part of the selected 19 athletes to represent Ireland.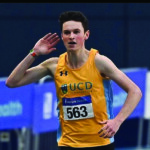 At the Irish Life Health National Road Relay Championships, both UCD women's teams had podium finishes. Healy played a leading role and was joined by teammates Ellie Hartnett and Kate Nurse to claim gold, while the trio of Danielle Donegan, Fiona McKenna, and Alanna Lally claimed bronze. UCD also picked up the silver medal in the senior men's race. The team consisted of Mark Milner, Peter Kilgannon, Darragh McElhinney, and Luke McCann.
Three Irish U23 records were broken by UCD athletes this summer; McElhinney in the 5000m and 3000m, Healy in the 1500m and 3000m, and Israel Olatunde in the 100m, and now declared as the fastest Irish man of all time.