College Of Arts And Humanities
COLÁISTE NA nEALAÍON AGUS NA nDAONNACHTAÍ
Highlights/
Buaiceanna

2022-2023
---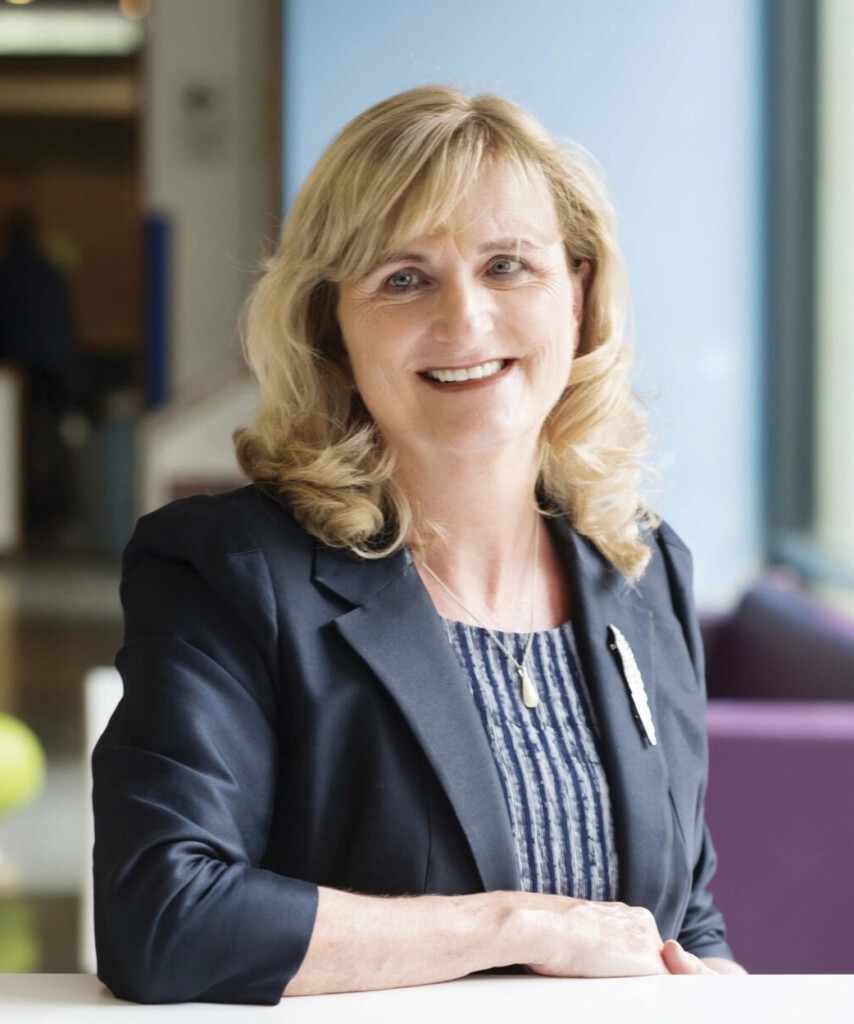 College Principal
Príomhoifigeach an Choláiste
Professor / An tOllamh
Regina Uí Chollatáin
UCD College of Arts and Humanities enjoyed numerous research triumphs across the year. At the School of History, Dr Irial Glynn won a €2 million ERC Consolidator Grant for his study 'SOS', investigating the history of boat refugees since the 1940s, while Professor Robert Gerwarth was honoured with the prestigious IRC Researcher of the Year Award. At the School of English, Drama and Film, Dr Claudia Dellacasa was awarded the Maurice J. Bric Award and Professor Margaret Kelleher became a Fellow of the Cullman Center at the New York Public Library.
Professor Wolfgang Marx, School of Music, was named PresidentElect of the Society for Musicology in Ireland and Dr Ríona Nic Congáil, School of Irish, Celtic Studies and Folklore and Dr Fiona Smyth, Art History and Cultural Policy, became inaugural members of the Young Academy of Ireland at the Royal Irish Academy.
A wide range of public lectures, concerts and launches unfolded throughout the year. The €10 million HEA-funded UCD-IADTNCAD partnership, Creative Futures Academy, was officially launched by Minister for Further and Higher Education, Research, Innovation and Science, Simon Harris TD, at the O'Reilly Hall.
The event was attended by staff from across all three institutions as well as leaders and practitioners from the creative and cultural sectors. Scoil na Gaeilge, an Léinn Cheiltigh agus an Bhéaloidis hosted the annual Léacht Uí Chadhain 'Idir mé agus an páipéar', delivered by Professor Ríonach Uí Ógáin. The School of History hosted the 'Foundation of the State Conference', part of the UCD Decade of Centenaries, which was opened by then Taoiseach, Micheál Martin.
The UCD Symphony Orchestra marked its 20th anniversary at the National Concert Hall. The School of Music hosted the Annual College Lecture titled 'Weird Hibernia,' presented by Professor Jennifer Walshe of the University of Oxford. The world première of A Civil War Cantata was held in O'Reilly Hall in partnership with UCD Archives and the RTÉ Concert Orchestra, among others. Musician and composer Paul Brady was awarded a Ulysses Medal, while the President of Portugal, Marcelo Rebelo de Sousa, was awarded an Honorary Doctorate from the School of Languages, Cultures and Linguistics.
The School of Classics and the Access Classics outreach programme were delighted to host the Classical Association of Ireland Teachers (CAIT) Young Classicist Awards in a packed Theatre L.
1. Writer, actor and UCD Artist-In-Resident Mark O'Halloran and Minister Simon Harris at the launch of the Creative Futures Academy. 2. Associate Prof. Síofra Pierse, Head of School of Languages, Cultures and Linguistics with His Excellency Marcelo Robelo de Sousa, President of the Portuguese Republic. 3. A Civil War Cantata world première at O'Reilly Hall. 4. At the Annual College Lecture, 'Weird Hibernia', Dr Ciarán Crilly, Head of UCD School of Music, Prof. Jennifer Walshe and Prof. Regina Uí Chollatáin, Principal and Dean, UCD College of Arts and Humanities.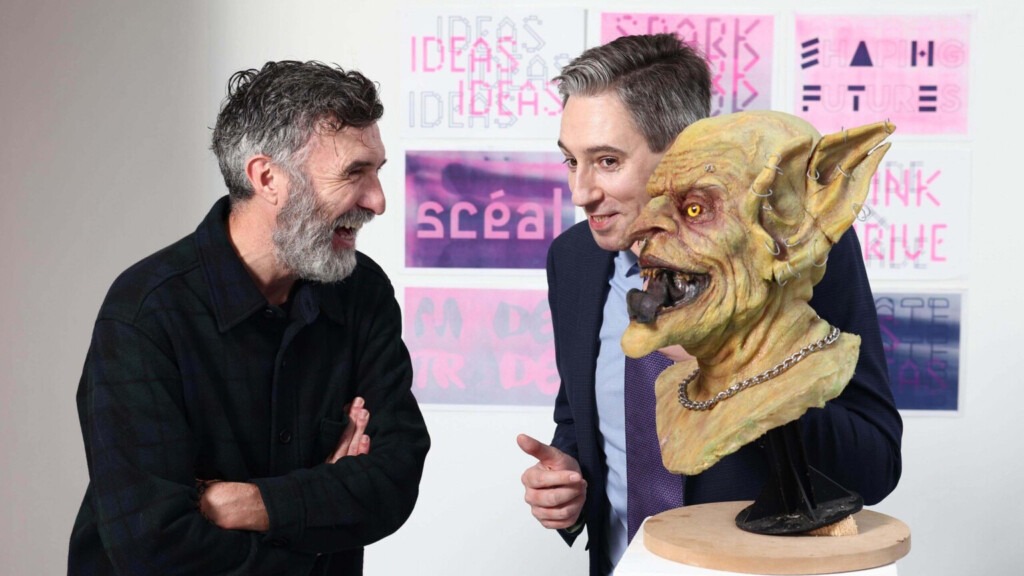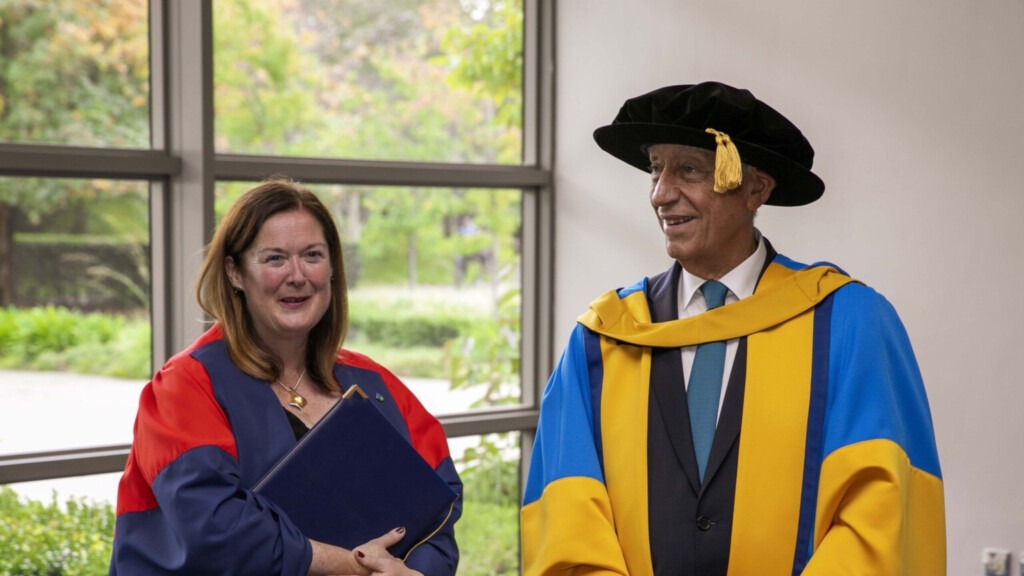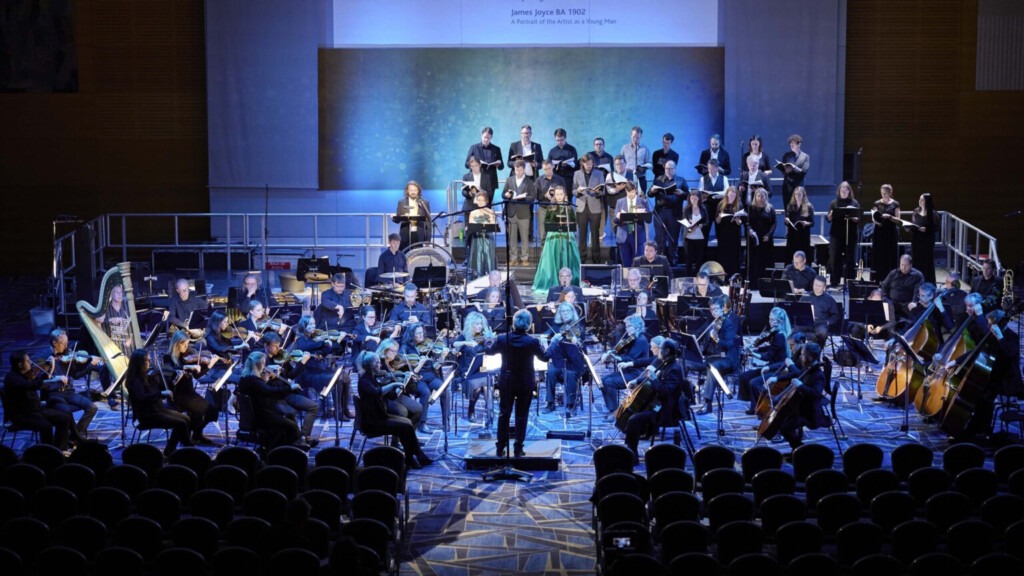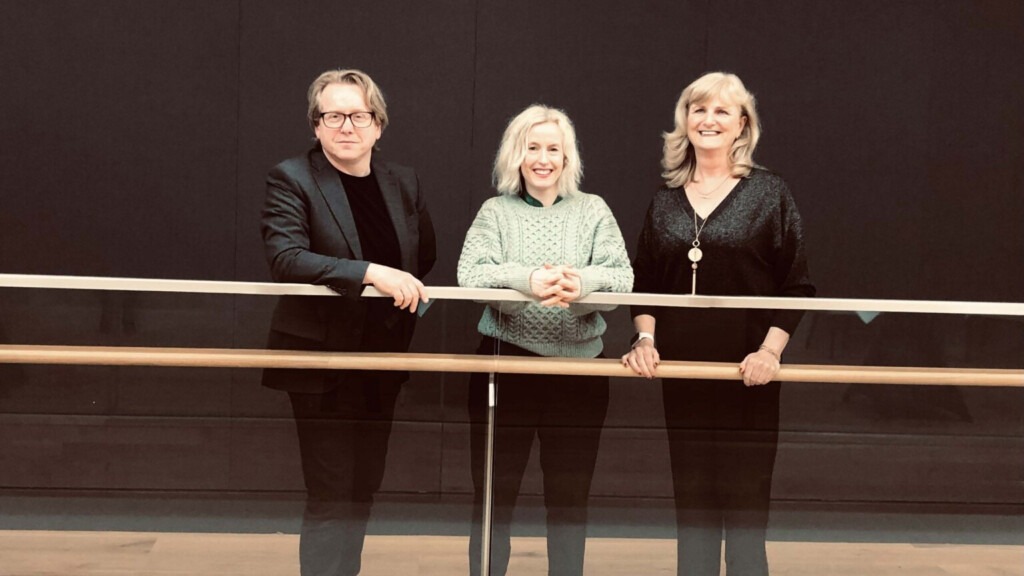 ---
College of Engineering and Architecture
COLÁISTE NA hINNEALTÓIREACHTA AGUS NA hAILTIREACHTA
Highlights/
Buaiceanna

2022-2023
---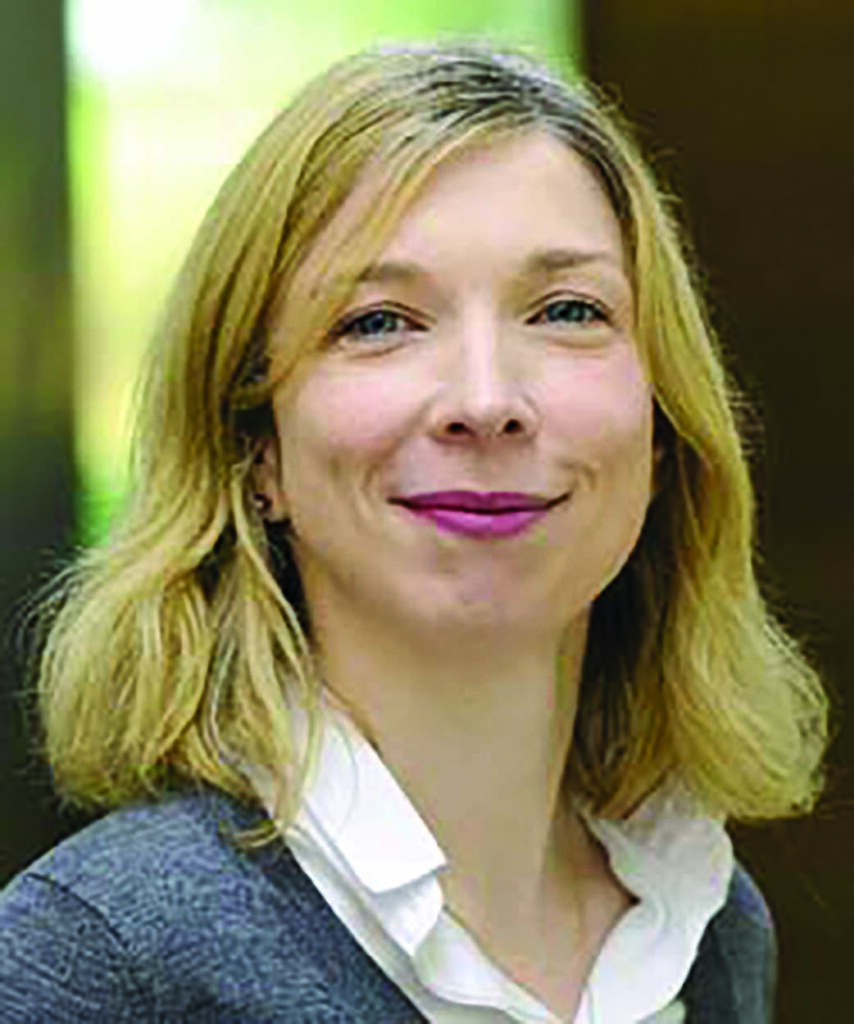 College Principal
Príomhoifigeach an Choláiste
Professor / An tOllamh
Aoife Ahern
UCD College of Engineering and Architecture had a very busy and exciting year, marked with successes for students and staff. There was a welcome return to in-person events for the Engineering Graduates' Association (EGA). The hybrid EGA Spring Lecture involved members of the EIRSAT-1 Team who talked about Ireland's first satellite, a significant milestone in the country's adventures in space. It is wonderful to see UCD Engineering taking a leading role in its development and creation.
The EGA was also delighted to present Anne Graham, UCD engineering alumna and CEO of the National Transport Authority, with the 2022 Distinguished Graduate Award in recognition of her significant contribution to the engineering profession. In March, UCD Engineers were well represented at the annual NovaUCD Innovation Awards with success for Dr Aviva Cohen and her company SeamlessCare, which was awarded the 2023 NovaUCD Spin-Out of the Year Award. SeamlessCARE is focused on developing innovative assistive technologies to enhance communication and support the care of adults and children with complex needs such as autism, acquired brain injury, dementia and intellectual disability.
Dr Eoin O'Cearbhaill was awarded the 2023 Nova UCD Innovation Champion of the Year Award and Dr Joseph Sweeney was the winner of the 2023 Nova UCD Invention of the Year Award. The College was awarded for Higher Education Partnership of the Year at the 2022 Asia Matters Business Awards for Chang'an-Dublin International College (CDIC) of Transportation, where three of our Schools – Civil Engineering, Architecture, Planning and Environmental Policy and Mechanical and Materials Engineering – are now delivering programmes. CDIC of Transportation, founded in 2020, is a joint international college established in collaboration between UCD and Chang'an University (CHD). Congratulations to UCD architecture alumnus, Niall McLaughlin, on winning the prestigious RIBA Stirling Prize for The New Library, Magdalene College, Cambridge. The passing, in 2022, of Professor Sean Sheridan, Head of School of Electrical and Electronic Engineering was a great shock to his UCD colleagues and students. Sean embodied what it meant to be a UCD engineer, always putting the needs of his students first. May he rest in peace.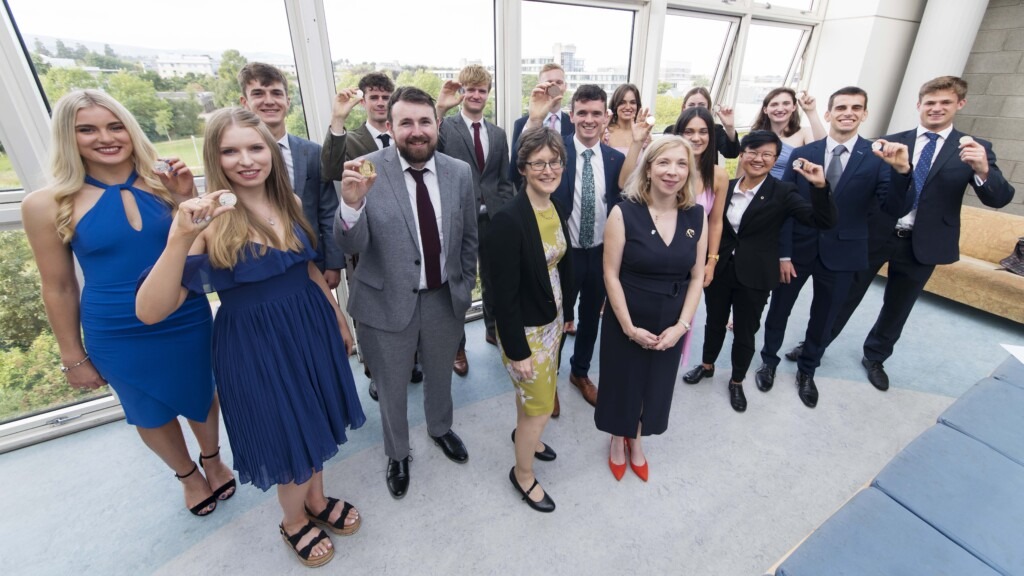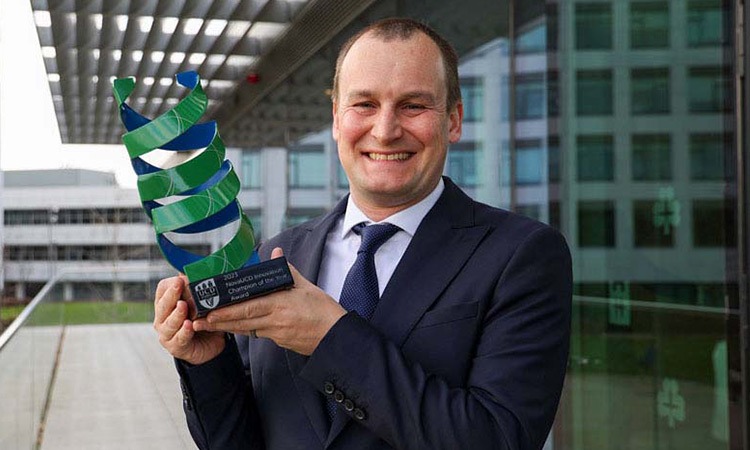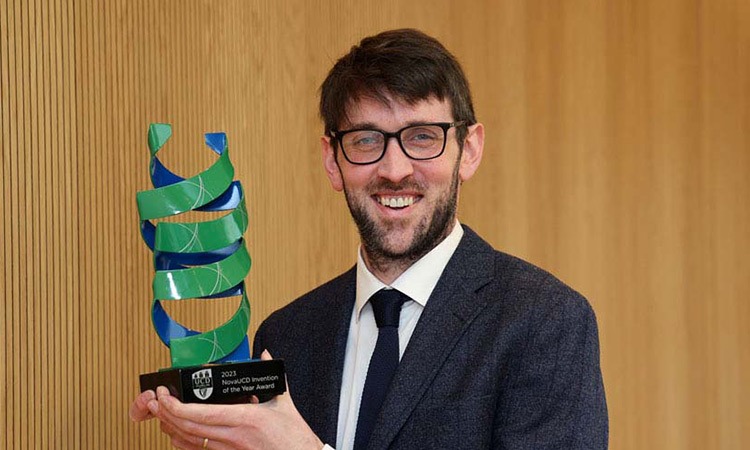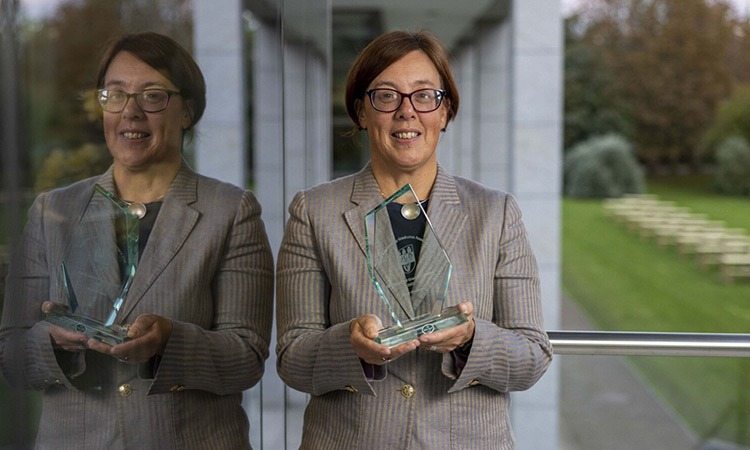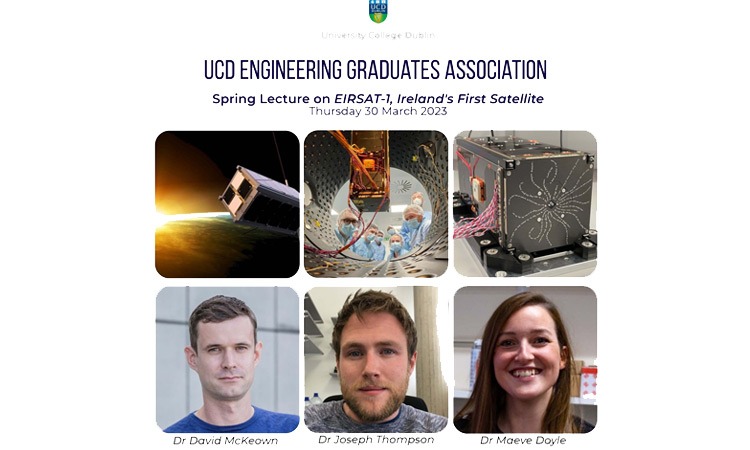 1. EGA Medal recipients. 2. Dr Eoin O'Cearbhaill, Associate Professor of Biomedical Engineering at the School of Mechanical and Materials Engineering, received the 2023 NovaUCD Innovation Champion of the Year Award. 3. Dr Joseph Sweeney, research fellow in the UCD School of Biosystems and Food Engineering, named recipient of the 2023 NovaUCD Invention of the Year Award. 4. SeamlessCARE, received the 2023 NovaUCD Spin-out of the Year Award. 5. Anne Graham, CEO National Transport Authority, was the 2022 EGA Distinguished Graduate Awardee. 6. EGA Spring Lecture on Eirsat-1.
---
College of Social Sciences and Law
COLÁISTE NA nEOLAÍOCHTAÍ SÓISIALTA AGUS AN DLÍ
Highlights/
Buaiceanna

2022-2023
---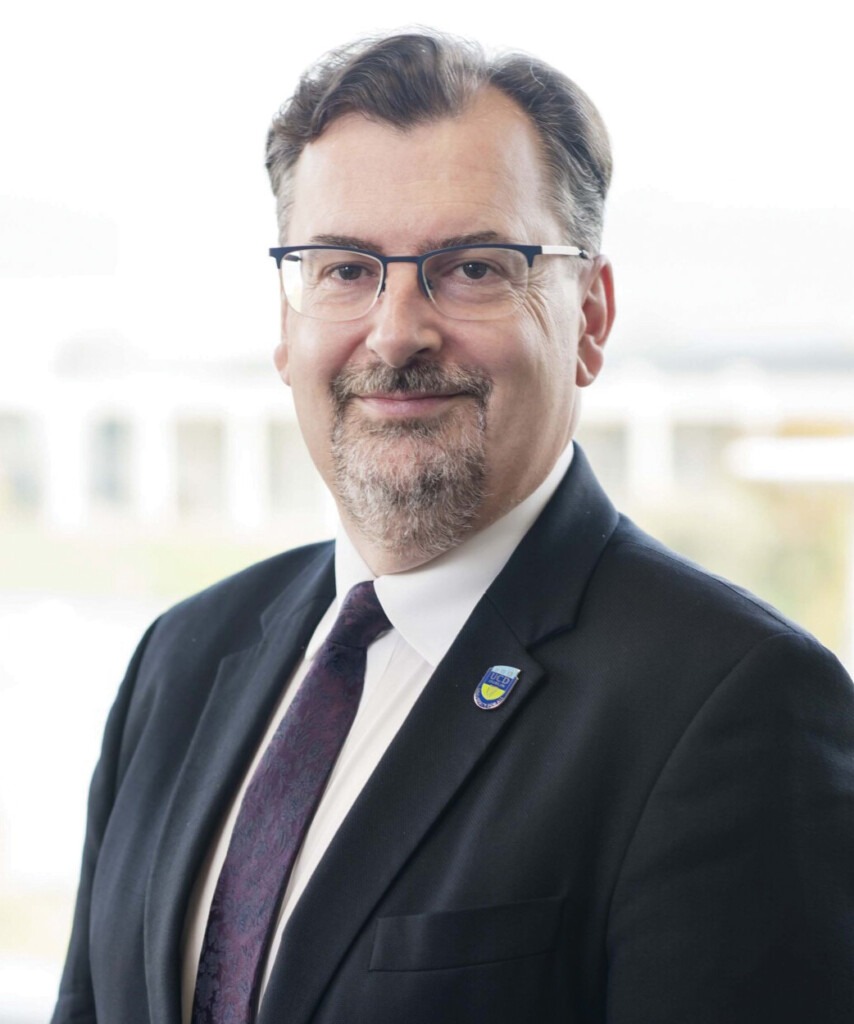 College Principal
Príomhoifigeach An Choláiste
Professor / An tOllamh
Colin Scott
The Irish Young Philosophers Awards took place at UCD with over 500 young philosophers from the island of Ireland in attendance. Now in its sixth year, founded and organised by Dr Danielle Petherbridge, School of Philosophy, and Dr Áine Mahon, School of Education, the competition showcases some of Ireland's brightest young thinkers and encourages pupils at primary and secondary level to develop their critical thinking skills. Niall Breslin (BA 2003, MSc 2019), 2022 Alumni Awardee for Social Sciences, was the keynote speaker, enthralling the students with his thoughts on the links between philosophy and mental wellbeing.
In March, UCD College of Social Sciences and Law and the University Equality, Diversity and Inclusion (EDI) unit hosted a webinar for International Women's Day 2023. UCD Alumni Awardee in Law, Bill Shipsey (BCL 1979), was in conversation with trailblazing alumna Dr Lydia Foy who led the changes to Ireland's gender recognition laws.
In March, the annual trip to Brussels by master's students from the Schools of Politics and International Relations and Law took place. Alongside a schedule of educational experiences, the Alumni Relations team held an event at the Irish Embassy of Belgium, hosted by the Irish Ambassador to Belgium, Kevin Conmy (BA 1983). After a speech by Professor Colin Scott, Dean of Social Sciences, a UCD alumni panel discussed living and working in Europe.
Dr Anita Radini, School of Archaeology, was named as one of its nine recipients for 2023 prestigious Dan David Prize – the largest award for history research in the world. This award was in recognition for her pioneering research highlighting the labours of the often invisible craftspeople and workers behind history's ancient monuments and artwork.
UCD Sutherland School of Law hosted a number of events on campus including the annual John M. Kelly lecture with guest speaker, renowned philosopher Baroness Onora O'Neill. Book launches included Palles: The Legal Legacy of the Last Lord Chief Baron, co-edited by Professor Oonagh Breen and Dr Noel McGrath, launched by Mr Justice Gerard Hogan.
The Centre for Constitutional Studies hosted a series of events. At a seminar coinciding with the introduction of the Assisted Decision-Making Capacity Act, Minister Roderic O'Gorman and Mr Justice David Barniville chaired panels. At the Annual Public Law Conference, Attorney General, Rossa Fanning, Mr Justice Collins, Ms Justice Butler and Mr Justice O'Higgins were among a distinguished panel of speakers.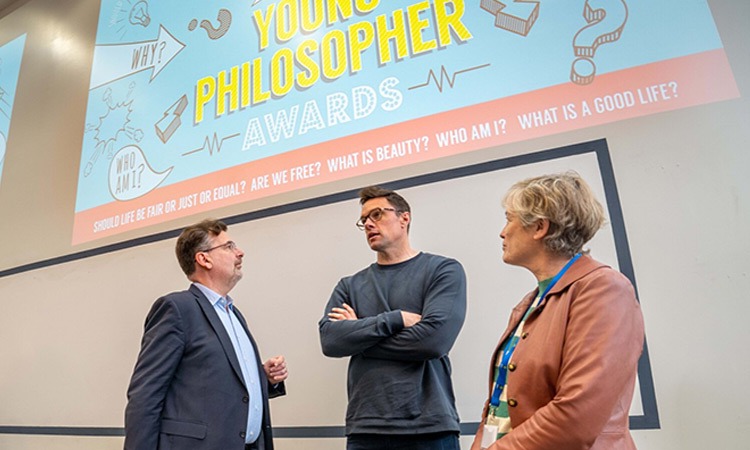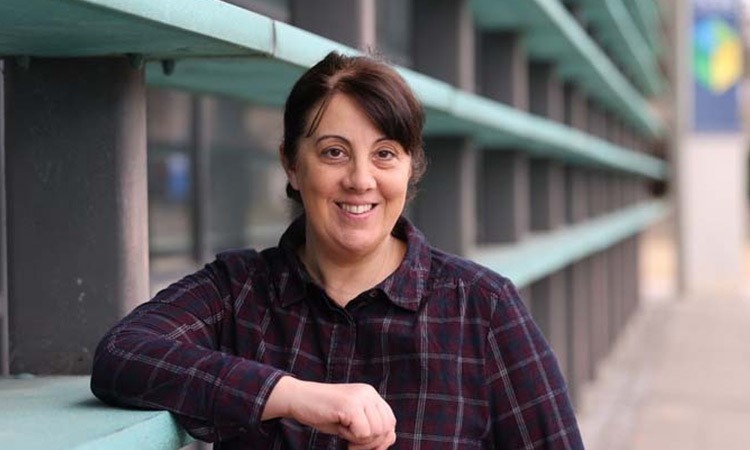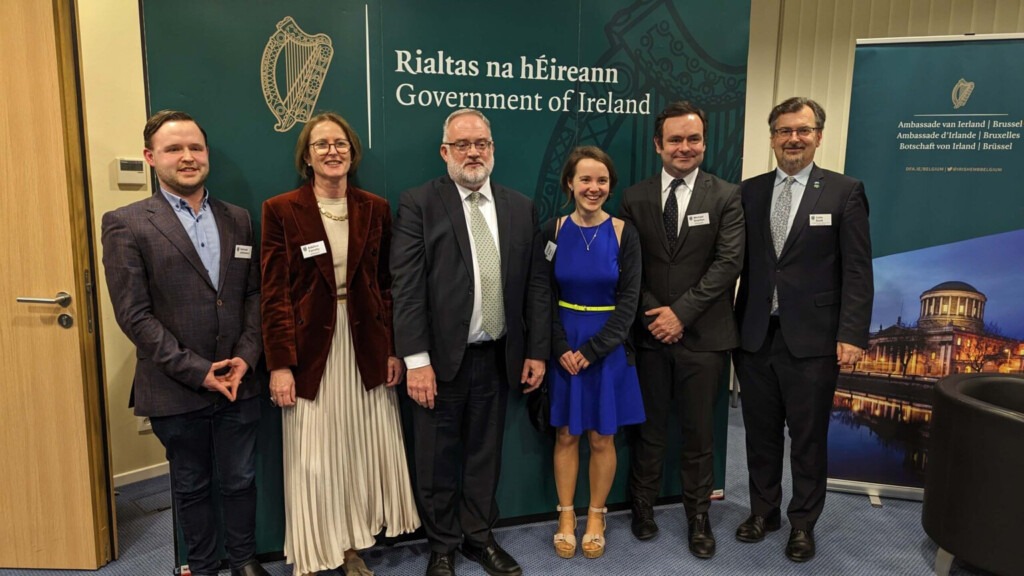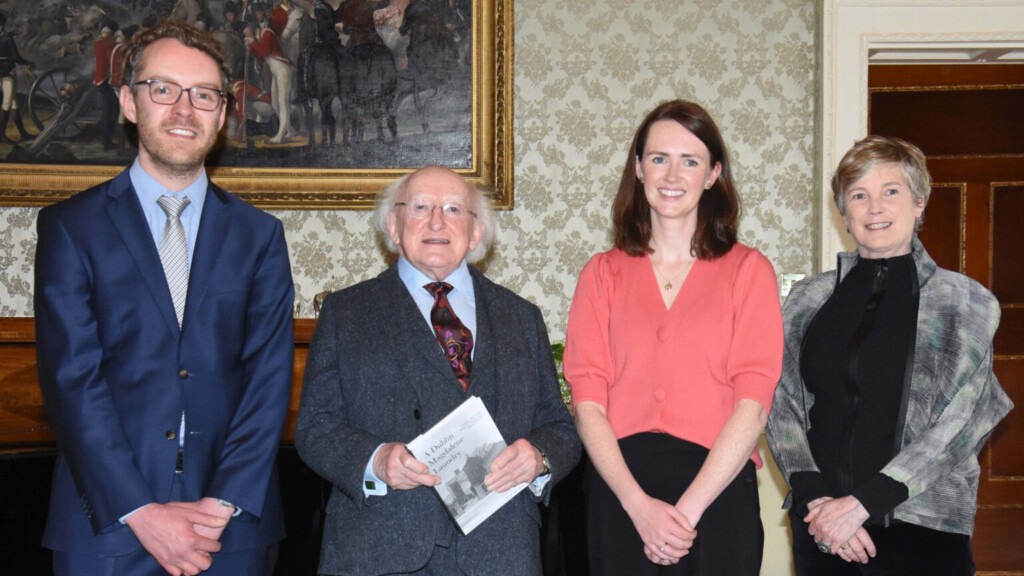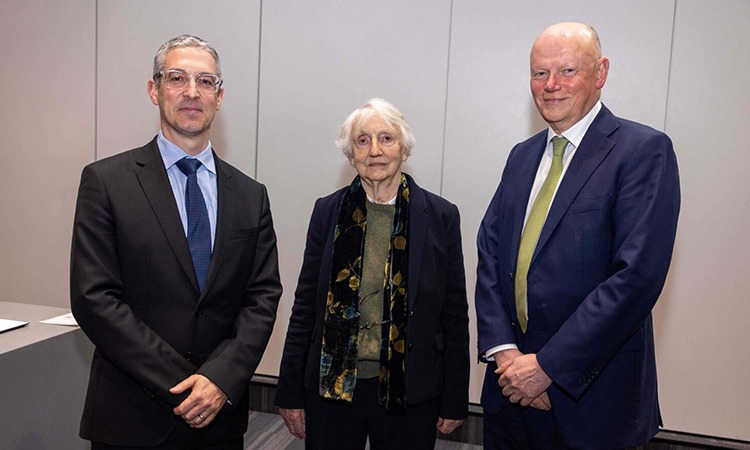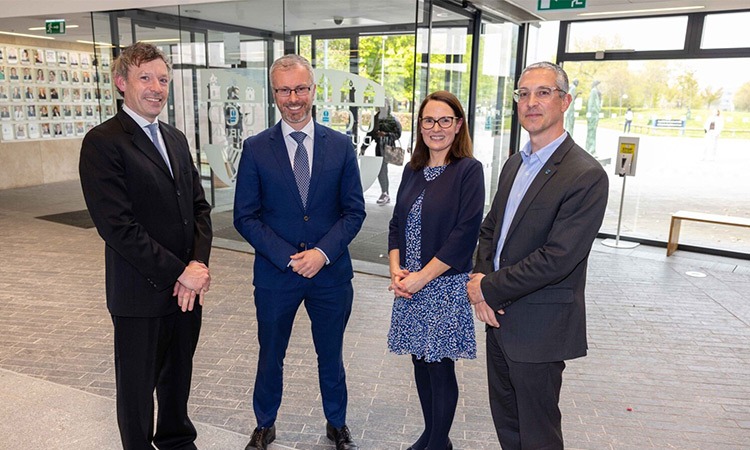 1. Prof. Colin Scott, Principal of the College of Social Sciences and Law, Niall Breslin (BA 2003, Msc 2019) at the Irish Young Philosophers Awards held at UCD. 2. Dr Anita Radini,School of Archaeology. 3. Samuel Johnson, Teaching Fellow, UCD School of Politics & International Relations, Adeline Farrelly (BA 1984) Secretary General of the European Container Glass Federation, Kevin Conmy (BA 1983), Irish Ambassador to Belgium, Clodagh Scott (BSc Social Sciences 2022), Customer Service Representative at IAPP, Michael Scanlon (BA 2003), Project Officer at the European Parliament and Prof. Colin Scott. 4. Dr Mark Coen, President Michael D. Higgins, Dr Maeve O'Rourke and Prof. Katherine O'Donnell, authors of a new book A Dublin Magdalene Laundry: Donnybrook and Church-State Power in Ireland, which was presented to President Higgins at a reception in Áras an Uachtaráin. 5. Prof. Laurent Pech, Dean of Law, Baroness Onora O'Neill and Mr Justice Donal O'Donnell, Chief Justice, at the annual John M.Kelly lecture. 6. Prof. Eoin Carolan SC, Minister Roderic O'Gorman, Orla Keane (Mental Health Commission) and Prof. Laurent Pech, attending a seminar coinciding with the introduction of the Assisted Decision-Making Capacity Act
College Of Health And Agricultural Sciences
COLÁISTE NA nEOLAÍOCHTAÍ TALAMHAÍOCHTA AGUS SLÁINTE
Highlights/
Buaiceanna

2022-2023
---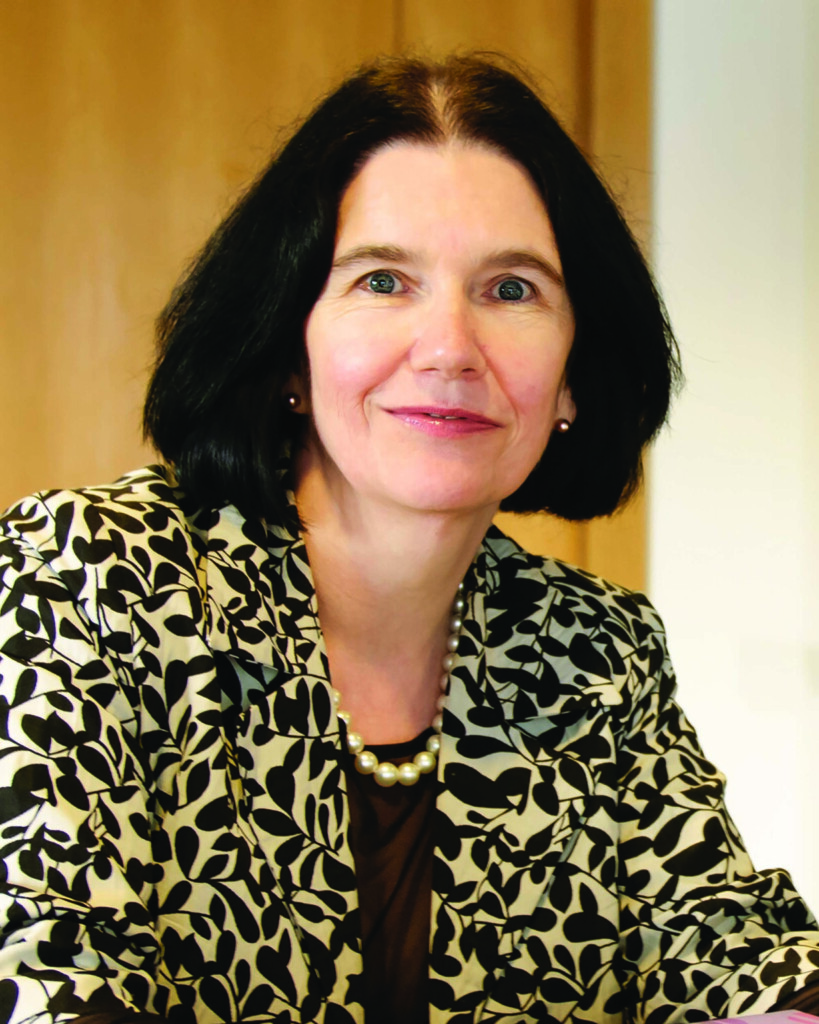 College Principal
Príomhoifigeach An Choláiste
Professor / An tOllamh
Cecily Kelleher
One Health is at the heart of UCD College of Health and Agricultural Sciences' mission, and promotion of this vision went from strength to strength this academic year. These activities culminated in the second annual One Health conference which took place in June.
The conference was organised by colleagues across the college, hosting both national and international speakers. We also continued to celebrate the excellence in research and teaching and learning which exists in the College and were pleased to celebrate the achievements of colleagues in a number of annual showcase events.
In December 2022, UCD announced the commencement of a €4.8 million development project for a new state-of-the-art facility incorporating the AgTechUCD Innovation Centre and the UCD Bimeda Herd Health Hub at UCD Lyons Farm. This year, AgSoc kicked off celebrations for its 100-year anniversary with an action-packed AgWeek.
In April, the School of Medicine facilitated site visits for the Medical Council of Ireland (MCI) accreditation, with the review panel viewing facilities and teaching activities in the Health Sciences Centre, St Vincent's Hospital, the Mater Hospital, and Children's Health Ireland (CHI) at Temple Street. The School's medical programmes, facilities and teaching activities have all received fully approved status.
The School of Nursing, Midwifery and Health Systems, and School of Medicine, launched the Sláintecare funded Graduate Diploma in Primary Care Nursing Practice at a high-profile event at UCD Charles Institute of Dermatology in March.
The School of Public Health, Physiotherapy and Sports Science Institute for Sport & Health has again been ranked number one in Ireland in the Shanghai Ranking's Global Ranking of Sport Science Schools and Departments.
These rankings reflect the School's commitments to continually improving and enhancing our world-class sports science education and facilities and producing internationally recognised research in the sports science area.
Some of the School of Veterinary Medicine's event highlights throughout the year included the Annual Christmas Carol Service, the weekly Dean's Clinical Club talks, the White Coat Ceremony for Veterinary Medicine and Veterinary Nursing students entering their final year, an exhibition on Aleen Cust (the first woman to qualify as a vet in Ireland and the UK), an annual Pride event, and interactive demonstrations and talks on all things veterinary at the UCD Festival.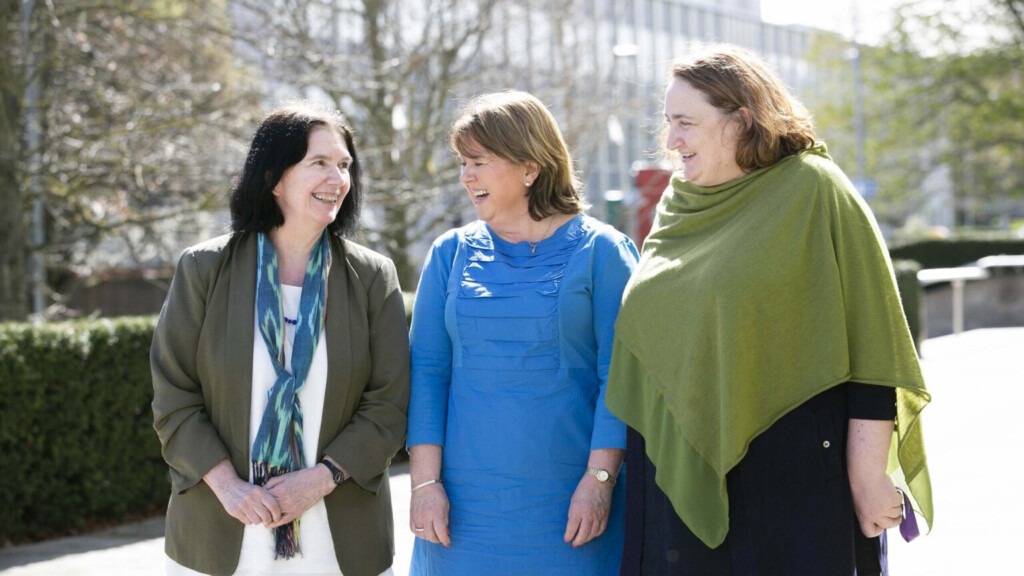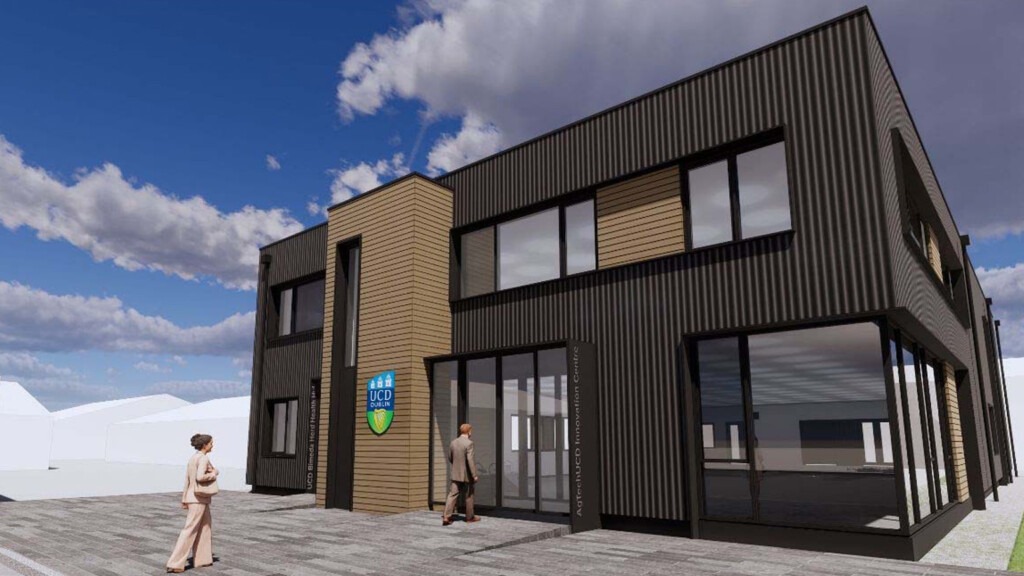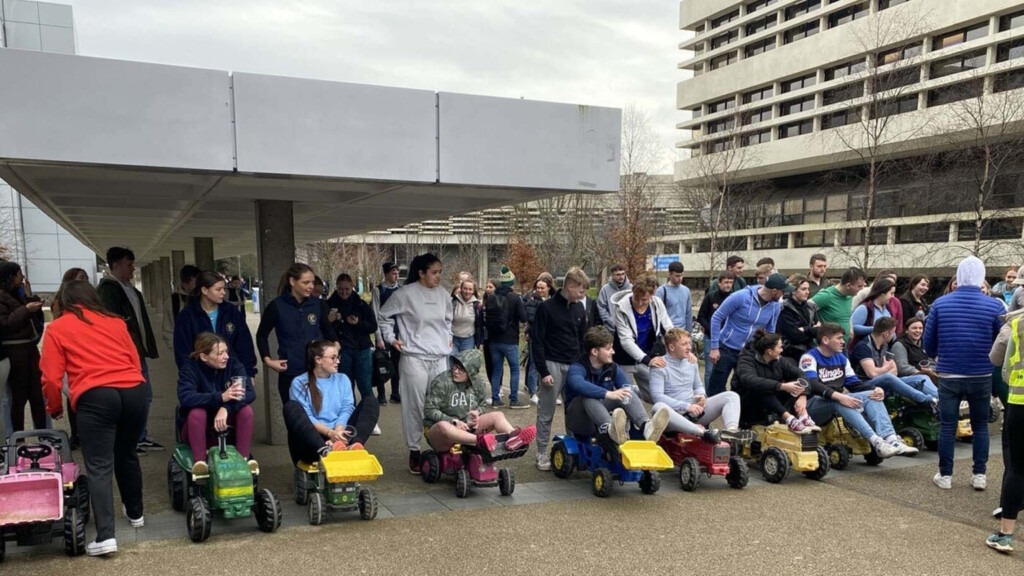 1. Prof. Cecily Kelleher, Principal, UCD College of Agriculture and Health Sciences, Muriel Farrell, Sláintecare Programme Management Office, Department of Health, and Georgina Bassett, Deputy Chief Nursing Officer, Department of Health at the Graduate Diploma in Primary Care Nursing Practice launch. 2. The planned AgTech UCD Innovation Centre and UCD Bimeda Herd Health Hub at Lyons Farm. 3. The White Coat Ceremony for Veterinary Medicine and Veterinary Nursing students entering their final year. 4. Contestants line up for the start of the Great Tractor Race during AgWeek 2023.
College of Business
Coláiste Gnó
Highlights/
Buaiceanna

2022-2023
---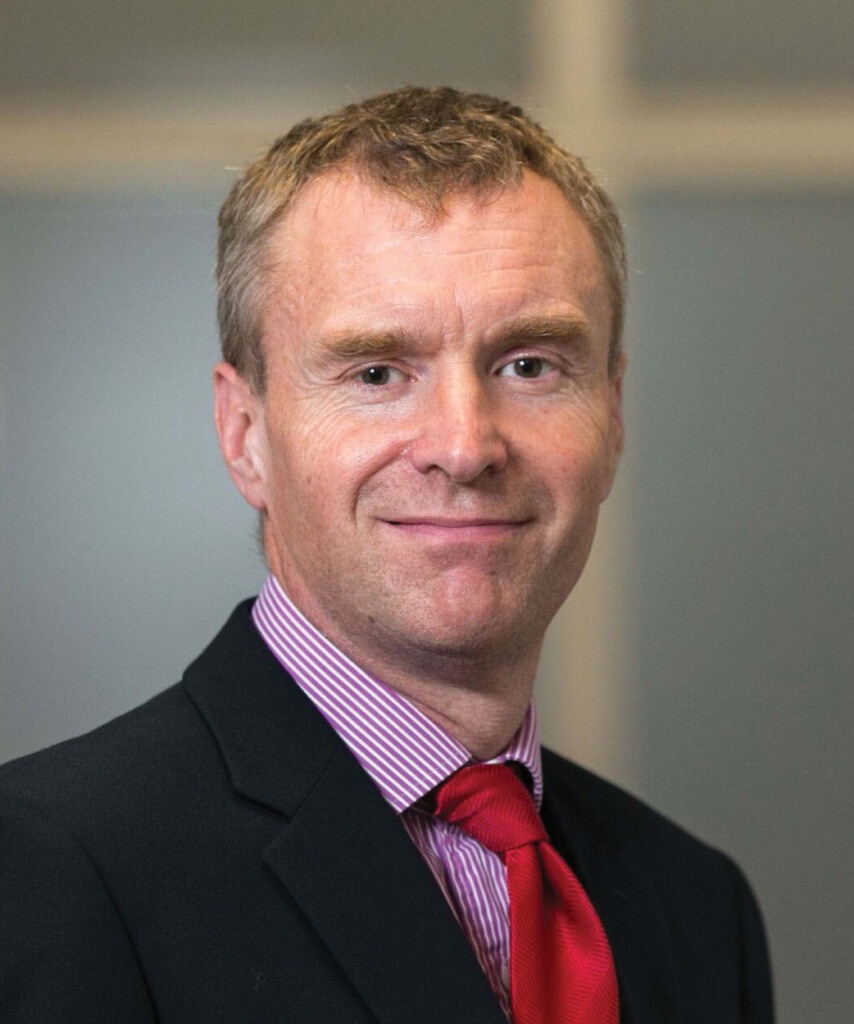 College Principal
Príomhoifigeach An Choláiste
Professor / An tOllamh
Anthony Brabazon
With the launch of the new UCD College of Business Strategy – Creating a Better Future Together – we have renewed our focus to lead transformational change through educational and thought leadership excellence.
The strategy gives us a strong framework for our vision of the College as a vibrant, international nexus of connectivity, flow and exchange of ideas. Recent research highlights include the work of Professor Susi Geiger who has achieved significant academic and policy impact through her research in Market Failures in Healthcare.
Professor Michael O'Neill, along with Dr Miguel Nicolau and Dr Annunziata Esposito Amideo, in collaboration with external partners, were awarded a €1.29 million Science Foundation Ireland (SFI) grant for their project on Regulatory Compliance Framework for Trustworthy AI Medical Device Software.
At UCD Quinn School, student Amy Finnegan represented UCD in the Future Nobel Laureates Scholarship Program in Sweden. This high-impact student scholarship programme is run in partnership with the Nobel Prize Museum. UCD Smurfit School students Alan Gleeson (MBA) and Conor Maguire (MSc in Finance) launched Ireland's first Student-Run Sustainable Investment Fund which emerged from the new UCD Smurfit Student Finance Group.
At the AMBA & BGA Excellence Awards in London, Kerry McLaverty won the MBA Leadership Award for her work as CEO of LauraLynn, Ireland's only children's hospice, and Dr Fardod O'Kelly won the MBA Student of the Year award for developing a new public-private partnership to allow access to surgery for children in the west and south of Ireland.
UCD Smurfit School again performed strongly in the Financial Times global rankings with the CEMS Masters in International Management placing 8th, the Executive MBA placing 69th and the Full-time MBA programme ranked at 94th. The School also placed 22nd in the FT's European Business Schools Ranking. Smurfit Executive Development (SED) placed first in Ireland and 35th globally in the Financial Times Open Enrolment programmes. SED recently welcomed new leadership with Professor Joe Peppard appointed Academic Director and Timothy Wray appointed Director.
The College signed a partnership agreement with Showa Women's University, Japan and joined the Global Business School Network. A successful exchange programme with Howard University in Washington, DC was endorsed by US Vice President Kamala Harris and An Taoiseach Leo Varadkar.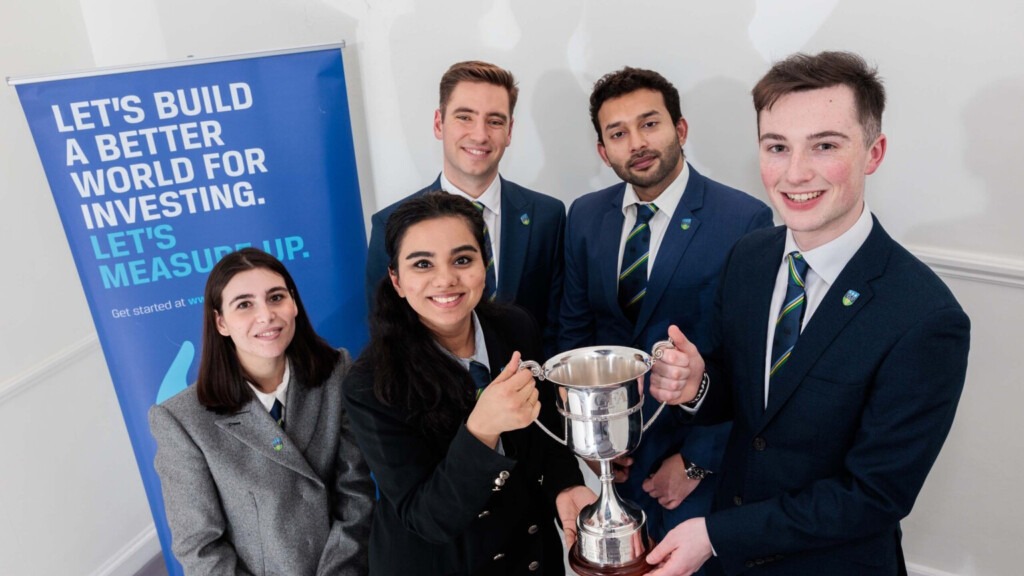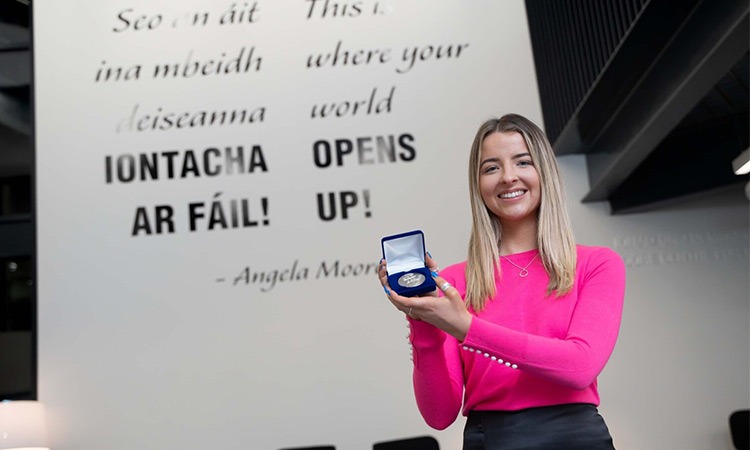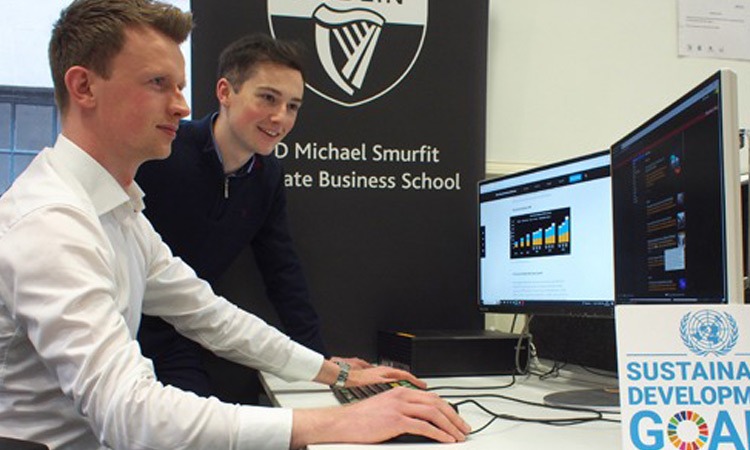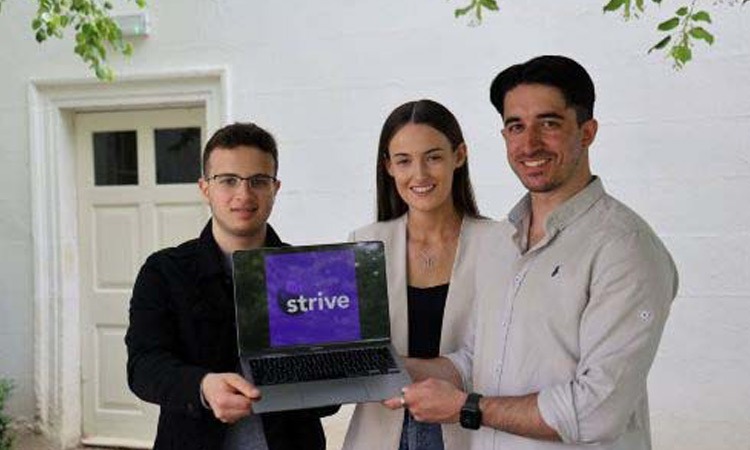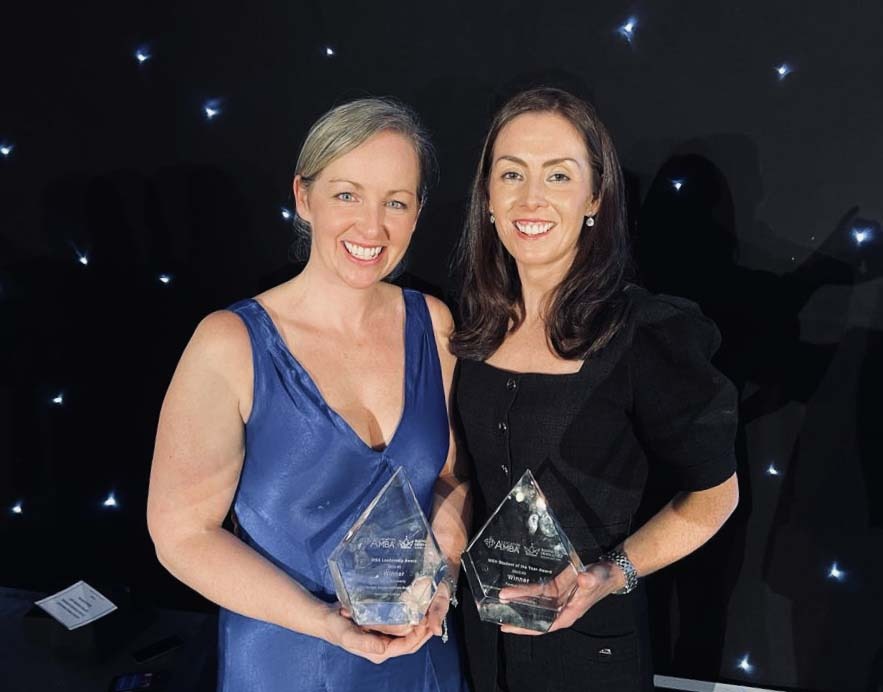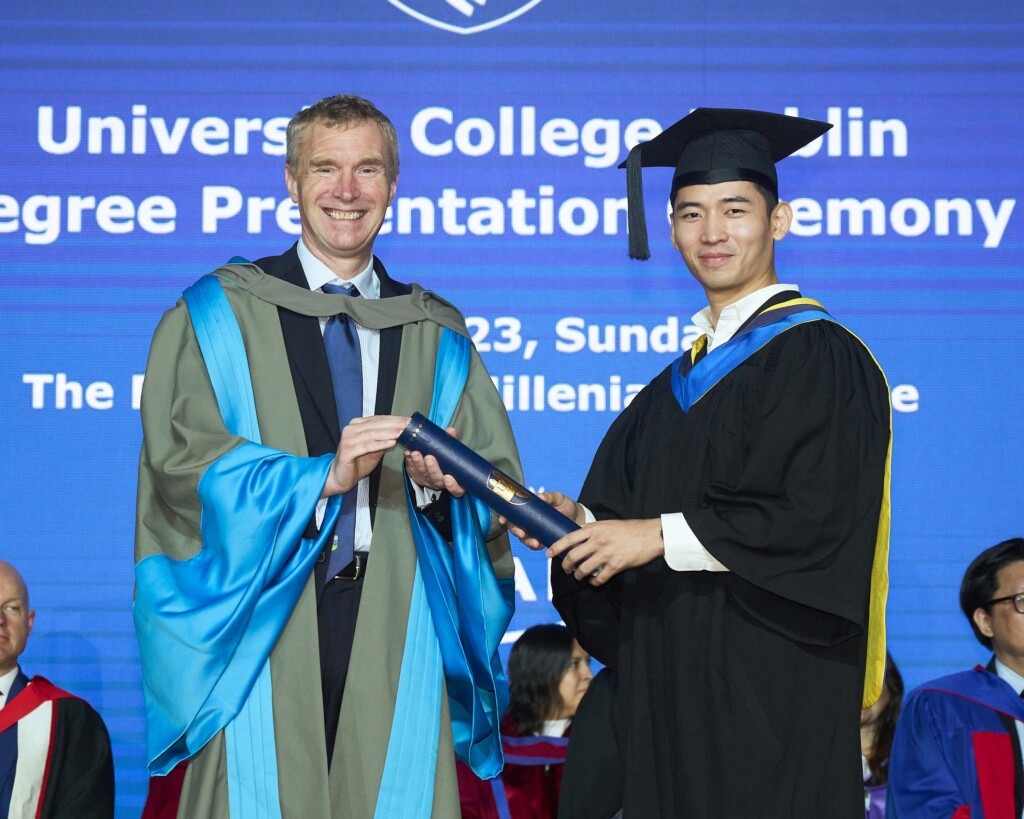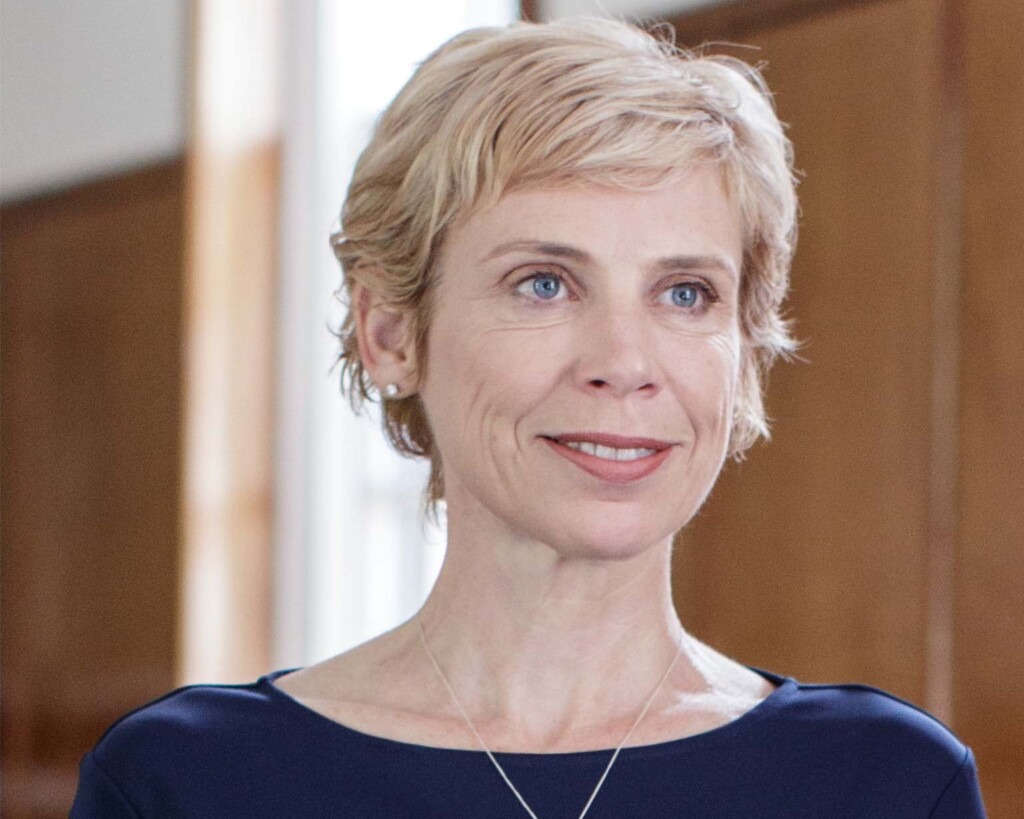 1. UCD Smurfit School team won the CFA Ireland Research Challenge. 2. An Taoiseach Leo Varadkar joined UCD President, Prof. Orla Feely, Director of UCD Smurfit School, Prof. Gerardine Doyle, and other dignitaries to celebrate the exchange between UCD and Howard University. 3. UCD Quinn School student Amy Finnegan represented UCD at the Future Nobel Laureates Scholarship Program. 4. Students at UCD Smurfit School launched Ireland's first Student-Run Sustainable Investment Fund. 5. UCD Quinn School alumna Saoirse Kelders was part of the 2022 NovaUCD Student Enterprise Competition team. 6. UCD Smurfit School alumna and CEO of LauraLynn, Kerry McLaverty, and UCD Business Alumni Manager, Gillian Durnin. 7. Dean of UCD College of Business, Prof. Anthony Brabazon at UCD College of Business Global Campus graduation in Singapore. 8. Prof. Susi Geiger.
---
College of Science
COLÁISTE NA hEOLAÍOCHTA
Highlights/
Buaiceanna

2022-2023
---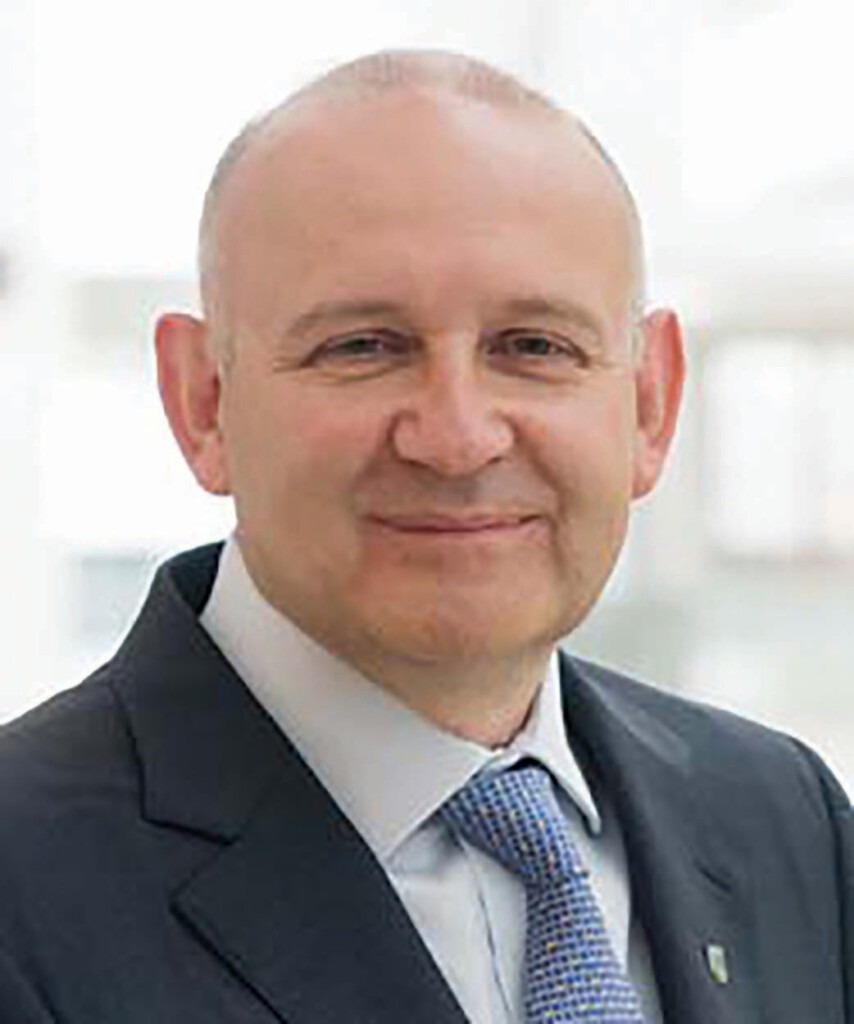 College Principal
Príomhoifigeach An Choláiste
Professor / An tOllamh
Jeremy Simpson
We continue in our commitment to embed the principles of Equality, Diversity and Inclusion into all aspects of college life and promote an inclusive and diverse work and study environment for all. Associate Professor Rory Johnson, UCD School of Biology and Environmental Science, led an international team of scientists and demonstrated for the first time that CRISPR genome-editing technology can be used as a tool to find new gene therapies for lung cancer.
Ireland's fastest man, UCD Computer Science student and Ad Astra Scholar, Israel Olatunde, made history at the European Championships when he achieved a new Irish best in the 100m with a time of 10.17 seconds. UCD School of Physics and School of Engineering's project, EIRSAT-1, Ireland's first satellite, moved a step closer with UN registration. EIRSAT-1 will carry three experiments on its Low Earth Orbit, an altitude of some 550km, and will report its data back to UCD.
UCD's AI PREMie project team, led by Professor Patricia Maguire from the School of Biomolecular and Biomedical Science, won two awards at the AI Awards for Best Application of AI to Achieve Social Good and Best Application of AI in an Academic Research Body.
AI PREMie combines AI with patented biomarkers and clinical expertise to accurately diagnose pre-eclampsia and predict patients' future outcomes. Researchers from UCD School of Biomolecular and Biomedical Science, led by Professor Geraldine Butler, found ancient yeast on the university campus.
Saccharomyces eubayanus is one of two yeasts considered the parents of the brewer's yeast, used in Bavaria towards the end of the Middle Ages. In April 2023, a portrait honouring one of Ireland's most prominent and internationally renowned chemists, Professor Dervilla Donnelly, was unveiled at UCD School of Chemistry. Professor Donnelly has played a pivotal role in influencing science policy and mentoring generations of Irish and international academics and business leaders.
The Irish Government announced €25 million of funding towards Phase III of the UCD O'Brien Centre for Science as part of Project Ireland 4040. When completed in early 2026, the Centre will provide over 66,000 square metres of excellent facilities for almost 7,500 students of science in low-carbon, energy efficient buildings.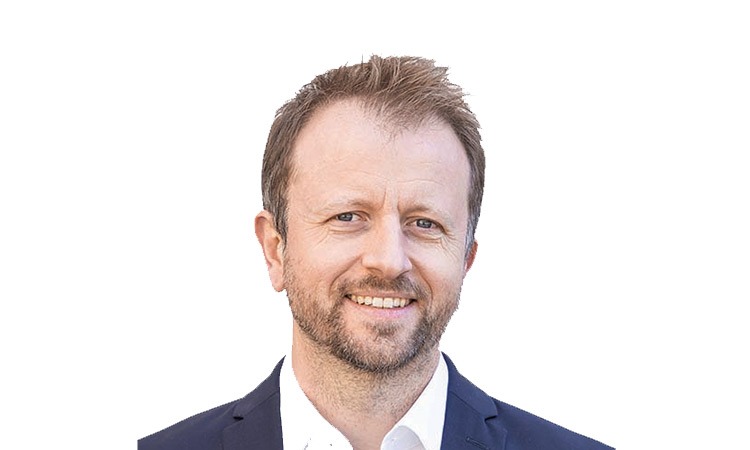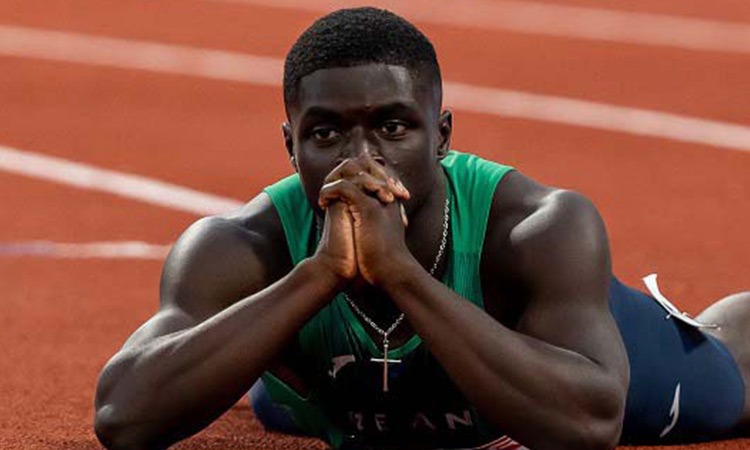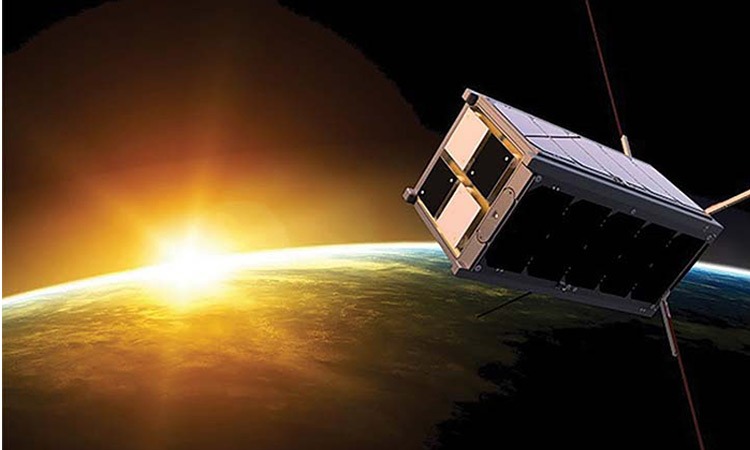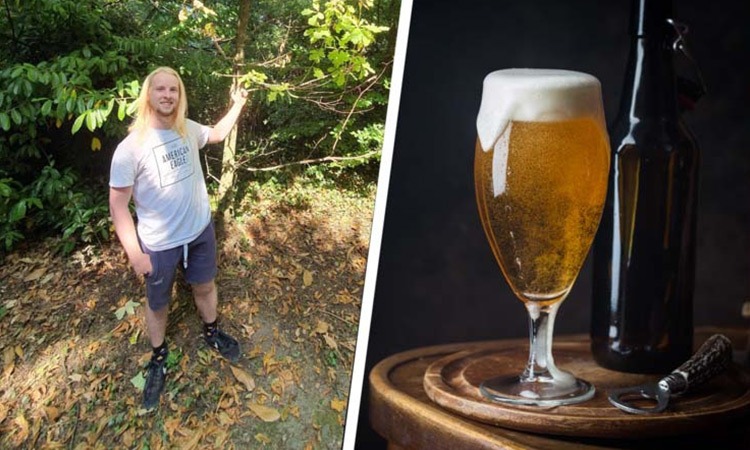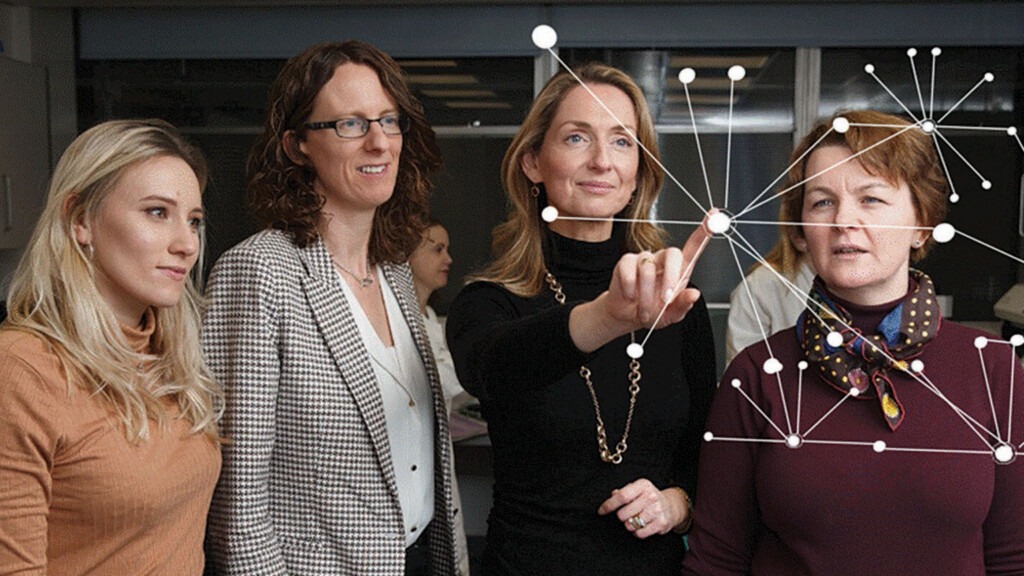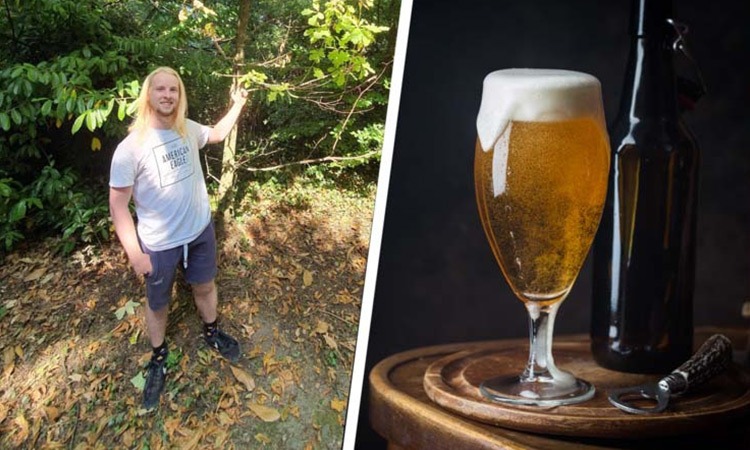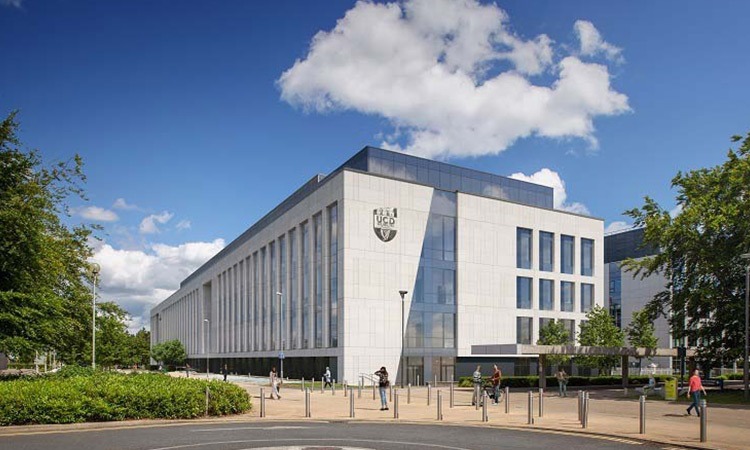 1. Associate Prof. Rory Johnson. 2. Computer Science student Israel Olatunde. 3. EIRSAT-1 satellite. 4. Genetics student Stephen Allen found ancient yeast on the UCD campus. 5. AI_PREMie Project Team: Dr Paulina Szklanna, Senior Researcher at UCD Conway Sphere, Prof. Fionnuala Ní Áinle, Co-Director, UCD Conway SPHERE and Clinical Lead in the Department of Haematology at the Mater Misericordiae Hospital, Prof. Patricia Maguire, Director, Institute for Discovery and Co-Director, UCD Conway Sphere and Associate Prof. Mary Higgins, UCD School of Medicine, and consultant obstetrician and gynecologist, National Maternity Hospital. 6. Portrait of Prof. Dervilla Donnelly. 7. The Science building: Phase III.