UCD FESTIVAL
A unique celebration of the best of UCD, the 2022 UCD Festival was a day of discovery, connection and exploration…
UCD CELEBRATED THE seventh birthday of the UCD Festival in style in June. Thousands of visitors returned to the Belfield campus for the first time since the last in-person UCD Festival in 2019.
From the UCD Symphony Orchestra's virtual reality experiences to Masterclasses in writing, UCD celebrated the Festival day with a free showcase of 145 interactive events. Organisers issued nearly 40,000 tickets for events in arts, science, engineering, technology, sport, family fun, discovery and ideas.
The UCD Festival blends educational research showcases and family fun, with hundreds of students, researchers and academics displaying their work across eight interactive zones. The hands-on nature of the demonstrations allowed festival-goers to get up close with exciting research taking place at UCD. The interactive events reflected the thematic pillars of UCD's 'Rising to the Future' strategy, Creating a Sustainable Global Society, Empowering Humanity, Transforming through Digital Technology, and Building a Healthy World.
The interactive Intel Science and Innovation Zone attracted thousands of visitors of all ages to play, create, and explore, while others explored the Engineering and Technology Zone.
Meanwhile, in the Festival Hub and the Culture Zone, festival-goers were treated to a starry list of UCD's top academics, alumni and friends joining in talks, performances, and activities. Speakers included alumni Jessica Traynor, Rick O'Shea, Chandrika NarayananMohana, Aingeala Flannery, Audrey Magee, Maeve O'Rourke, Dr Niamh Shaw, alongside friends of UCD Mark O'Halloran, Colm O'Gorman and Laurence Moroney. There was also the chance for festivalgoers to explore the campus with Sculpture Trails and Campus Tours running throughout the day.
Hundreds of primary school pupils attended an exclusive 'Intel Meet the Astronaut' event with internationally renowned Canadian astronaut Chris Hadfield. They had the chance to put weird and wonderful questions to him, and were inspired and enthralled by his experiences and insights. Later in the day, the standout event was the conversation in a packed-out O'Reilly Hall with Colonel Hadfield and Dr Niamh Shaw.
Another highlight was 'The Magdalene Laundries: Told, Acknowledged and Not Forgotten', a powerful conversation based on a book co-authored by alumni and academics from the College of Social Sciences and Law.
Relive the action with videos and images, and be the first to hear about next year's programme – all at the UCD Festival website: www.ucd.ie/festival.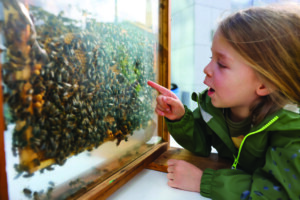 THE ARTHUR COX UCD WOMEN IN LEADERSHIP
The Arthur Cox UCD Women in Leadership conference returned in person to O'Reilly Hall and the University Club in March. The stellar lineup included Professor Aoife Ahern, Principal, UCD College of Engineering and Architecture; Noeline Blackwell, CEO, Dublin Rape Crisis Centre; Lorna Conn, CEO, Cpl and David McRedmond, CEO, An Post. Martina Fitzgerald, CEO, Scale Ireland returned for the third year running to lead a discussion on 'Women in STEM'. Panels discussed 'Executive Sponsorship', 'Women in Finance' and 'Women in Sport', and experts hosted lunchtime breakouts on intersectionality, work-life balance and returning to the office. It was wonderful to see people networking in person again and the addition of the mentor circles on day two provided a virtual element, where groups met leaders such as Dee Forbes, Director General, RTÉ, and Joy-Tendai Kangere, barrister and co-founder, Roots in Africa-Ireland. A special thanks to our corporate sponsors Arthur Cox, KPMG, ESB, Abbott, Aldi and Jaguar Land Rover who contributed so much.
UCD COLLEGE OF SCIENCE REUNIONS
UCD SCHOOL OF BIOLOGY AND ENVIRONMENTAL SCIENCE
The UCD School of Biology and Environmental Science, in collaboration with UCD Alumni Relations, were delighted to reconnect alumni, retired staff and friends at an on-campus barbecue overlooking the lake. Taking place in the UCD University Club on a sunny Friday evening in May, the get-together was an excellent opportunity for friends, colleagues, classmates and staff to celebrate 58 years of science research and education and to reminisce about their time spent at UCD.
UCD SCHOOL OF PHYSICS
The UCD School of Physics held its annual lecture and reception for alumni in the UCD O'Brien Centre for Science in May. Alumni and friends heard from fellow alumna Professor Winnie Svendsen from the Technical University of Denmark. The title of Professor Svendsen's talk was 'NanoBio Physics – a Tool for Biology' which covered her research journey from atomic and nuclear physics to probing and manipulating biology using micro and nanotechnology.
THE COLLEGE OF SCIENCE MILESTONE REUNION
Graduates of the UCD College of Science gathered in the University Club on the morning of the UCD Festival to celebrate their milestone reunion. Friendships were reignited with classmates from the graduating years of 1982, 1992, 2002 and 2012. They chatted over breakfast cocktails and brunch before going to the Science building to explore a selection of more than 40 science-based activities and events happening as part of the Festival.
HONORARY DOCTORATES AND CONCERT
Celebrating some of the stellar talents in Irish music and in recognition of their outstanding contribution to arts and culture and the central role they played in the Irish folk music revival, the University awarded honorary doctorates in March to Mary Bergin, Mary Black, Finbar Furey, Paddy Glackin, Andy Irvine, Tríona Ní Dhomhnaill and Mary O'Hara.
The awards were conferred by UCD Acting President, Professor Mark Rogers. Professor Rogers drew on the powerful words of Paul Brady's iconic song 'The Island' in his closing speech, the words of which resonate with all of us. "While we are just a small island on the western edge of Europe, we want to reach out to our sisters and brothers in Ukraine … Now I know us plain folks don't see all the story. And I know this peace and love's just copping out. And I guess these young boys dying in the ditches. Is just what being free is all about. And how this twisted wreckage down on main street. Will bring us all together in the end. And we'll go marching down the road to freedom …. Freedom."
A number of distinguished artists performed to an invited audience of 700, joined by special guest Donal Lunny and by a talented house band of UCD students and alumni. The future of traditional Irish music is indeed safe!
It was a night to remember, expertly compered by Associate Professor P.J. Mathews, Director of UCD Creative Futures Academy. There wasn't a dry eye in the house after Dr Finbar Furey's closing number – the inimitable 'Sweet Sixteen'.
ALUMNI VOLUNTEERING
Activity this past year was as vibrant as ever as our programmes took a hybrid approach and volunteers offered their time to both in-person and virtual events.
The in-person highlight of the year was engaging an impressive 200+ person strong crew of dedicated volunteers on campus for the first on-campus UCD Festival in three years. The enthusiasm and support on the day captured the true meaning and energy of the UCD Alumni Volunteering Programme.
The UCD Alumni Buddy Programme continued to link international graduate students with locally based UCD alumni, providing them with friendly support particularly when they first arrived in Dublin. Before coming to Ireland, our Global Alumni Ambassadors supported potential students from around the world who are considering studies at UCD.
This past year, myriad mentoring programmes combined in-person and online mentoring with alumni mentors for nearly 500 students across all of UCD's colleges. Our alumni mentors enable students to flourish and develop both personally and professionally by offering support on developing career ideas, clarifying goals and improving employability.
GLOBAL ALUMNI EVENTS
LONDON
In November, UK Alumni Chapter representatives David O'Reilly and Jeremy Boles were joined by a group of London-based alumni, proudly wearing their finest UCD colours, to mark the appointment of law alumnus Vincent Keaveny as Lord Mayor of the City of London.
BLOOMSDAY ALUMNI RECEPTION, LONDON MANSION HOUSE
UCD Alumni Relations and the Lord Mayor of the City of London, Alderman Vincent Keaveny, welcomed London-based alumni to a reception to mark Bloomsday. Guests enjoyed drinks, canapés, great conversation and a Joycean recital by UCD Ad Astra Scholar, Graham Butler Breen.
FRANCE PARIS ERASMUS PICNIC
As restrictions started to ease internationally, we were delighted to recommence global in-person gatherings in late 2021. An early highlight was the Erasmus Picnic hosted by the Paris Alumni Chapter in the Centre Culturel Irlandais.
CHINA SHANGHAI CHAPTER EVENT
Shanghai Chapter representatives Wendy He and Dianyi Zu hosted Shanghai-based alumni in The Tipsy Fiddler Irish bar where they enjoyed a Guinness or two and reminisced about their time in Ireland.
GLOBAL PERSPECTIVES IN: TORONTO, WASHINGTON DC, PARIS, MINNESOTA, BEIJING, CHICAGO, LONDON
Global Perspectives, our international celebration of the UCD Festival overseas, was back in 2022, this time in-person with a wonderful array of alumni events across seven locations. Alumni came together to celebrate in Toronto, Washington DC, Paris, Minnesota, Beijing, Chicago and London with activities varying from walking tours, exhibitions, picnics, park outings, trad sessions and happy hours.
BUSINESS DEANS EVENT
UCD Michael Smurfit Graduate Business School welcomed back former Deans of UCD College of Business to discuss the College's evolution over the last 30 years. This is the first time the former Deans of Ireland's leading graduate business school have gathered to share the history of business education in Ireland, and some shared their own experiences as students in the 1960s.
MEDICINE REUNION
The Medical Graduates Association (MGA) Symposium and Gala Dinner was held at Belfield in May. Dr Mick Molloy, MGA President, welcomed over 33 classes, from the Class of 1962 to the Class of 2021. The distinguished Graduate Award was presented to Dr Linda Mulligan, Chief State Pathologist, Class of 2002. With over 180 alumni and guests in O'Reilly Hall, there was a wonderful atmosphere. The symposium in the afternoon included alumni speakers Dr Linda Mulligan, Professor Maccon Keane, Class of 1987, Dr Conor Maguire, Class of 1987, Dr Deirdre Lundy, Class of 1987 and Dr Ciara Kelly, Class of 1997. Topics of discussion ranged from 'Dealing with Death – Forensic Pathology in Ireland' and 'A Multidisciplinary Approach to Managing Parkinson's Disease' to 'From Medicine to Media'.
VIRTUAL ALUMNI EVENTS
IN CONVERSATION
Our popular virtual UCD In Conversation series continued this year and we were delighted to engage with thousands of alumni and supporters from over 65 countries worldwide. Our series featured expert alumni and academics on a variety of topics based on UCD's four strategic themes. The conversations ranged from 'Cybercrime Causes, Trends and Prevention' and 'Climate Neutral Dairy Farming' to 'Achieving the UN Sustainable Development Goals' and 'Borders & Rights: Migrant Journeys'. International Women's Day featured a host of virtual and in-person activities across the campus, starting with a '#BreakTheBias breakfast panel'. Our Golden and Diamond Jubilee virtual celebration featured alumni Dr Tony Scott, Charles Lysaght, Éanna Ní Lamhna, Frances Fitzgerald MEP and Dr Desmond Green in conversation. They reminisced with former broadcaster and arts manager, Doireann Ní Bhriain. www.ucd.ie/alumni/ucd-in-conversation-a-virtual-series.
WHAT IT TAKES
This year our virtual career-building series for alumni and students, What It Takes, returned with topics on 'How to Excel in the Hybrid Workplace'; 'Thrive in Global Teams'; 'Network Like a Pro'; 'Kick Imposter Syndrome'; 'Know your Rights'; 'Stay Ahead of the Digital Curve'; 'Be an Inclusive Leader'; 'Innovate your Career with Design Thinking' and 'Flourish in your Early Career'. Speakers included Criona Turley, Emmet Daniels, Siobhán McKenna, Síobhra Rush, Ebony Lawless-McCrea, Patricia Munatsi, Dr Lollie Mancey, and Janice Lau. Watch back episodes and find out more at: www.ucd.ie/alumni/ucdwhat-it-takes-career-building-series
UCD ALUMNI AWARDS 2021
The annual UCD Alumni Awards proudly celebrate the success and exceptional achievements of UCD's alumni and recognise their outstanding accomplishments and contribution to society.
The 2021 winners – Neil Jordan, Olivia Maguire, Liam Madden, Dr Mike Ryan, Fiona McEntee, Teresa Lambe OBE, Caitríona Palmer, Ann O'Dea and Leo Cullen – were nominated by their peers, UCD faculty and students. Their accomplishments showcase the multidisciplinarity and breadth of the programmes at UCD.
It was a wonderful evening of virtual celebration, conversation and reflection. Former UCD President, Professor Andrew J. Deeks opened proceedings with UCD alumnus Pat Kenny hosting the virtual celebration, viewed by alumni, supporters, faculty, staff and friends of UCD around the globe. We were delighted to continue the tradition of closing the evening with the Choral Scholars of University College Dublin and their performance of Bó na Leathadhairce, arranged by Artistic Director, Dr Desmond Earley. www.ucd.ie/alumni/awards/watchback
UCD BUSINESS ALUMNI CHALLENGE – KILOMETRES THAT COUNT
In February 2022, the College of Business Alumni Relations team kicked off their second virtual active wellbeing initiative. The UCD Business Alumni Challenge – Kilometres That Count attracted participation from alumni, students, and friends of the college. The challenge ran for 30 days and participants were encouraged to complete a personal target distance of 100, 200, 300, 500 or 1000 km. The challenge was a wonderful success – well done to over 925 students and alumni located in over 30 countries and five continents for participating and clocking an incredible 71,000km. www.ucdbusinesschallenge.ie/
UCD RUGBY CLUB
ANNUAL DINNER
UCD RFC was delighted to hold its first Annual Club Dinner in over three years in O'Reilly Hall in May. Irish Rugby Forwards Coach Paul O'Connell was guest speaker and with more than 500 guests on the night the dinner was an enormous success, providing an opportunity for members and friends to reconnect. Amongst the many guests were members of the recent Irish Rugby U20 Grand Slam winning team. Longstanding UCD Rugby Club member Fred Gilligan was the MC for the evening and introduced UCD Rugby President David Carrigy. David spoke about the commitment of Club members who play a vital role in managing the various teams across the Men's, Women's and Tag Rugby section of the club, and highlighted the resilience shown during the pandemic. Clubman Killian Keane interviewed Paul O'Connell, the latter sharing his many experiences as captain of Munster, Ireland, the British & Irish Lions, and his current role with Irish Rugby. UCD RFC would like to say well done to Keith Smith and the Dinner Committee and many volunteers for the effort in organising the event, and also to thank all its members, Crowe and the University for the support it receives to assist it in striving to bring success to the players, the Club and the University.
UCD SOCCER REUNION
CHINA TOUR 1976
UCD Soccer Club visited China when the Club's 1975/76 freshman squad toured the Far East over a five-week period in 1976. The tour received generous sponsorship from various companies including Swissair and O'Neill's sportswear. The tour was organised by coach and aspiring sports administrator Tony O'Neill (The Doc), and was led by the President of the Club David Andrews TD. The tour captain was Paddy Dwyer from Drogheda. The tour itself took on even more historic significance when, shortly after the team's arrival, Chairman Mao, founder of the Peoples Republic of China, died at the age of 82. China was plunged into official mourning and went on high-security alert in case of foreign attack. It's a mark of the historic nature of the tour itself, the impression it made on the 18- and 19-year-old players, and the respect for Tony O'Neill who went on to make such a mark on all sports in UCD, that 23 of the 24 playing squad travelled from all parts of the globe to attend the 46-year reunion with officials from UCD Soccer Club in the O'Neill Bar in the UCD Student Centre, which was coordinated by Dominic O'Keeffe, Brian Mullins and the team from UCD Student Services and Facilities. It was on this tour of the Far East and subsequent tours that Tony found inspiration for many of the sporting initiatives he introduced to UCD, most notably the Sports Scholarships.
CLASS OF 2020 CELEBRATION
The UCD Class of 2020 spent their final University days locked down – doing exams, meeting friends and even graduating online. They finally got to celebrate their achievements in-person at O'Reilly Hall, with their lecturers and guests in June 2022. Associate Professor Maeve Houlihan gave a heartwarming welcome, and Acting UCD President Professor Mark Rogers delivered an address. Grace Oladipo (BCL 2020), spoke, advising her peers to "live a life that you are proud of. Do not let fear hold you back at all. Take the plunge. Shine so bright, because you are powerful beyond measure". After the ceremony, attendees were led in a procession of flags and drumming to the UCD Village for food, drinks and dancing 'til late.