THE FIRST STORIES I heard about UCD were romantic and social far more than they were academic. That was where my parents met – in an English tutorial given by Denis Donoghue, apparently – and fell in love. When they married, in 1968, it was in University Church. Their stories of UCD are inextricably linked with the story of their romance – lectures, debates, walks and cycles around Earlsfort terrace, "the old UCD". So many of their friends had parallel stories: love that blossomed at the L&H or over coffee in the canteen, and endured on over decades, marriages, children.
It makes sense in so many ways. University is a group of like-minded people of similar age with interests in common, forced into geographic proximity (location, location, location can apply to love as much as real estate) and – most importantly – many with an openness to the idea of romance.
There are no rules around dating in college, in the way there so often are in the workplace. Instead, there is the energy of a new beginning and a new phase in life, coupled with a readiness to learn and experience new things. This leads to greater freedom, one hopes, than the secondary school setting, where people can become very trapped in their narrow social groups and pre-determined criteria of who is – and isn't – a good match.
Does that sound like I am looking through rose-tinted spectacles? Maybe, but there is evidence to suggest my romantic notions are not misplaced. A recent call-out by UCD Connections, following on from a Valentine's Day survey carried out in 2015, brought in a flood of responses from alumni. Oliver McBryan, (BSc 1966, MSc 1967) recalls meeting his future wife Ann Higgins in the "first week of First Year at Freshers introduction". An early version of a dating app played a part: "In spring of 1964, for a week of charity events, I wrote a matchmaking programme for the brand new IBM 360 computer. Hundreds (maybe thousands) of students signed up, and kept the IBM punched card reader very busy. I fudged the algorithm to pair me with Ann Higgins and we are still together 58 years later. Good programme; too bad I didn't patent it!" Fortune, as they say, favours the brave.
Persistence is also rewarded. In 1992, Jordi Vives i Batlle (PhD 1994) was a PhD student at the department of Experimental Physics and Sandra Lynch (BSc 1992, Dip 1993) was a graduate student in the same department. "I was a research demonstrator, which involved teaching nuclear physics experiments to graduate students," explains Jordi. "Sandra walked into the lab, and I found her very interesting. In order to maximise exposure time I gave her the annihilation quanta practical, the longest experiment. She did the practical in no time, perfectly, whereupon I proceeded to suggest additional experiments, before changing tactics and inviting her to a party. And that was it. When I finished my PhD I went to the USA for a postdoc. Before I left, we became verbally engaged – I was broke, having spent my grant on rent and Guinness and couldn't afford a ring. Sandra joined me in the USA and we finally got married in 1997."
What's lovely about reading the responses is how site-specific they are. These stories couldn't come from anywhere except UCD over the last half century or so. For anyone who studied there, reading them instantly conjures up a world of idiosyncratic landmarks – the Blob, the Lake, Hilpers café.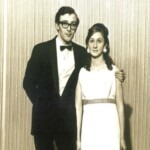 Perfectly Matched

Hugh McFadden (BA 1966) met his future wife at UCD in 1962. "Elizabeth Hayes (BA 1966) and I were both studying for an Arts degree. We married and we are still married, 57 years later. The years in Earlsfort Terrace were among the happiest years of our lives."
Elaine Dempsey (BAgrSc 2010) fell in love on campus when she broke her ankle rushing to an exam. "A knight in shining armour took me to the campus doctor then to St Vincent's Hospital. After nine hours of waiting for X-rays and a cast, he took me back to a friend's apartment and then, in a rush to commute home to Ashbourne, he was gone. When the door buzzer went the next morning, there he was again, with a beaming smile.''
Thomas Reade (BComm 2015, MAcc 2016) remembers how in the first week of lectures in 2013, a girl from the US asked him the way to the Arts Block. "We've been married since 2018. It turned out she never needed directions!''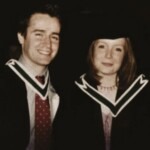 Love at First Sight

"It was love at first sight when I laid eyes on Jarlath in my first year at UCD in the student bar. Eleven years married, we have a beautiful ten-year-old boy and last year were lucky enough to make it home and show him where his parents met and fell in love. UCD will always hold a special place in both our hearts." Tina Regan (BA History 2002)
Michael Lowry (BSc 1985), met his wife Stephanie née Shannon (BSc 1981) "on the ground floor of the Science block on our first day. The chemistry worked and we married in UCD in 1988 in the church on campus. We return to UCD each year on our wedding anniversary and visit Fr Shan O'Cuiv who was Science Chaplain and married us. Getting married in UCD was the crowning glory of our years at UCD."
Gillian Fitzpatrick (BA 2006) met her husband "in lecture Theatre L. Cups of tea between lectures allowed the romance to heat up, and lots of walks around the secret lake." They were both 18. "We went to Rome on Erasmus; then back to UCD for finals. Professionally and personally, UCD laid almost every foundation in my life. Now we are four years married and have a two-year-old daughter."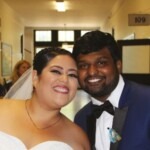 Happy Coincidence

Anabel Chavva (MA Media & International Conflict 2014) who lives in the USA, still marvels that she met her husband at UCD. "Neither I nor my husband (Dhiraj Chavva, MSc Environmental Science 2014) are Irish (he's from India). Yet both of us chose to study at UCD. We met eight years ago, instantly fell in love and just celebrated four years of marriage."
Did she go to UCD expecting to find romance, I ask Gillian? "Absolutely not!" When I arrived on campus I just wanted to learn, meet new people, and have fun." So what does she think led to meeting her life partner? "It's such a carefree time in many ways. Yes, study and exams are high pressure, but you have a lot of freedom too. Lots of people I know were finally comfortable enough to be their own person when they arrived at UCD – that freedom can lead to strong relationships."
This idea of young people becoming comfortable with themselves is one that crops up for Columb Fortune (BSocSc 2010, MCL 2012). He tells me: "I met someone around 2010 while in UCD, and we were together for almost five years. He was from the country and I think when he got to UCD he felt like he could really be himself. I think UCD gives people an opportunity, not just academically, but also socially and personally, to develop. The LGBT experience for me was very much one of total acceptance. Being gay was never an issue at UCD because there was diversity on campus."
Although marriage may not be the end result for so many, romance still blossoms. Obviously the last year and a half have been far from ideal in this regard, but immediately before that, the power of UCD attraction was going strong. Katie Eager – studying Social Policy & Sociology – recalls arriving late to a lecture in Theatre L. Sitting down, her seat squeaked loudly. "The man sitting beside me made a comment about the squeak, and we ended up chatting." A few weeks later, they met again, in The Clubhouse, added each other on Facebook and then went for drinks. Three years later, they are still together.
So far, there is no UCD dating app, although a Reddit post from two months ago, apparently put up by a UCD student, calls for this very thing. "Why not just use Tinder? Most people put their college on it anyway so you'll be able to see other UCD students," is one of the responses. And this is perfectly true – dating apps will match you based on geographical proximity and interests. Joining college societies is likely to do the very same thing, only with the bonus of a face-to-face encounter. What more efficient way to ensure potential partners share your love for archery, say, than by meeting them at a society dedicated to this very thing? There are around 90 to choose from, not including sports clubs.
It's not just hobbies; intellectual compatibility features too. Jane Lynch (BSc 1989, PhD 1994) got to know her husband Colin when both were awarded Crawford-Hayes bursaries to work on a project in Killarney as second-year Science students. "We finally got together in the fourth year. We both majored in Zoology and did PhDs. We got engaged in 1993 and married in 1994 just after we both completed our PhD viva voces. Colin was writing up his corrections the morning of our wedding. We have four beautiful kids. We never would have met but for UCD."
I met my husband while I was at UCD, although he was not at UCD. But the friend who introduced us was, as were so many of the people I still consider my best and closest pals. So yes, I feel I owe UCD, not just my education and degree, but also many lasting friendships, and my marriage.
WHERE TO TIE THE KNOT ON CAMPUS
Maybe you fell in love at UCD, maybe you didn't, but if you are an alumnus, you might like to consider getting married on campus. While the stunning University Church beside Newman House on St Stephen's Green is the setting for many alumni weddings, and you can now get married at the adjacent Museum of Literature Ireland (MoLI), Belfield also offers a number of new gorgeous spaces and places for wedding ceremonies and receptions. Ardmore House, built-in 1800, has been beautifully restored to its former glory, and civil wedding ceremonies and receptions now take place in its gracious, light-filled rooms.
The modern, stylish UCD University Club accommodates ceremonies and receptions in a number of spaces, depending on the size of your party. Iconic O'Reilly Hall, with its spectacular conservatory overlooking the lake, couldn't be smarter. You can also host your wedding ceremony on the lawn beside the lake – the spot with a place in the hearts of all alumni. Of course, Belfield's landscaped grounds, with cherry blossom trees in spring and leafy Woodland Walk, particularly photogenic in autumn, provide the perfect backdrop for your photos. And there's the pretty blue Our Lady Seat of Wisdom Church on campus too. With a stunning venue chosen, the UCD events team will work with you to create a memorable reception.
For further information, email us at event.sales@ucd.ie or call us on 01 716 2622.