THE WORD VISION comes from the Latin visionem, meaning a sight or thing seen. Having a vision is being able to see past certain events in expectation of a greater outcome. When the 19th-century educationalist John Henry Newman wrote "The Idea of A University", he might not have had a precise picture of the masterpiece he was shaping but he had a sense of it. In his mind's eye, he did not have the finished product as we know it today but he could imagine the essence of it.
More than 160 years later, for UCD President, Professor Andrew J Deeks, halfway through his ten-year term, having a clear vision of the future represents the most important part of his fantastically complex job. Leading a multi-faceted global University as one UCD, bringing together students, alumni, six Colleges, faculty, five Global Centres, world-class researchers, industry partnerships in a long-standing tradition of independent scholarship and academic freedom, requires vision and a skillset that would be beyond many CEOs. In addition to striving for excellence in academic education and research, the role involves engaging with public policy makers, industry and business. There's the drive to accommodate more students and engage more faculty and, in the climate of a deficit in government funding for third level, there's a requirement for university presidents to be involved in the quest for yet more non-exchequer funding and philanthropic support.
Professor Deeks has set out a multi-faceted UCD Strategic Campus Plan to communicate the broad direction of future physical development of the Belfield campus in terms of the facilities required to support the vision of being a global Top 100 university.
While UCD has always engaged in capital projects to serve the investment in intellectual capital, with growing numbers of students and faculty and increasing engagement with the community on a local, national and global scale, a more fundamental conceptual masterplan to futureproof the University was required.
"Whatever we decided to do, we wanted to make sure it would not stand in the way of future development, or result in ad hoc developments that would not complement each other," says Professor Deeks.
A decision was taken to launch a major international UCD Future Campus architectural competition to attract the best global minds to the challenge.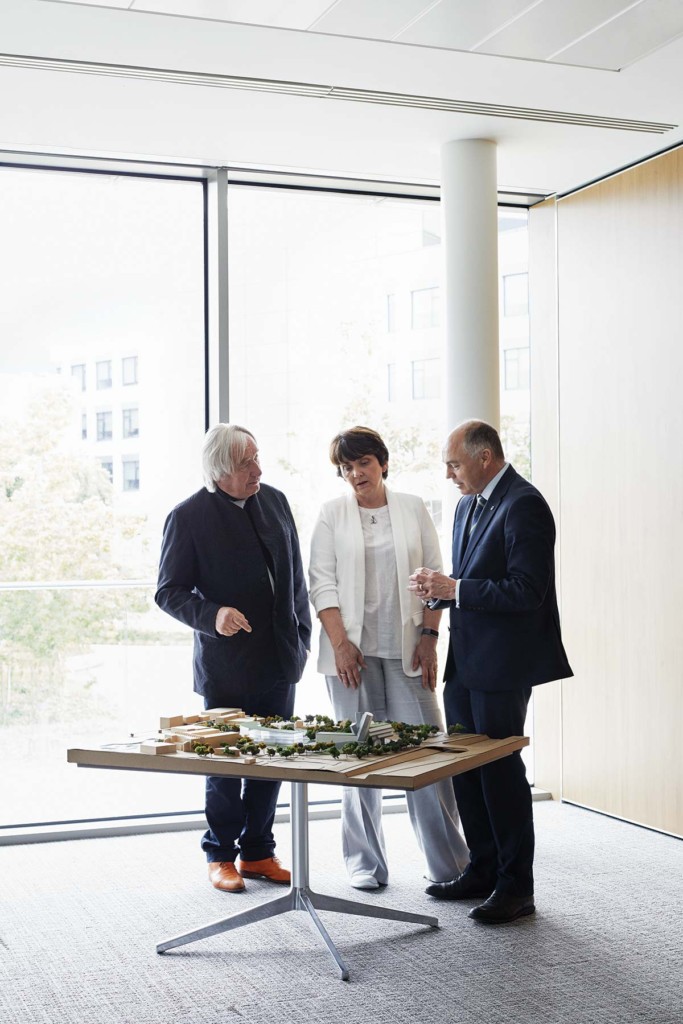 An international jury panel was formed, among them Professor Hugh Campbell, UCD Dean of Architecture; leading architect Sir David Adjaye, responsible for the Smithsonian National Museum of African American History and Culture, Washington DC; Malcolm Reading, architect and director of Malcolm Reading Consultants, the organisers of the competition; Ann Beha, principal of Boston-based Ann Beha architects; Professor Orla Feely, UCD Vice-President for Research, Innovation and Impact and Professor of Electronic Engineering; Dermot Desmond, Chairman of International Investment and Underwriting, and Ballymore founder, Seán Mulryan.
The brief was to deliver a blueprint for bricks and mortar development that would enable new and improved ways of teaching and learning, allowing the decommissioning and transformation of outdated spaces and to manage and develop the campus using best practice sustainable policies.
"The competition had two components," says Professor Deeks. "One was a masterplan for how the academic character of the campus would develop, and the second was for an iconic Centre for Creativity, and adjacent Centre for Future Learning building, that would become a frontispiece for the campus and would represent to the external world the exciting things that are happening within the University."
This desirable piece of architecture would punctuate the new entrance …
In effect, as well as setting down a cohesive, integrated plan for the overall campus, minimising its environmental impact and maximising the utilisation of space, this desirable piece of architecture would punctuate the new entrance to Belfield, orienting UCD outwards and creating a visible, exciting new landmark. Its key element, the Centre for Creativity, would be a symbol of the capacity for creativity that UCD has among all disciplines. The Centre would house the creative programmes such as architecture and engineering but would also express an exciting vision of the future which is interdisciplinary.
"It gives us an opportunity to put in place facilities that are transformative, which learn from modern pedagogy," says Professor Deeks.
From a field of 98 submissions from many of the world's most prestigious architecture firms, New York and Beijing- based Steven Holl Architects (SHA) emerged the winner. SHA's placemaking strategy focused on creating an iconic Centre for Creativity as a gateway presence which links to seven new quadrangles of open green space, designed to enhance the campus' historic features and woodlands. A new pedestrian spine, parallel to the campus' original spine, creates an H-plan organisation, lined with weather canopies that double as solar connectors, forming the infrastructure of an energy network.
Cafés and social spaces are located along paths for informal gathering; landscape spaces are animated by water-retention ponds, weather-protected seating areas and preserved specimen trees.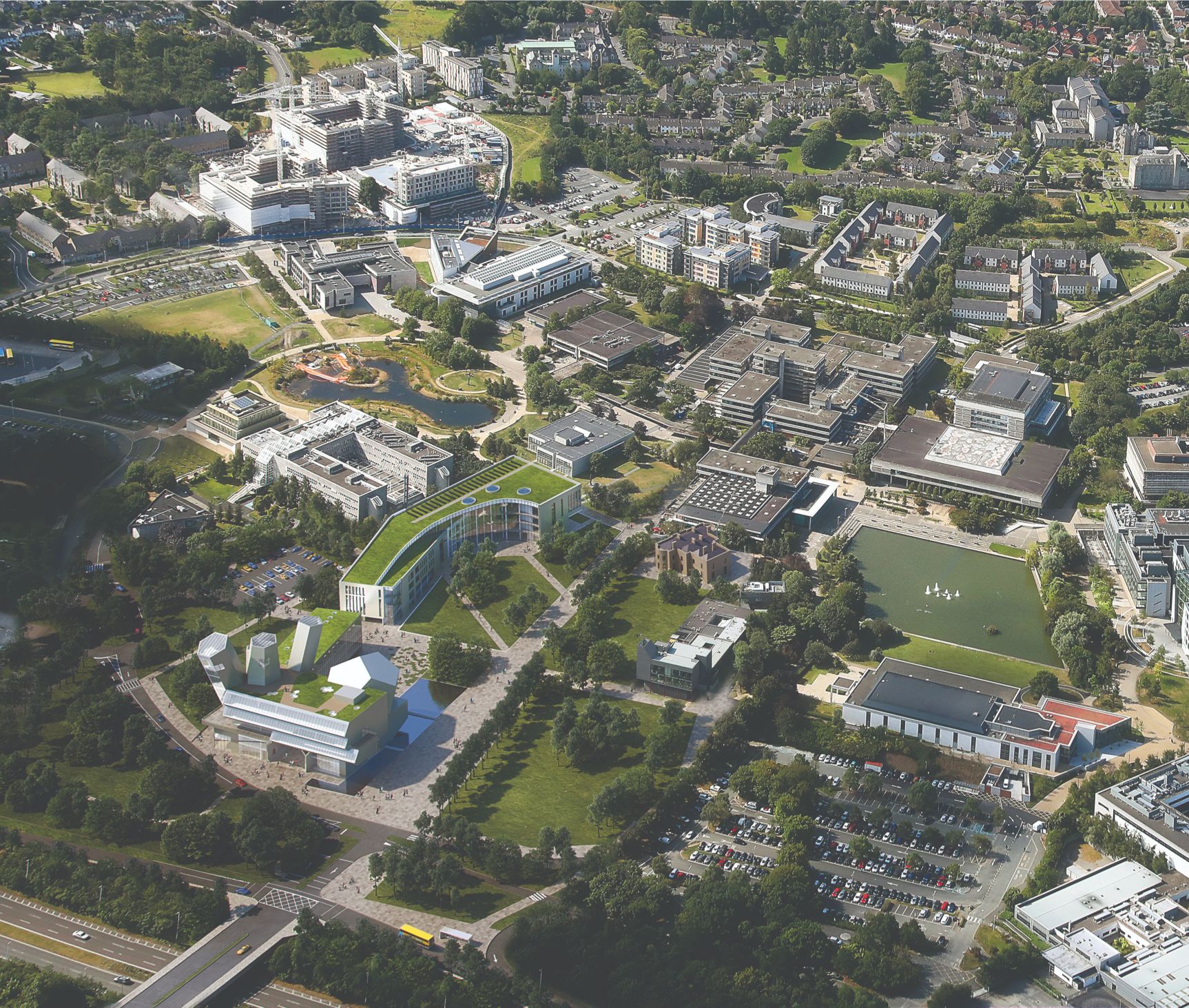 Steven Holl said: "We are very honoured to have won the competition. It's a very important and inspiring project for Steven Holl Architects. Our masterplan and the new UCD Centre for Creativity respond to the particulars of the site to create place and space and reflect on the history and quality of UCD's campus."
Past SHA campus projects include the Museum of Fine Arts Houston's expansion and Glassell School, the Lewis Arts Complex at Princeton University, and the Reid Building at the Glasgow School of Art. Holl's design for UCD, the 8,000 sq m Centre for Creativity, entrance plaza and pool and seven new quadrangles of green space is bold and dramatic. Inspiration comes from a number of sources, including the Giants Causeway and James Joyce, as well as from the well-known dodecahedron Water Tower, probably the University's most recognisable landmark.
Holl's new building with its nine-storey tower, will be a visible beacon on the UCD skyline. Professor Deeks has described it as an exhilarating presence at the entrance to UCD, designed to invite the public to campus for all types of public engagement.
For many alumni and faculty, introduced to the Future Campus plans at the UCD Festival in the summer, it was clear that architecture was a powerful way to transform the campus for the future. Steven Holl gave a presentation on the scheme and observers could examine a scale model. Professor Hugh Campbell, Academic Lead for the Centre for Creativity and Dean of Architecture, which will be an anchor tenant of the building, commented. "Architecture, and a well-designed building, has the power to change not just how we perceive something physically but how we feel."
"Society is changing and that drives the change needed in the education that universities like UCD provide."
While the University's growth inspired the immediacy of the need for additional infrastructure, it is exciting that the competition flushed out so much potential to create new buildings fit for new pedagogogical purposes. "Society is changing and that drives the change needed in the education that universities like UCD provide. Discussions with many employers, domestic and multinational, are telling us that people will need skills to work in diverse multicultural teams, to show leadership, to have resilience, to be flexible, active and dynamic," says Professor Deeks. "These are not things learned in a lecture theatre. They are learned in active learning environments and by new methods. We want to be adaptable for the future."
Professor Eilis Hennessy, Academic Lead for the Centre for Future Learning, a new building which will be located next to the Centre for Creativity, explains: "In digitised educational settings, the classroom will be a place where students spend more time in discussion, critical analysis, and collaboration than in passively listening to lectures. The focus on peer group engagement and problem solving will also make classroom activity more similar to workplace activity than it has been in the past."
Professor Hennessy also noted that student wellbeing is an important aspect of the development of the Centre for Future Learning. The building design will, therefore, facilitate collaborative work as well as independent study and will provide students with the opportunity to engage with peers from every College in the University. "Students in the universities of tomorrow will learn about the world by investigating and researching solutions to challenges both on their own and as members of a team. They need to be comfortable working with groups of individuals from different backgrounds and being able to show their leadership skills."
UCD will have not only the workplace in its sights in terms of educating students, according to Professor Deeks, but society in general. "We are preparing people to take their place in society. Most graduates will have several careers and will need to be educated with interdisciplinary skills to make a positive contribution to society. This is a global trend."
It's also a global opportunity. With the potential to become the biggest English- speaking university in the European Union after Brexit, UCD must recruit and support students of oustanding potential at all levels, whatever their background.
Professor Deeks explains: "We have real competitive advantage here. At this particular point in time where some English-speaking countries are becoming less welcoming to people, Ireland remains a friendly, welcoming country. Our domestic students will have an advantage too in that they will be in an environment with people from a variety of different backgrounds.
In one sense we are educating the world by bringing people here where they can get a quality Irish education that prepares them to take their place in a global society. On the other hand, we are ensuring that more and more of our students spend time abroad as part of their experience."
As Ireland's Global University, UCD has further expanded its outreach activities with the establishment of five Global Centres, in the US, China, India, Malaysia and the Middle East. There are now more than 279,000 UCD alumni in 169 countries worldwide.
"It is through the support of our alumni that we will be able to achieve the standing on the world stage that UCD really deserves," says Professor Deeks. "I attend alumni functions all over the world and I observe how our alumni are extremely positive about their experience at UCD. They are actively engaged through the 40 Overseas Chapters to help us build the international student population at the same time we build the Irish student population."
UCD's progress and this vision for a fundamentally new era on campus cannot be impeded by a lack of government funding, emphasises Professor Deeks. He refers to the awareness amongst philanthropists, whether alumni or not, of the need for funding of universities in Ireland.
"Philanthropy from private donors is a significant aspect of being able to fund this new Future Campus phase," says Professor Deeks. "We are also looking to the government through the Higher Education Strategic Infrastructure Fund to fund part of it, and we will fund some of it through University operations. The balance will come from the European Investment Bank which is supportive of Irish higher education. They have indicated their continued support, particularly as it relates to these sorts of transformative pieces of infrastructure that strengthen the academic experience."
This year, UCD has also received the largest donation from a single donor that the University has received in its history. The donation supported the Future Campus architectural competition and it will also help fund the Centre for Creativity. "[The philanthropist] saw this as good for Ireland," says Professor Deeks.
As well as the masterplan for the academic character of the campus, the University plans to create residential places for 3,000 more students, with the construction of the first third now underway. Plans for sports and student amenities include the long-awaited running track, also fully funded by a donor. Not only is the build covered, but also its maintenance for a minimum of 17 years.
The generosity of UCD's benefactors has been forthcoming in part, says Professor Deeks, because UCD has a clear vision and executable masterplan that philanthropists can believe in. "We have to deliver our part. A strategic campus development plan that is integrated, well considered, properly costed, and transformational for both the University and the country."
Written by Jane McDonnell
Photography Simon Watson