Stories from the Class of 2022
University College Dublin's newest alumni, the class of 2022 told us about their time at UCD and what they're looking forward to after graduation.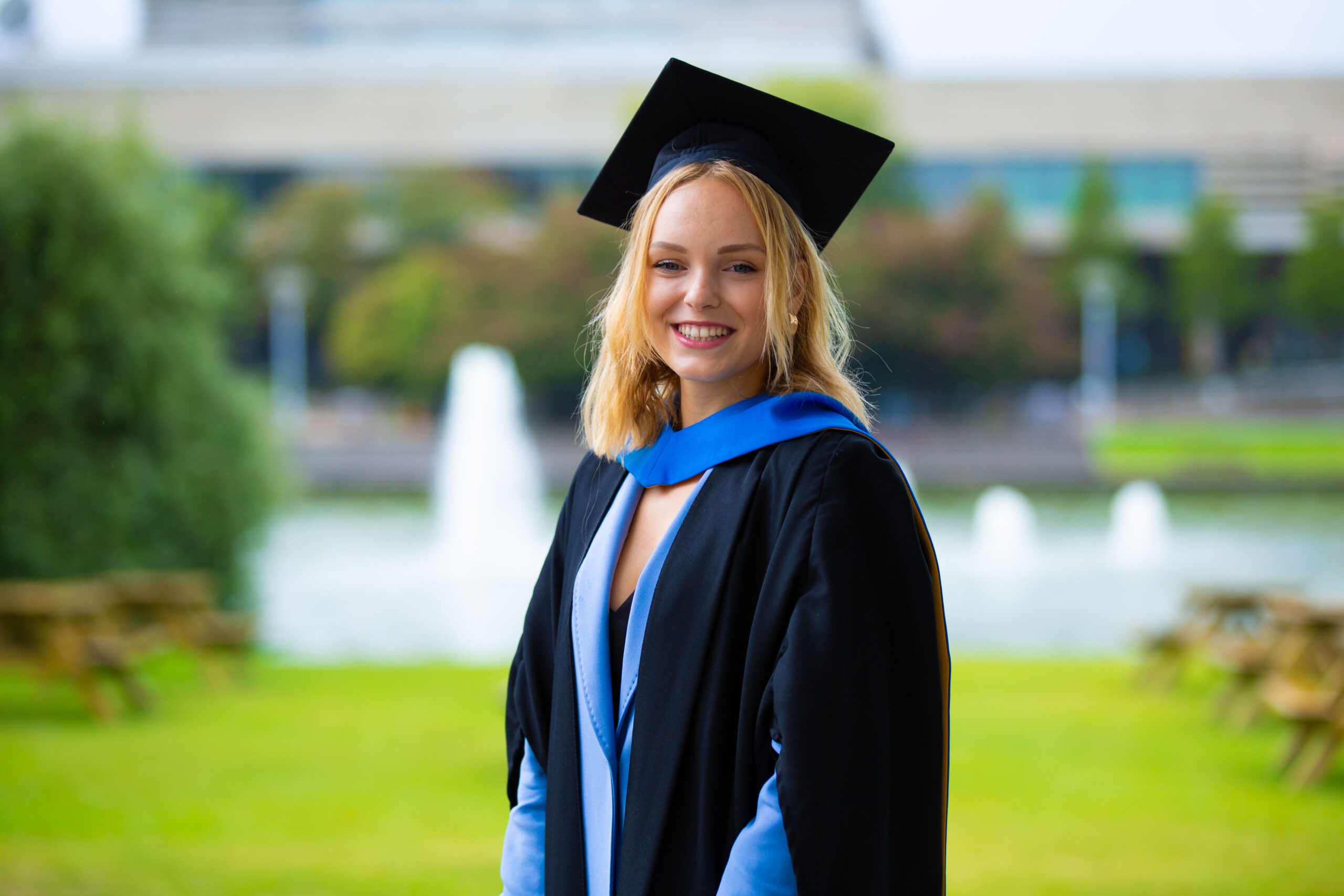 Dariya Bazhenova - BComm International
With war ongoing in her home country, Ukraine, Dariya Bazhenova took on a new role and spent her summer welcoming refugees to the UCD Belfield campus.
Originally hailing from Ukraine, Dariya Bazhenova moved to Italy at the age of seven and later came to Ireland as a teenager by herself to complete her education.
"At seventeen I had the opportunity to go abroad to improve my English. I decided to go to high school in Ireland so I went to school in Templemore, Tipperary."
She liked Ireland and the Irish culture so much that she decided to stay on and study for her undergraduate degree at UCD.
A talented multilinguist, Dariya wanted to continue studying her favourite school subjects, languages, in college. To keep her career options open, she opted to study Business with French through the Commerce International programme at UCD Lochlann Quinn School of Business.
"[UCD] is one of the best universities in Ireland and I wanted to move to Dublin, especially after two years in Tipperary."
When teaching went online at the onset of the Covid-19 pandemic, Dariya returned home to Italy, where she kept busy by taking on an internship on top of her coursework.
"I couldn't just stay at home with Mom after two to three years living abroad, so I decided to do an internship in human resources."
Eventually Dariya was able to go on Erasmus, studying in Paris for a semester and then completing another internship through French where she focused on Sales and Business Development.
"The business was focused on the French market, so I expanded the product into Italy and some English-speaking countries."
While working as UCD Residential Assistant, Dariya received a call from her manager asking if she would be interested in working as a Key Liaison between Ukrainian refugees arriving at campus accommodation and management.
"All my friends were planning to go to Canada and America. I hadn't any summer plans, because of the war [in Ukraine]. My brother and Dad are still there. My Mam is fine, she's in Italy, but she's not 100% and so that's why I didn't want to leave Europe."
"When they arrived on the UCD campus…it was very, very emotional because I am involved in this…It's unfortunate that [the war] happened, but I had the opportunity to help my native country."
Reflecting on her UCD experience, Dariya said, "I am so proud of having contributed to this university and to the community that exists in UCD. To have given something, and to have received something back."
"Graduating from UCD is a stepping stone. It's one of the best universities in Ireland, and I am proud of myself."
Following her UCD graduation, Dariya will be returning to France to begin a Master's in Management programme at EDHC Business School.
"It's in a small city in the north of France, Lille, and then from January I'll be in Paris for a year and a half. It's a two year program."
"I am saying goodbye to Dublin for a while, but I might be back in the future."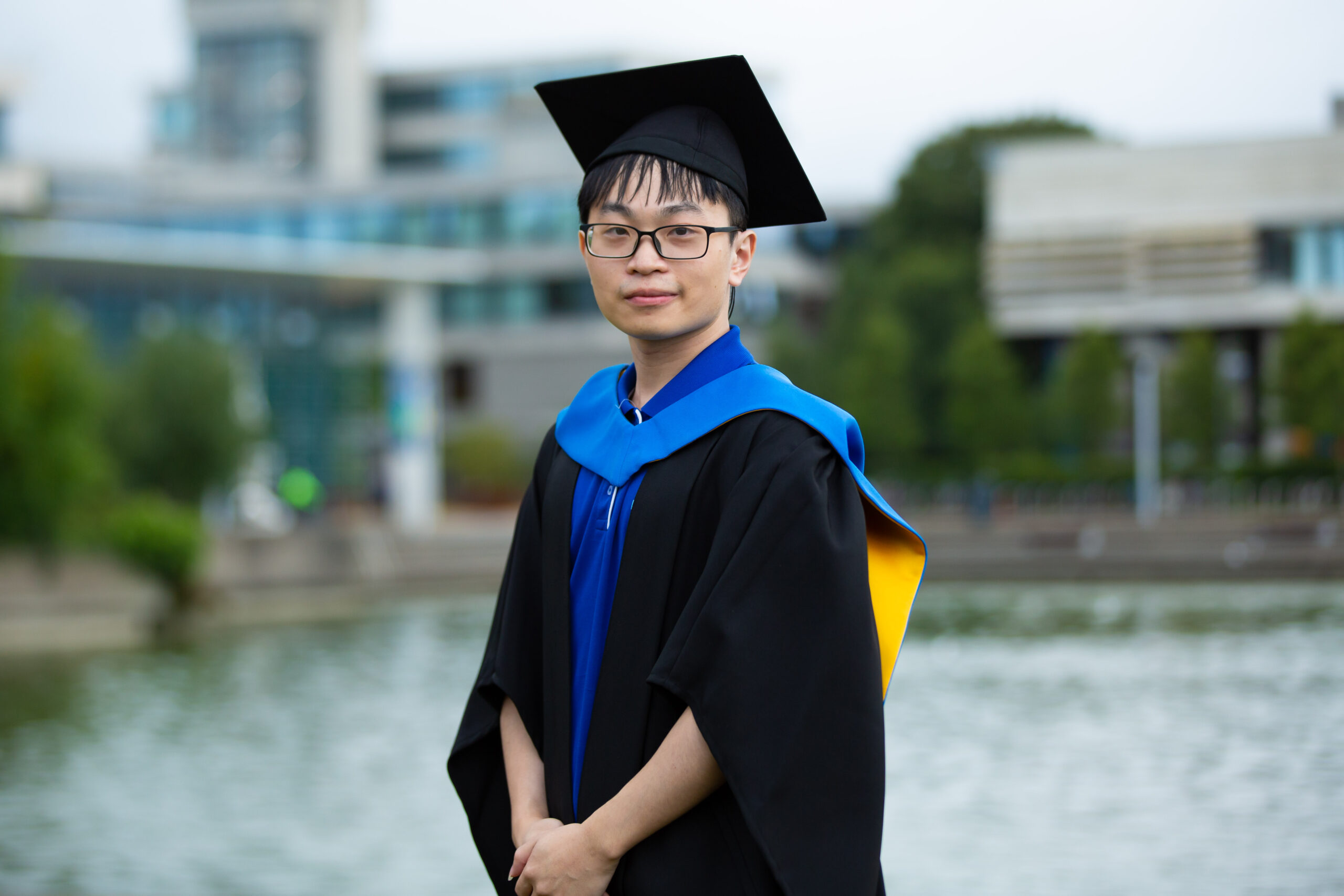 Chen Chen - BAgrSc Horticulture
After coming from China to study horticulture at UCD through the Guangzhou-Dublin International College of Life Sciences and Technology (GDIC), Chen Chen is looking forward to graduating and pursuing his next steps.
Chen Chen is proud to be one of the students graduating from the collaborative programme between UCD School of Agriculture and Food Sciences and the South China Agricultural University in Guangzhou, the capital of Guangdong province in South China.
This partnership was established to create the Guangzhou-Dublin International College of Life Sciences and Technology (GDIC). It offers dual-degree programmes in horticulture, biological sciences and food safety & security.
Chen spent two years studying in Guangzhou before arriving in UCD in 2020.
He shares what it was like to make the transition to studying in Dublin after starting his degree in China: "I had to study fully in English which was a challenge for me at first – there were many professional words that were difficult for me to understand. I had to review lectures and materials over and over again."
He has grown a lot over the time he has been studying, and said that "UCD broadened my horizons and improved my English level."
Focusing on his course, Chen's initial interest in horticulture was in flowers, but he learned quickly that "it's not only about the flowers, but also about growing vegetables, fruits, and even mushrooms."
Alongside understanding more about the growing techniques, Chen had the opportunity to appreciate how integral plants of all kinds are to maintaining a healthy life.
For his final year dissertation, Chen started a project to learn first hand about horticulture and endangered species protection. Inspired and encouraged by one of his lectures, he worked on protecting endangered species in Ireland, specifically the Cottonweed.
He explains, "It is quite an important species for the coastal environment, however the habitat has become smaller and taken by other species; there are only a few in the wild."
It all started when one of his lecturers "asked if I was interested in growing and protecting this precious plant. I started growing them in Rosemount, and finally I successfully grew them in the greenhouse."
Chen thoroughly enjoyed his time in UCD, though it was a struggle to navigate studying remotely on Zoom during the pandemic. Through the return to face-to-face lectures and careful selection of elective modules, he was able to explore other interests. For example, he "learned Japanese and tried to understand more about linguistics."
It has been two years of discovery for Chen. Everything was different, especially the cuisine! He's eaten quite a lot of potatoes, tomatoes, and lamb over the last two years, but all in all he's glad to have had the experience to try new things here.
Chen's time studying at UCD helped him understand his interests and define his career plans. He plans to continue graduate studies and to "learn more about horticulture and related knowledge of soil science, landscape science, biostatistics and so on."
He has accepted an exciting offer to start postgraduate studies in Soil Science at the University of Edinburgh in Scotland. After studying there, he hopes to find work in his field of interest in the UK or to return to Ireland.
During his time here, he found that "Ireland is a very nice place; people are gentle, kind, and friendly." He shared a fond memory: "When I was talking in Dublin City, a very kind gentleman stopped me and asked if I was lost. And I explained that I was just looking around. I was quite impressed by his kindness."
While studying at UCD Chen made friends from all around the world, including Ireland, Italy, and Nigeria, and is so excited to be graduating with them.

Ahmed Ashfaq - BEng Chemical Engineering
Ahmed Ashfaq is graduating from his undergraduate degree in Chemical Engineering and will be continuing on at UCD to study for his masters degree. As an Access Leader, Ahmed has been a role model to students entering UCD from diverse backgrounds.
Right now Ahmed is undergoing an internship in Chemical Engineering with MSD, where he has been supported and encouraged by fellow UCD alumni.
While he will be returning to Belfield to study for his masters, Ahmed is starting this new chapter of his life in a different place than when he started his undergraduate degree in 2019.
"It's definitely made me more confident!"
Growing up in Ballaghaderreen, the youngest in his family, Ahmed was weighing up a lot of interests and options to inform his CAO choices. He was torn between studying science, engineering and business.
Aeronautical engineering first interested him because he had initially dreamed of being a pilot. Unfortunately, the cost of training as a pilot was out of reach for his family. He then leaned towards business, but he credits his brother for convincing him to study engineering in the end.
Moving up to UCD with a few friends around him made all the difference in his transition to living and studying in Dublin, but he still lacked some confidence.
"I'll be honest, in the beginning I was a very shy person coming in and I kept to myself."
He quickly got stuck into life at UCD and when things got difficult, he found essential support along the way from the Access and Lifelong Learning team. They were able to support him financially, and helped him connect with the Islamic Society. It may seem like an innocuous thing, but simply finding suitable places to eat on campus and to have a place to pray made a huge difference.
Slowly, UCD started to feel like home. And then things changed again!
"I was in second year when Covid started, but the following year was the hardest. I think everyone contemplated leaving during that year, just to take a year out."
Despite all of these challenges, Ahmed managed to see it through. He applied himself, joined working groups, and got organised. He put in a hard graft…and he made it!
As an Access Leader, Ahmed was able to be a role model to others over the years and to share what he learned along the way. He has offered advice and mentoring to many incoming students. He also had the opportunity to connect with an alumnus from his small town, who happened to have completed the same course that he was studying.
Ahmed believes new students should get in touch with the services designed to support them through their college experience.
"Use the resources available to you…go to the programme office, the Access centre, or the SU. They genuinely care."
Having previously used the UCD Accommodation Pad to find digs, he encourages incoming and continuing students to use the trusted platform which is run by UCD.
"I got lucky. I found something fifteen minutes from UCD."

Owen Johnson - BSc Astrophysics
While studying astrophysics, Owen Johnson has kept busy at UCD, finding time to lead the Science Society, work a variety of jobs, travel abroad, and be an Access Leader amongst other achievements. Now he looks forward to his next steps after graduation.
Owen Johnson has what he calls "a very UCD-centric backstory".
He has Spina Bifida and in fifth year, while attending physiotherapy at Enable Ireland, his Physiotherapist, Shane, recommended that he try out the 'Future You Summer School' at UCD. At that point he knew he was interested in STEM, but UCD hadn't been on his radar. He loved the camp, especially the experience of science, and UCD became his number one choice on the CAO.
When he arrived at UCD, he wanted to give back his time and became an Access Leader, working at Summer Camps and events to inspire people from diverse backgrounds to explore higher education. He also got very involved with UCD student life and societies.
"Especially for people with disabilities, it can be quite intimidating to go and do things a lot of the time. For me, it was always jumping in the deep end. 110% all of the time. I think that worked out really well for me but that might not necessarily work out for everyone."
"Get involved and talk to people and find what you like. Once you find somewhere in UCD that's like your home…the groups that you gel with really well, you're flying at that point. It all comes together in the end."
Thanks to the team at the Access and Lifelong Learning Centre, Owen found that there was support available to help him take advantage of the full college experience.
"UCD's very good at making sure that barriers aren't a thing, in my experience…for me everything always felt like a very level playing field."
Owen made some fantastic memories during his time at UCD, especially through his involvement in the Science Society. He joined in second year acting as a graphic designer, and made friends with everyone on the committee.
"We did the Science Society cycles from Dublin to Galway to raise money for Crumlin Children's Hospital. Being involved with that –  organising it, and then actually cycling and doing the event while raising money in the process – was huge."
In 2021, Owen was elected Auditor of the Science Society and had to quickly reimagine how events could take place online due to the Covid-19 pandemic, so he set up a new online competition.
"We founded the Irish National Science Championships: We got all the universities together to submit teams, and did knockout rounds of science categories and questions. We actually were really lucky that we got Dara O'Briain to host the final of it too."
Owen was keen to support himself financially throughout college. He did freelance graphic design for clients, and picked up some networking engineering jobs on the side.
"I come from a farming background. I always wanted to support myself as much as I could through college, and not put as much pressure on my parents. But I also wanted to partake in my college life, so I took on maybe a little bit more than I could chew, working part-time jobs to help pay for my tuition and rent and then doing all the society stuff."
He also worked as a Research Assistant for Berkeley SETI Research Center, where his passion for research developed.
"In third year I took on an internship with the University of California, Berkeley, and that was paid as well, so that I helped quite a bit. And then I actually returned: I worked for them throughout fourth year and [went back] this summer as well."
While working in California this summer, six of Owen's friends from Science at UCD came over to visit him and they all went travelling together around America.
None of this college experience would have been possible without the love and support of his family. "Follow your dreams" was the advice his parents and sister gave to him, and they supported him in doing just that.
To his classmates in the close-knit astrophysics Class of 2022, Owen expressed his appreciation of their camaraderie.
"Thanks for carrying me through, guys. None of us would have gotten through the degree without each other… We were all really good friends by the end of it, and everyone got on really well. I firmly believe that if we could get through fourth year…we'll all be fine in whatever we pursue after."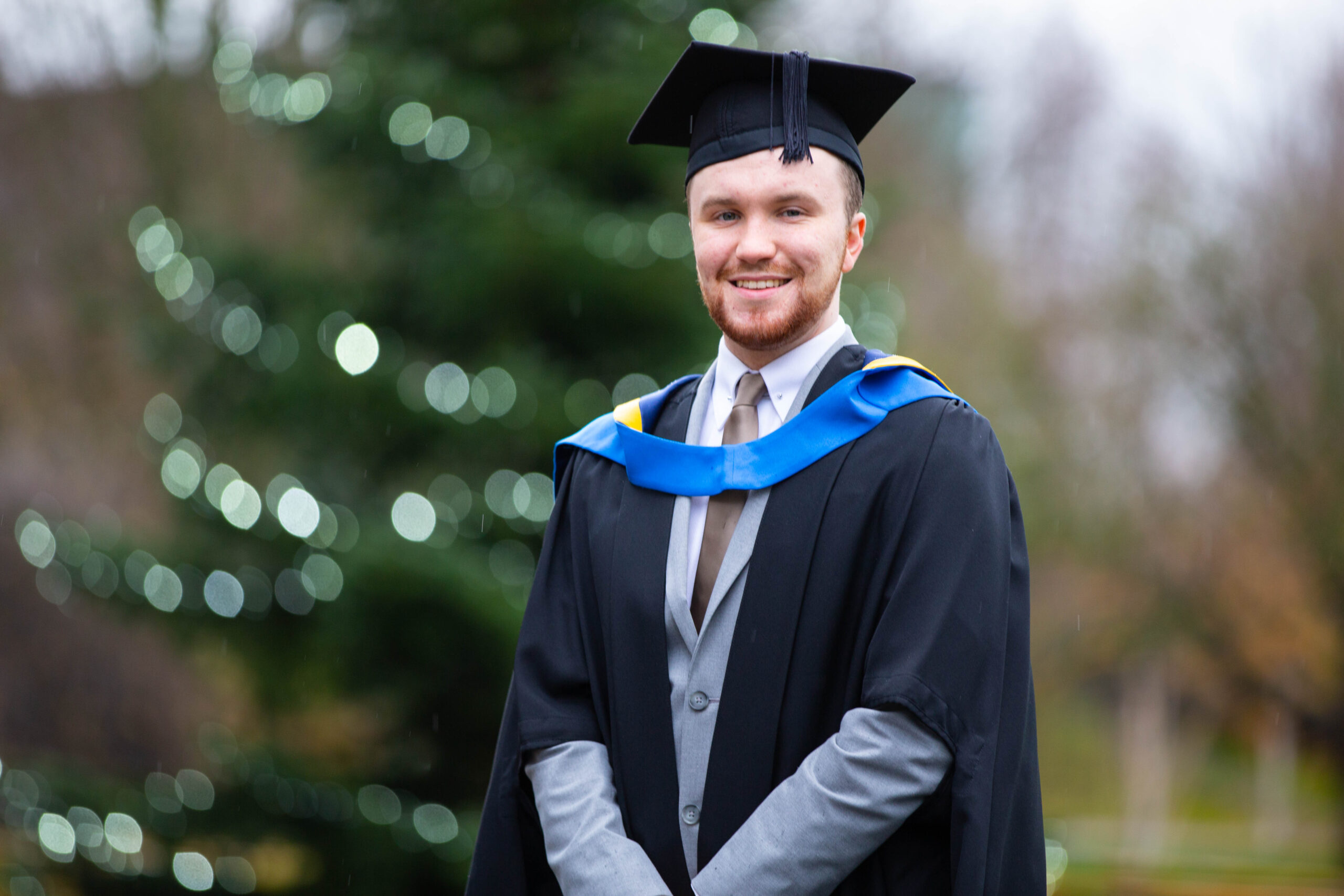 Luke Murphy - MRUP Master of Regional & Urban Planning
It was his second choice on the CAO form, but Luke Murphy has thrived studying planning at UCD where his hard work led to a scholarship and being named Student Planner of the Year.
Luke Murphy had his heart set on studying architecture, his uncle was a trainee draftsman and Luke saw himself following in his footsteps.
Undaunted by a two-hour bus journey from his home in Clondalkin, Luke was determined to go to UCD. He attended the UCD Open Day, hoping to find out more about architecture but while he was there, he was blown away by a powerful speech on planning by Dr Mick Lennon.
"[The course] had all the aspects of everything that I liked, geography, the art aspect through urban design. It was that medium between architecture and everything else in engineering and landscape architecture."
In a twist of fate, Luke ended up not getting enough points to study architecture and found himself pursuing his second choice, City Planning & Environmental Policy.
"I was a bit disappointed that I didn't get architecture. Well, I said, let's see how this goes and it might not be the worst opportunity."
He quickly settled into planning and liked how intimate the course was. In hindsight, he thinks that it was a much better fit for him than architecture.
"There was only 25 in the course. It was a very small class…so it made that transition from secondary school to college easier."
A self-professed workaholic, Luke's dedication paid off when he was invited to apply to the UCD Ad Astra Academy. Initially he thought his friends had played an elaborate joke on him and nearly missed the deadline to apply.
The Academy opened up doors for him to meet other students studying across different disciplines in UCD.
"I also got a University scholarship. It was nice to see that hard work being recognised, and it's something that I never thought I would achieve in college. I was always told that you're a number in college."
Luke was also delighted that he was studying a three-year course, with an option to do one of three different masters programmes after that. He opted to study the MRUP Masters of Regional & Urban Planning.
"In my master's degree, I was recognised again by the faculty in the school, and I won the Student Planner of the Year award with the Royal Town Planning Institute."
Luke is delighted to be graduating from his masters and is now working as a Graduate Planner.
"I did an internship with a big private planning consultancy, John Spain Associates. I was lucky enough that they offered me a full time job when I graduated."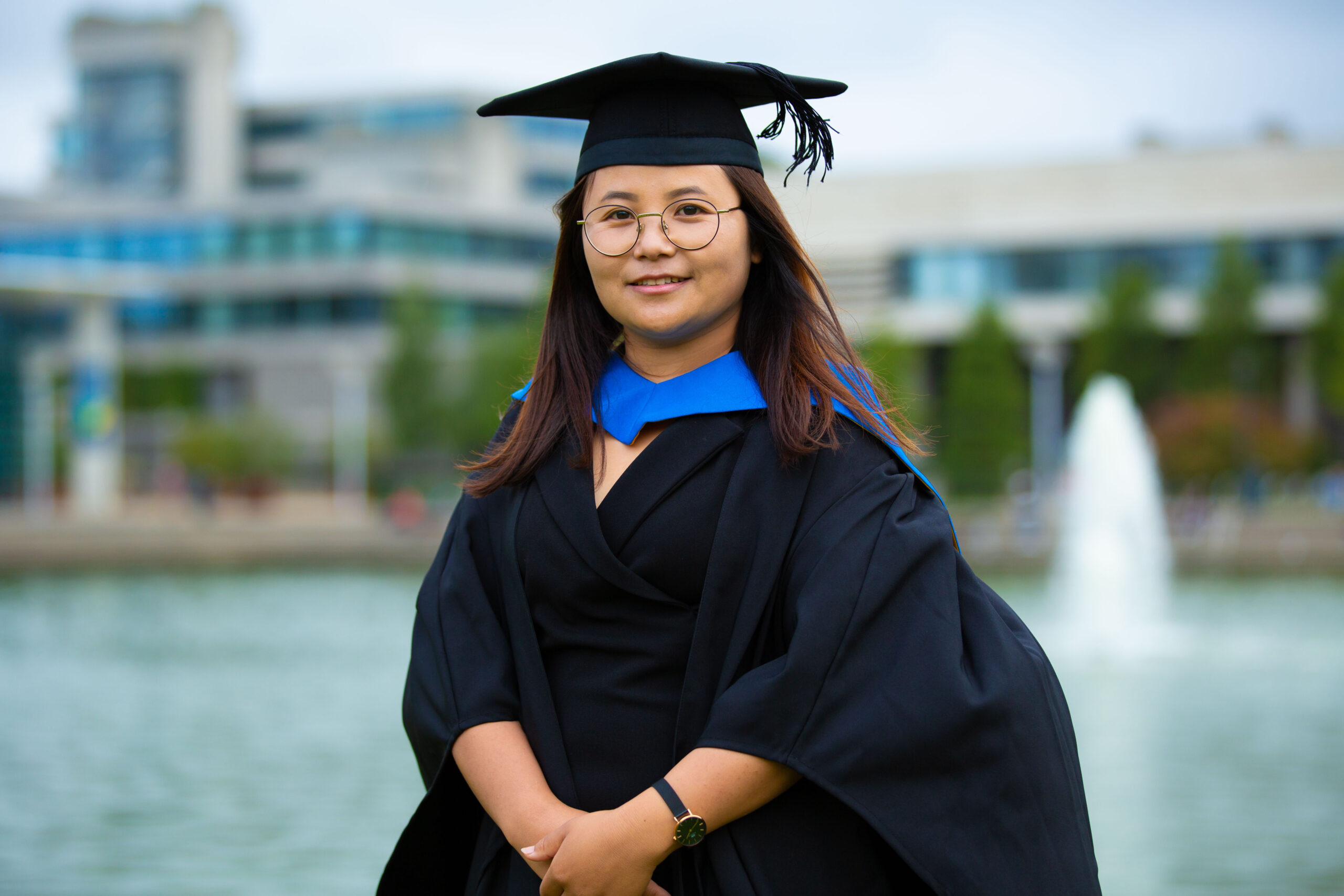 Dipa Rai - BSc Geography, Politics and International Relations
While working as a sherpa on the slopes of Mt. Everest, Dipa Rai encountered Irish academics who saw her potential and encouraged her to pursue her studies.
Dipa Rai has quite literally climbed mountains to be where she is today!
Growing up in Nepal, in a small and remote village on the way to Mt. Everest, she was never exposed to education.
When she moved to Kathmandu she worked in her uncle's trekking company and eventually qualified as a female mountain guide. As a young sherpa with only a few words of English, she was fortunate to have crossed paths with a few Irish people, academics, who saw a spark in her, a potential that neither herself nor her family members would have believed at the time.
That's when her journey to where she is today began.
In 2016, Dipa travelled to Ireland to study English in the seaside town of Bray. In 2017, she went on to enroll in an Access course at UCD to study Sociology and History. Having completed this course with great success, she was given what she calls "a golden opportunity to study further."
Dipa is now graduating with a BSc in Social Sciences (double major in Geography, Politics and International Relations) at UCD.
Thrilled and inspired by data, mathematics, technology, and statistics, she will be continuing on with her studies at UCD and is undertaking an MSc in Social Data Analytics.
None of this would be possible, she explains, without the incredible support of  Dr. Jane Fenlon especially, as well as "other sponsors, both Jane's and my friends: Dr Nicola Figgis, Moss Borris, and Valerie Borris" who will be joining her at the conferring ceremony in O'Reilly Hall.
They were "the friends who helped me throughout my academic journey."
Back in early 2016, she was their guide in Nepal when they were trekking in the Everest region. It's remarkable, when she reflects on it, that at the time none of them knew "that in the future I could be graduating in Ireland."
She gave special mention to Yvonne Leecooper, Colleen MacMahan, John and Noreen Casey, and Liam M. Ó Cléirigh, who were always there to guide and support her throughout her academic journey.
Back in Nepal, she says that it will be her two uncles who will be most proud of her graduating. Her parents, having grown up in the small village where she was raised, couldn't have imagined this life for their daughter and mightn't know just how big of an achievement this milestone is. The whole village will be delighted to see just how far she has come!
Dipa ends with a few words for her fellow graduates:
"Well done. Regardless of the challenging times, we did it. Huge congratulations and best wishes to you all!"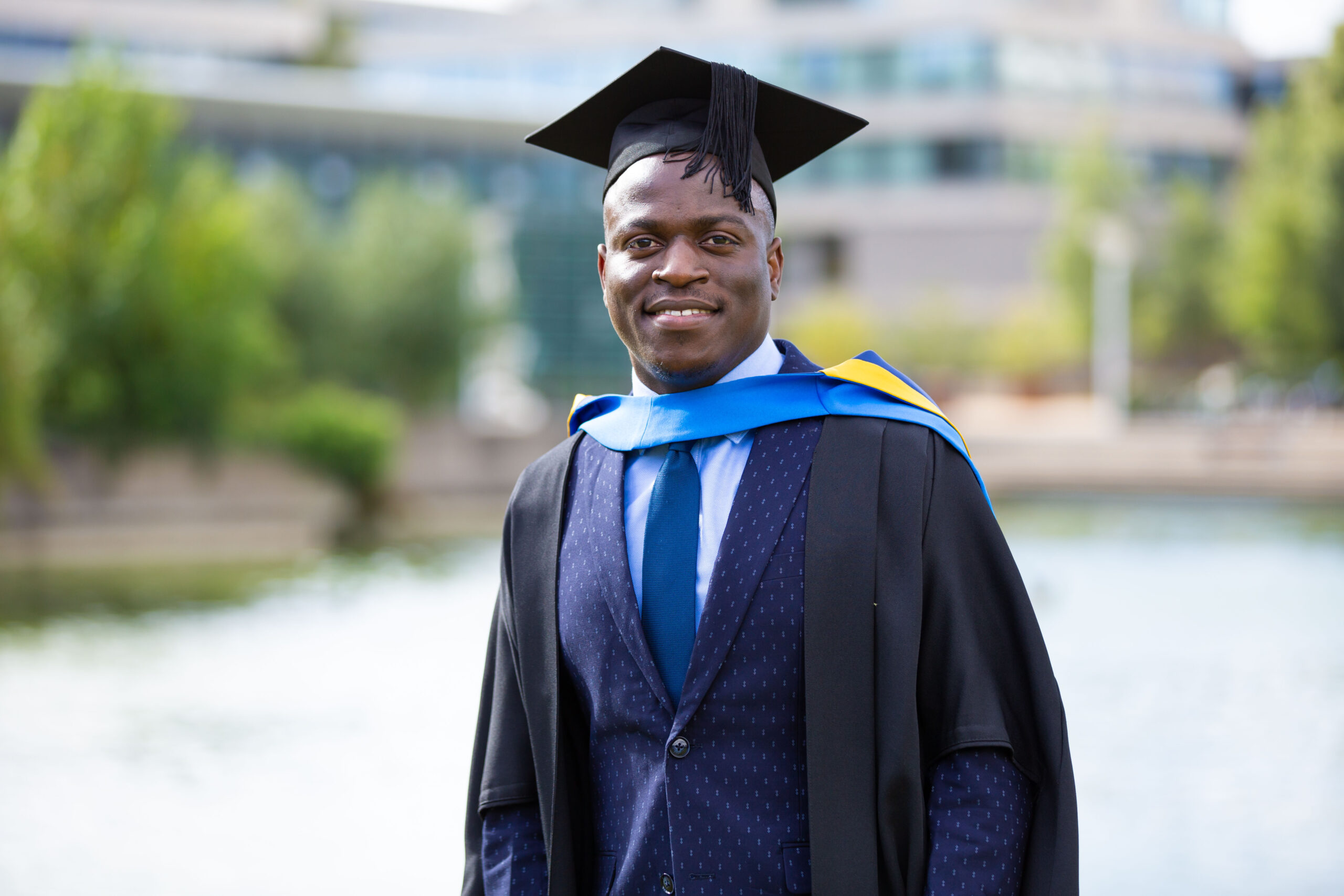 Samson Lubega - MEng Chemical Engineering
Ten years ago Samson Lubega came to Ireland seeking asylum. Now, he graduates from UCD having been a Réalta Scholar and an Access Leader, inspiring students from diverse backgrounds to consider higher education.
Samson came to Ireland from Uganda in 2012 as an asylum seeker.
Initially he wasn't that interested in education, but the people he met along the way saw something in him and encouraged him to go on to study even though it meant starting as a mature student.
"I was 19 years old and a refugee when I started my Leaving Cert, and after that I had a gap year, so I applied to UCD to do a Diploma in Continuing Education."
He was interested in Medicine at first, but through conversations with others  he discovered that he was particularly drawn to Engineering.
After completing this Access and Lifelong Learning course, he was accepted on to an Engineering course at UCD – Chemical Engineering, and that's what he's been doing for the past 5 years.
"One of my special memories is being granted the Réalta Scholarship, because initially I was going to do only the Bachelor's degree…this enabled me to pursue a Masters and do an internship. With this you get one year of experience, and it made a huge difference to me getting a job straight out of college. During the internship is when I got into a graduate programme, so I feel it really helped me a lot."
Samson starts work at Eli Lilly on their graduate programme on the same day he graduate.
"I'll be a cleaning process engineer, because that's what I worked on in my internship and thesis."
There have been exciting developments in this area recently, and Samson is looking forward to being part of the innovation and changes in downstream processing especially.
"As time progresses, after 2 years, then I will change to something else. I really like bioprocessing and I think maybe I could be a manager one day, so I think in time I will do a masters in Project Management."
He is proud to recommend studying Engineering at UCD because it allows students to "start off general and over time start to specialise or even add business into the mix."
Reflecting back on his experience, he assures potential students that "there is so much support and the labs are very good. Even when I went into industry, I was used to most of the machines because we had them in the labs."
One of his favourite modules was "downstream bioprocessing; growing cells into the bioreactors." He feels lucky to have discovered this and to be going into this area of work.
Outside of the classroom, Samson joined the Islamic Society and even though he wasn't on the committee, he "helped out with events, especially welcoming new members."
Samson also got involved on campus through his role as an Access Leader, where he "supported students who visited and offered advice when they came in, to answer questions and to encourage them to join UCD."
He is passionate about helping others who are in the situation he was in and is involved with the Dun Laoghaire Refugee Project. He is happy to report that "they have a few refugees [at DRP] who are considering studies at UCD!"
So what does it feel like for him to look back on the last 10 years in Ireland as this conferring milestone approaches?
"I am really looking forward to [my graduation day] because it's been 8 years of constant studying. I'm excited and it will be emotional for me because I've come very far! When I think about it, I can't believe I've done that."
His parting words of wisdom for fellow classmates: "We should keep learning. We should always have that hunger for more knowledge. You can join the alumni and even donate to help students like me. My scholarship was made possible because of donors and we now can give back!"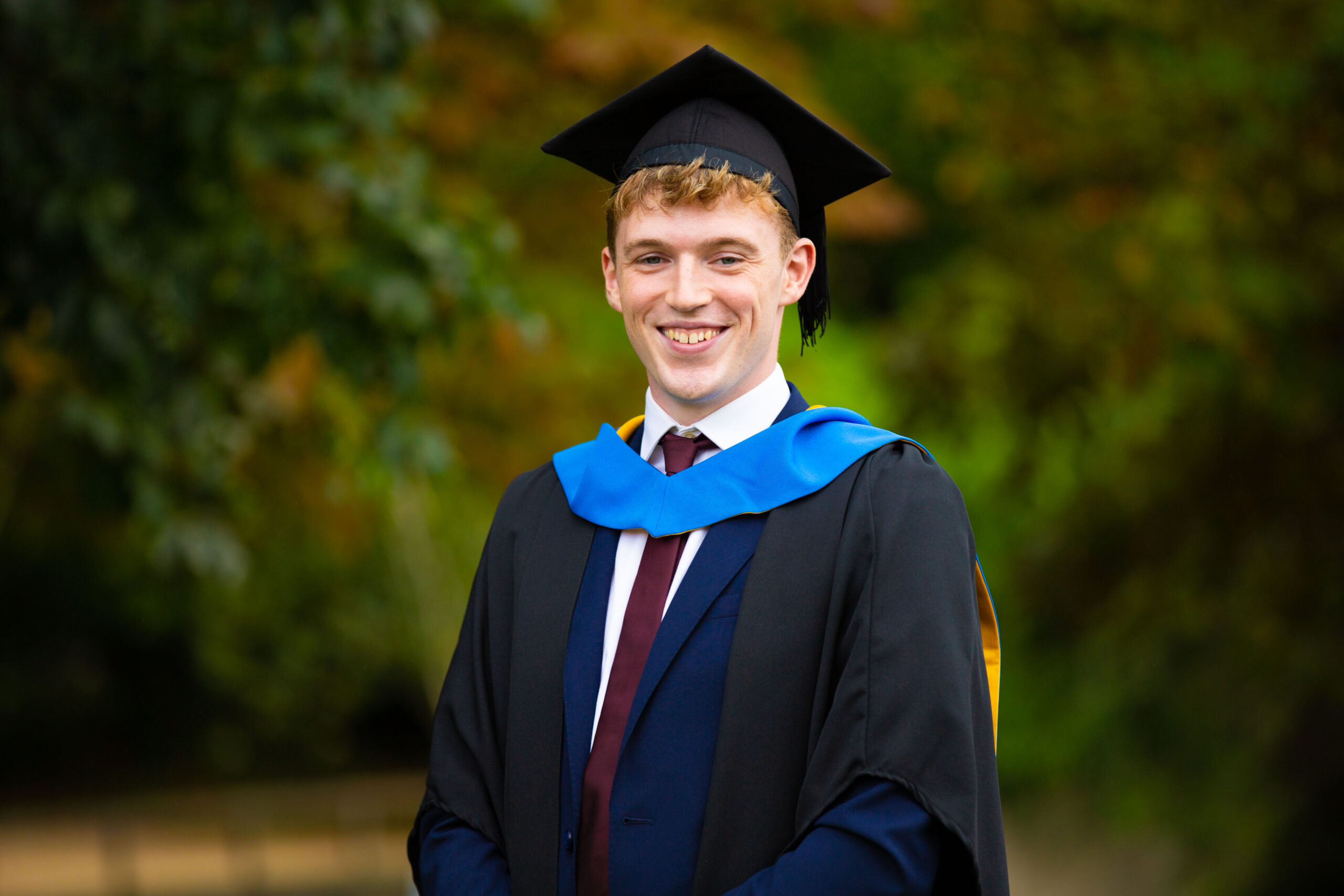 Cormac Gilnagh - BCL/Maîtrise
Cormac Gilnagh has worked hard to make his dreams of studying at university a reality. He has now achieved three degrees in law in the time that most students achieve one.
Having grown up watching American shows on TV, Cormac Gilnagh surprised his mam when he was young by asking when he would get his "trust fund". He quickly learned no such trust fund existed and to make his dreams of university come true, he would have to work hard and find financial support.
"The original plan was to do medicine. And then I remember seeing someone bleeding, and I was like, "Absolutely not"."
"UCD was always the end goal…I had an incredible experience going into the open day in Sutherland, and I just knew I was home already."
Going through the CAO offer process was gruelling. Eventually, Cormac got his papers rechecked, and received a 3rd round CAO offer to study at UCD.
Despite his mam being partially deaf, she heard him cry out with happiness when he opened the offer.
With the offer in hand, HEAR funding and the generous support of the Cothrom na Féinne scholarship, college became a reality! His family were delighted for him.
"The day that I moved up to UCD, it was a whole family trip. My mam, my dad, my brother, my auntie and my cousin."
Cormac took up the BCL/Maîtrise course, a very demanding dual degree which afforded him the opportunity to study in two different countries and languages.
"Not only have I been to UCD, I've gone to France for two years, and none of that would have happened with any other university…I've ended up with three law degrees now, in the time that most people end up with one."
While he was studying at UCD, Cormac also worked four part-time jobs to supplement his Cothrom na Féinne scholarship.
"I did that so I was able to fund upcoming years [of college], but I was able to take a back seat when I needed to. I knew I had the support from UCD."
One of these roles was as a Student Caller with UCD Foundation which gave him the chance to speak with hundreds of UCD alumni. He learned about their UCD experiences and shared his own. It offered Cormac the unique opportunity to raise funds to support students from disadvantaged and lower socioeconomic backgrounds, like himself.
"It was incredible to be able to hear [from alumni] who are doing incredibly well, and they want to give back to people who want to go to UCD."
The scholarship he was helping to raise money for, had made University possible for him.
Throughout his studies, Cormac was inspired and encouraged by lecturers and staff at the UCD Sutherland School of Law including Kevin Roche, Maureen Reynolds, Associate Professor Niamh Howlin and Dr Cliona Kelly.
"Whenever I needed to go and talk to a lecturer or email them, they were more than accommodating and they were always so giving with opportunities."
He also completed internships at several law firms and took part in the RTÉ One series 'My Uni Life' which followed the stories of students across Ireland and was hosted by the Irish Universities' Association.
This autumn Cormac will be returning to Toulouse to continue his postgraduate studies before returning in 2024/2025 to become a trainee solicitor with Arthur Cox LLP. He has a particular passion for the field of property law.
Cormac is keen to encourage new UCD students to get involved and try new things while they are at university.
"The sooner you try new things, the sooner things are going to feel right for you. It'll shape your way, your life and your career, and your studies in a way you don't expect it to."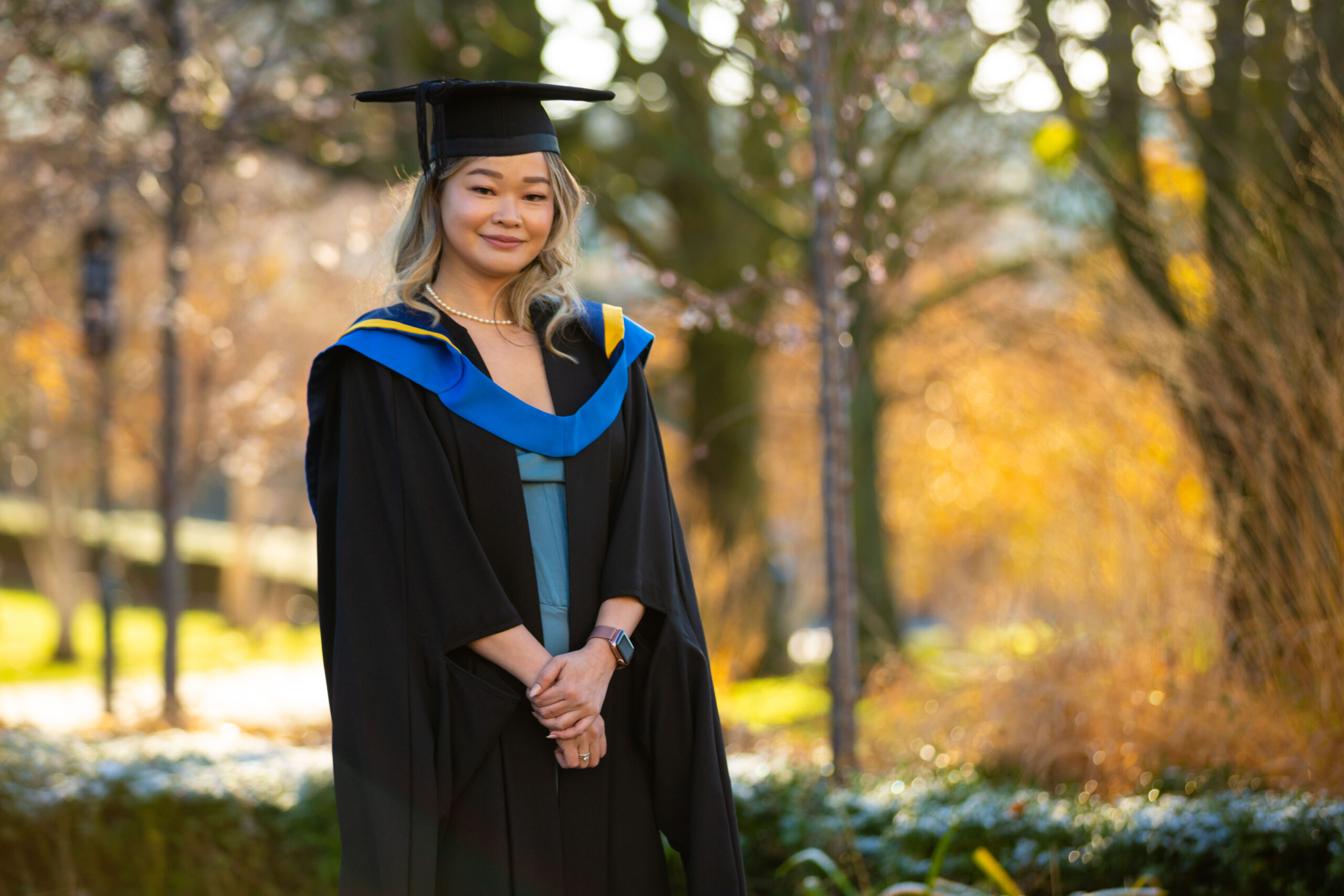 Valetha Fladrich - MSc in Human Resource Management
Valetha Fladrich is ready to take the next steps in her career after completing a master's degree in Human Resource Management at the UCD Michael Smurfit Graduate Business School. 
A self-professed globe-trotter, Valetha Fladrich, has always been interested in traveling to new and exciting places. She grew up in Singapore and then went to study for her undergraduate degree in Australia.
Valetha then met and fell in love with her now husband who is from Germany, and moved to Europe after two years of a long distance relationship. They initially lived together in the Czech Republic, before moving to Ireland five years ago.
Valetha worked in human resources for a large multinational company for a number of years. She always knew that she wanted to return to education to further develop her skills and enhance her career prospects.
Eventually she decided to study for a MSc in Human Resource Management at the UCD Michael Smurfit Graduate Business School where she was impressed by the schools' global reputation.
"It's internationally recognised so it's great to broaden my network…I've studied in Australia, I've studied in Singapore and have never seen such an international cohort of classmates."
The employability of graduates was also a factor which influenced Valetha's decision to study at the UCD Smurfit School.
In particular, the programme provided an opportunity to specialise in the field of HR and earn a professional accreditation.
"My master's degree is Chartered Institute of Personnel and Development [CIPD] accredited. CIPD is the professional body for HR professionals…which means that going forward, apart from the Irish market, I could also work in the UK market. The CIPD accreditation is an equivalent to the SHRM certification in the USA."
While studying for her degree, Valetha also got involved with co-curricular activities. She saw these activities as an opportunity to connect with others outside of the classroom and apply what she was learning in lectures to real life situations.
"Undergrad, I was very focused on the academic side of things, so this time around when I was doing my master's, I wanted a change."
Valetha took part in the Global Leadership Programme where she had the opportunity to be mentored and volunteered on the newsletter team producing content.
"We had a lot of sync up calls trying to brainstorm new ideas, how we can encourage people to join events. I really enjoy creating for social media, so I volunteered to do a few posters and I also came up with an idea whereby [students] could share stories about what they have done and how they feel about the programme."
"I think going forward, I would be a mentor and hopefully I can help someone in return."
Having earned the Global Leadership Programme certificate, Valetha also achieved the UCD Advantage Award from UCD Careers Network and completed the Intercultural Development Programme.
Valetha has decided to further specialise in the area of Diversity, Equality and Inclusion (DEI) and is currently writing a dissertation on this subject. Moving forward, she plans to settle with her partner in Germany where she hopes to connect with fellow UCD alumni and stay in touch with the friends she made while studying at UCD.
"[UCD] will provide me with a solid alumni network…two of my classmates are originally from Germany, so when I travel over I also have the support of friends and guess what, they also specialised in HR. So that means, apart from friends, I also have a future potential network. You never know, we might be working the same company. I feel like the world, sometimes is very small."

Niamh Hegarty - MLIS Master of Library and Information Studies
As she heads for Australia's shores post-graduation, Niamh Hegarty reflects on her experience of studying for the MLIS at UCD and looks forward to staying connected with fellow alumni. 
"I had a great interest in UCD because of the size of the campus and what it offers. I really wanted to study veterinary but I didn't get the points, and so I decided to study science. But I chose the college for the wrong reasons, science was not for me, so I left."
Niamh then went on to study fine arts at NCAD, where she met great people and enjoyed her course. She thought carefully about her next steps after the degree, not wanting to pigeonhole herself into a niche area.
"I wanted to be involved in cultural organisations but I also wanted something that would give me a few different options. I wanted to learn more about educational spaces and people management. So, I decided to study for the Master of Library and Information Studies [MLIS] at UCD, which is ALA accredited and internationally recognised."
For anyone considering doing the MLIS, Niamh recommends getting involved with the class activities, finding a support network and establishing a relationship with a good mentor. She found everyone on the course to be supportive and felt that the lecturers went out of their way to foster a community feeling within the class.
Niamh considers her graduation a real milestone, as she looks back at the challenges she faced in juggling work, her studies and home life.
"I'm very proud to have finished the degree, because balancing my personal life, my job and my studies all at the same time was very difficult, and there were times where I didn't think I'd be able to finish it."
Following her graduation, Niamh will be travelling to Australia where she hopes to continue her studies and specialise.
"I want to follow up on opportunities in digital curation, which is a specialty that I had no idea existed before joining this course and there are lots of opportunities abroad. As part of my next steps I want to study digital preservation strategies in Melbourne."
Finally, Niamh is looking forward to becoming a member of the UCD alumni community and staying connected with her fellow alumni.
"UCD has set me up with opportunities, connections and I'm looking forward to being a part of the UCD Alumni Network."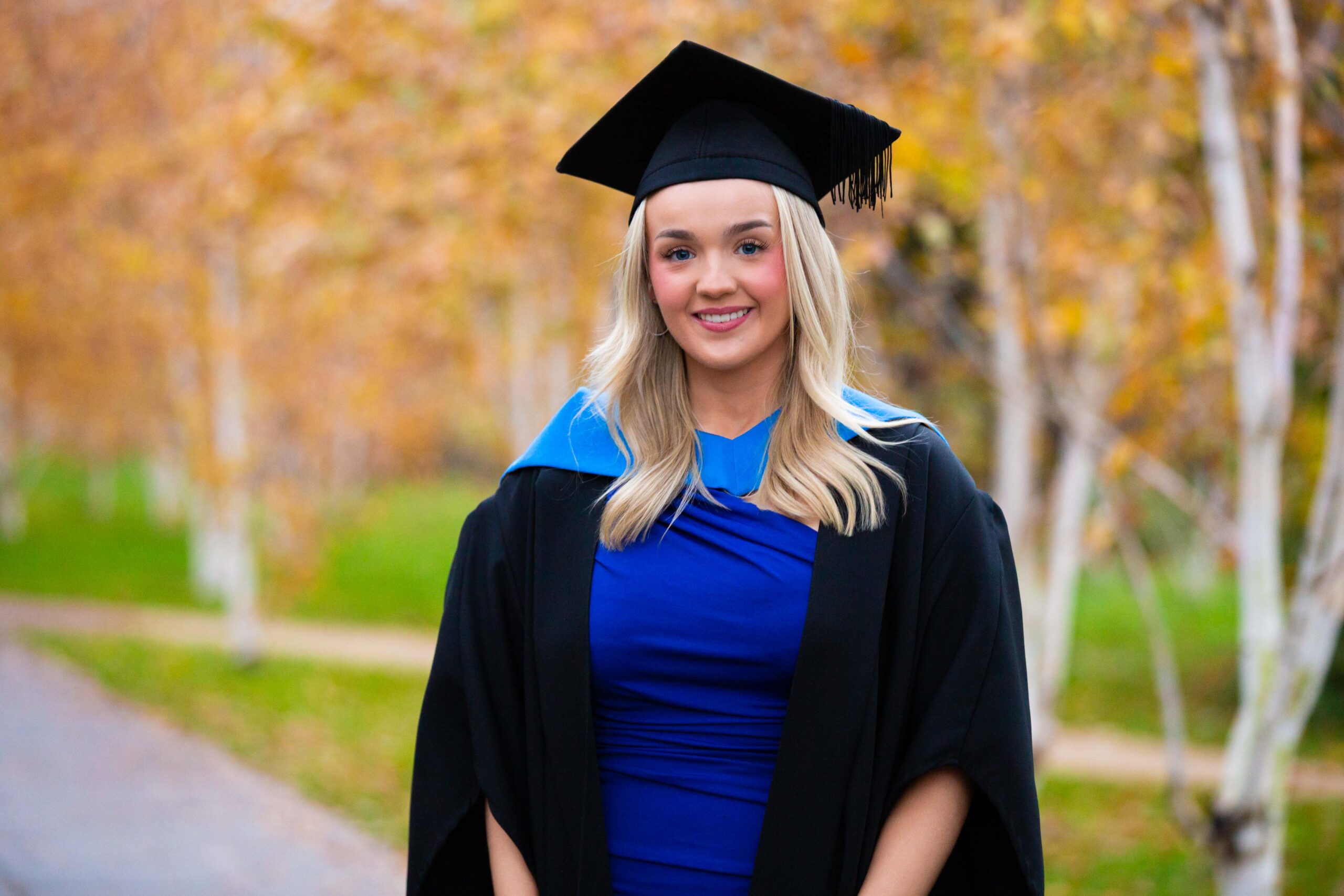 Orlaith Wolohan - BSc Mental Health Nursing
Studying Mental Health Nursing at UCD allowed Orlaith Wolohan to combine an interest in healthcare and psychology, while developing her research skills and gaining hands-on experience. 
Orlaith Wolohan had worked in a nursing home for many years, and felt that she would enjoy a role which involved caring for and interacting with patients.
"I started off doing a PLC in 2017, and had done some interviews with nurses and with representatives from some of the colleges about the different types of nursing and the different routes you can take. From that I'd heard a lot about mental health nursing, and I was interested in psychology as well."
The opportunity to transfer to study Mental Health Nursing at UCD came up in Orlaith's second year, and she was thrilled when she found out that she had been accepted onto the course.
One of the things Orlaith appreciated most about the programme was the opportunity to complete placements in a variety of different areas of mental health nursing, from acute mental health nursing to more community-based work. She felt supported and encouraged on her placements.
"It was great to build up your knowledge and skills in different areas, to be prepared for going into the workplace as a registered nurse. You can take your experience with you."
Research was another area that Orlaith got to experience for the first time at UCD.
"In third year I had the opportunity to take part in a research scholarship. We looked into the experience of COVID-19 for parents of children with rare diseases. That was a wonderful opportunity. It was great because I always had an interest in research, so this opened the door and showed me what was involved."
Orlaith and her sister both graduated on the same day, so it was a double celebration for their family. Now she is looking forward to her career in mental health nursing.
"I've already started working as a mental health nurse. I got a place in St Vincent's University Hospital and I started working there a couple of weeks ago. My plan is to stay on the wards for a couple of years and then go down the research route. Fingers crossed that it all works out!"

Niamh Scully - BA Classics, English and History
Off to Oxford! A former auditor of Dramsoc and the driving force behind impactful UCDSU campaigns, Niamh Scully has been at the heart of student life in UCD the last few years.
Niamh Scully was born and bred in Dublin. Her UCD story started when she studied for her leaving certificate in the James Joyce Library. Even then she thought, "this is where I want to be in six months."
Niamh was always really interested in Classics, English, and History, and when a new four year multistream BA Humanities course was announced, she realised she could continue to study all three subjects together.
Going into UCD, Niamh was determined to hit the ground running.
"I really wanted to take every opportunity I could going into first year. That was my plan…I [was] going to get the most of these four years."
She got involved with the UCD Students' Union and found a space where she could engage in activism, meet a wonderful variety of people, and lead campaigns for gender equality, LGBTQ+ rights and more recently, spiking awareness. The spiking awareness campaign in particular received national recognition of this very real and worrying issue.
One of her proudest achievements at UCD was when she directed her first DramSoc show 'Little Gem' by Elaine Murphy. The show explored the lives of three generations of Dublin women, and Niamh felt it resonated with her own family background. In her third year at UCD, Niamh went on to become the auditor of DramSoc and lead the society through a difficult period during the Covid-19 pandemic, when they couldn't access the theatre and had to meet up online.
DramSoc has opened doors for both Niamh and other members of the society. She is actually just back from assistant directing a show at the Edinburgh Fringe Festival, written by another former auditor of Dramsoc. In a testament to how strong the bonds of UCD societies go, another UCD alumnus and the auditor of DramSoc in 2007 came to see the show in Edinburgh and lend support.
The opportunity to complete an internship at the Little Museum of Dublin came up during her time at UCD, and so Niamh built experience as an Archival Intern and went on to work there part-time as an Archivist.
In final year, studying queer histories in the 20th century for her dissertation led to her discovering a passion for "making that kind of history more accessible to people." She came out when she was younger, and felt very alone because she wasn't aware of Ireland's rich queer history. Building on this experience, Niamh is off to Oxford next to start a masters on Women's, Gender and Queer History and hopes to go on to do a PhD in this area.
For incoming UCD students, Niamh advises them to make the most of the opportunities available at UCD, particularly in seeking advice or guidance from lecturers.
"Talk to lecturers, email them, ask some questions….talk to them about potential ideas, because they are teachers for a reason. They want to help you and encourage you onwards. Anything they can do for you, they will…There are so many people in UCD that want to help you, and are giving you these opportunities. I think you should take as many as you can."
"Take classes you're interested in. Do essays that are on something you're actually passionate about. Don't just take the road with the least obstacles…I think it's really important to follow things that you care about or are interested in. It might be the last time you get to do it."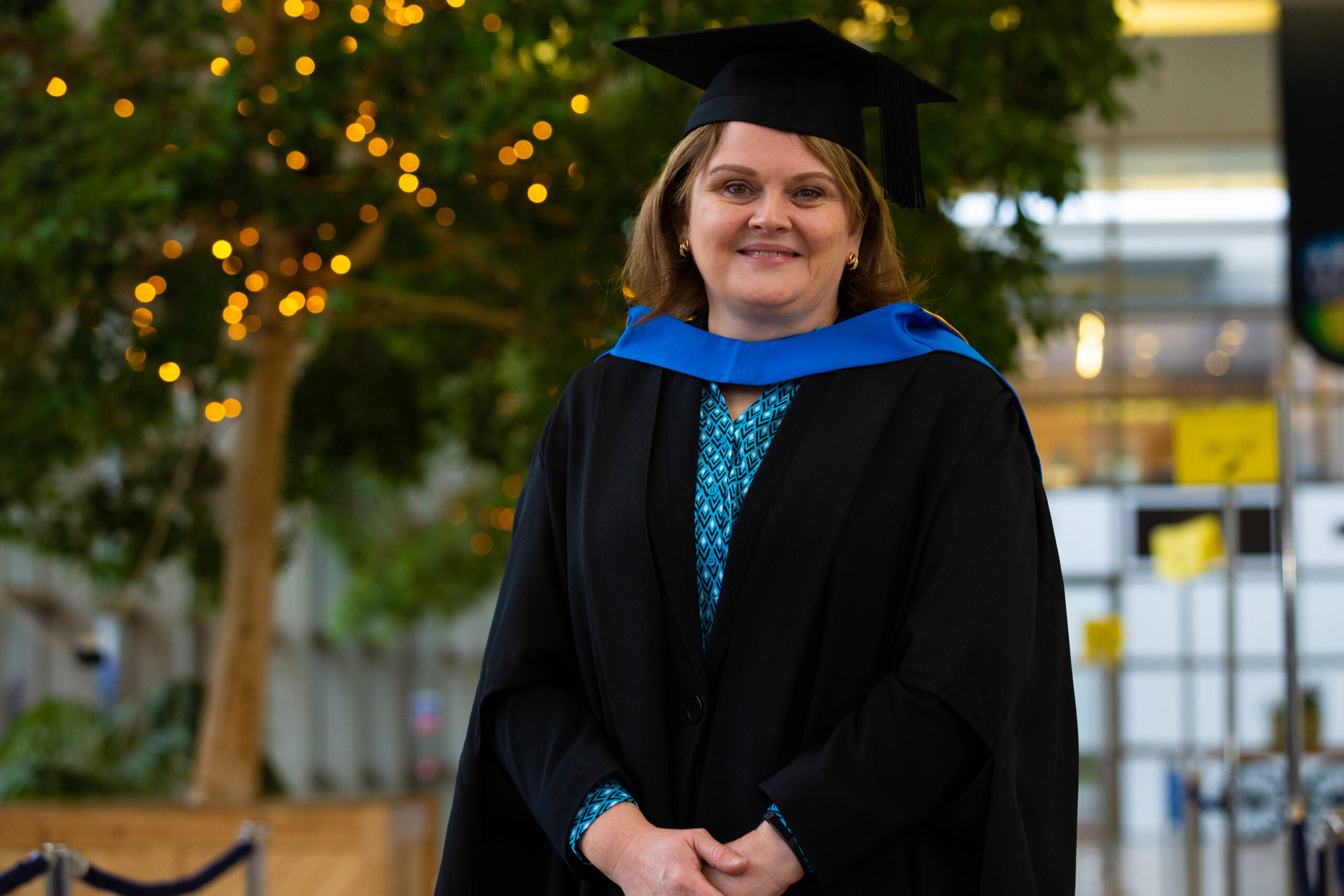 Bernadette Brady - MSc Biotechnology
Having been a carer for more than 20 years, Bernadette Brady made a brave decision to return to third level education where she rediscovered her confidence and passion for science. 
Bernadette Brady graduated from UCD with a BSc in Chemistry in 1990 and completed a PhD focusing on carbohydrate chemistry in 1995 before taking some time to travel and consider her options after graduation.
This all came to a halt however when, soon afterwards her mother suffered a stroke and began to show signs of what turned out to be Alzheimer's Disease. As the only child of older parents, Bernadette selflessly stepped up to act as a carer. She was honoured and glad to be able to provide this care for her parents over the years.
After Bernadette's mother passed away in 2017, she felt drawn back to the university campus where she had formed many fond memories.
"I used to go to UCD to walk, because it's my happy place."
One day she decided to get in touch with one of her former demonstrators who was now a professor of Chemistry in UCD, Professor Pat Guiry, to ask for some advice about the possibility of returning to science after such a long absence. Professor Guiry told her about the master's degree programmes in the School of Biomedical and Biomolecular Science. After a lot of research and consideration, Bernadette applied for the MSc in Biotechnology. Her application was successful and she began her studies in September 2021.
Back as a student on the Belfield campus, the very first lecture rekindled her passion for learning about science.
"It was mesmerising…I thought, this is back to science, back to UCD and I'm the luckiest woman in the whole world. Behind the compulsory face mask, I could not stop smiling."
Due to the Covid-19 pandemic, Bernadette and her classmates wore face masks to ensure a safe teaching environment.
Initially, Bernadette was unsure how she would fit in with her classmates as a mature student. She was thirty years older than the most of the students in her class. They were the age she was when she was first at University back in the late 1980s.
"I was very hesitant to try to connect with the class, because I thought I'm probably older than their parents…there was just a sea of young faces coming towards me the first morning. But we had to wear masks, and I was grateful for that. I thought maybe they won't realise how old I am."
Group projects helped forge a bond with fellow students. She enjoyed the group dynamic and soon appreciated that they were all in it together. The friendship, encouragement and support of her classmates helped her to enjoy every moment of her Masters degree journey.
"They were the loveliest, happiest, and warmest group of people from all over the world."
Many years of being isolated at home as a carer meant that returning to a normal life was very daunting for Bernadette, but her time studying at UCD again helped her to surmount this.
Bernadette is now putting her energy and compassion for others to good use. She recently volunteered at the UCD Festival this summer and also regularly volunteers with the Alzheimer's Society who supported her when she was a carer.
"There are hundreds of carers my age who say, when caring is over, what do you do next? Because of that feeling of getting older and panicking. I'd love to say to people, just go back and reconnect…I had completely lost my identity, my ideas for my own future. It really started a new chapter of my life."
Bernadette's new chapter has begun! As part of the masters programme there was the option to do an internship and Bernadette's fellow classmates encouraged her to go for it. She completed an internship with a company based in Dublin and has now accepted a role in the clinical chemistry lab.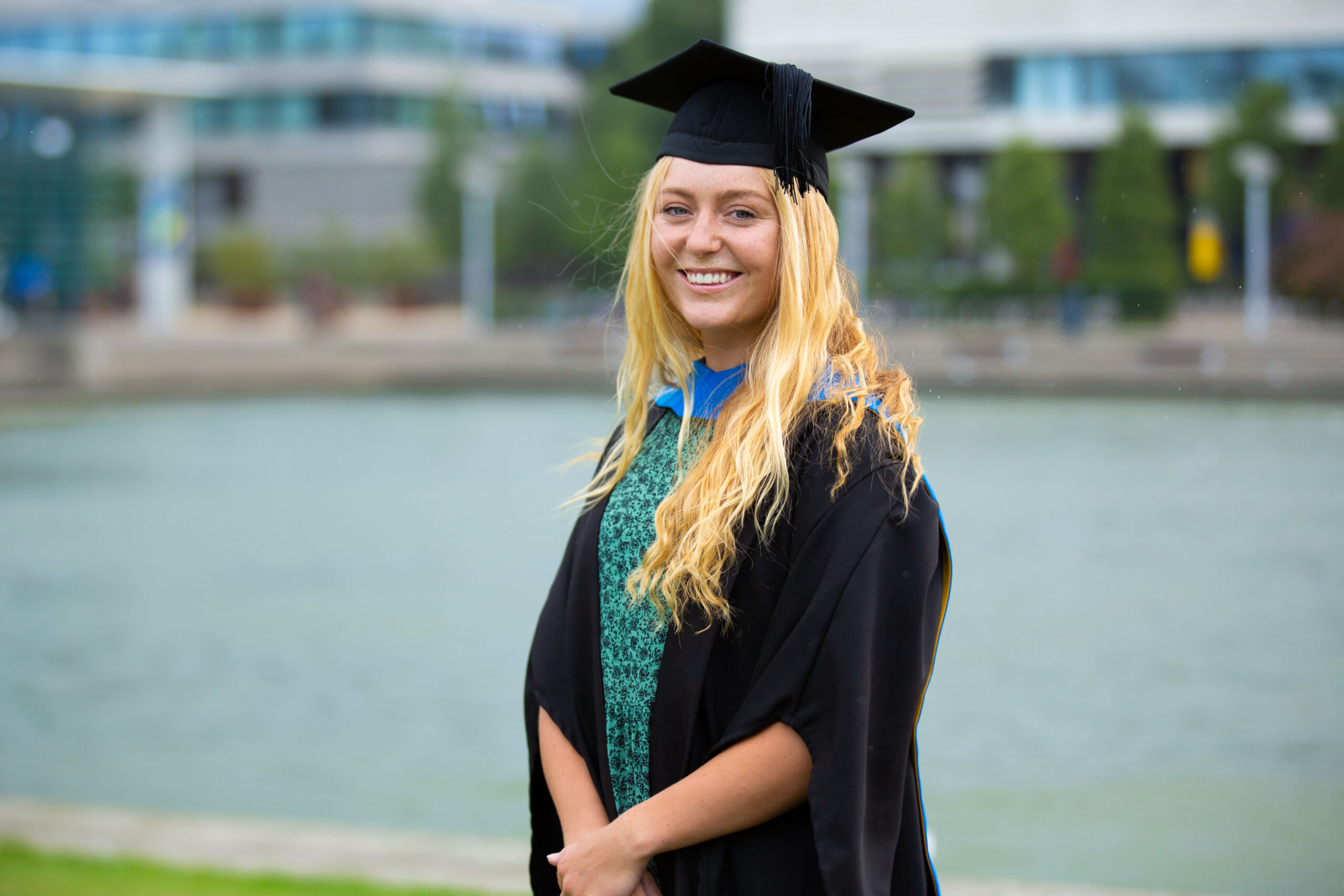 Lara Gillespie - BSc Health & Performance Science
Elite cyclist, Lara Gillespie, has successfully combined a competitive career on the world stage with her studies. Now she is focused on the 2024 Olympics.
With a promising elite cycling career, big wins on the world stage as a junior athlete, and the prospect of the Olympics in Paris in 5 years time, it would have been understandable if Lara Gillespie had paused her plans to study at university.
Affording university was another challenge Lara faced.  She says, "I'm grateful to be able to live with my grandparents in Wicklow…when I was younger I knew that my only option to get to college, because of my family situation, was to get a scholarship. It was always my goal, since I was in primary school."
In 2019, Lara opened her Leaving Cert results at the Junior World Championships and discovered that she had not only gotten the points to study Health and Performance Science at UCD, but she had also been awarded an Ad Astra scholarship.
Some of her coaches encouraged her to take the opportunity, while others cautioned that it would be really difficult to both study and compete at elite level. She also had no role model to look to for advice.
"I was so conflicted. No one's ever done this before. Everyone else on the senior Irish team was five to ten years older than me and they'd never gone to college, so it was a big step. I wanted to balance my life and prioritise what was important to me."
Lara would be the first.
With a busy undergraduate course, intensive training camps, and countless international races – she juggled it all.
The little moments got her through it all. Mornings in the high performance gym: "with the music, with the people, with the laughs, with the chats." Her gym coach was "also one of my lecturers for college, and I think just even having that conversation with him about modules or essays really helped me."
It was important to learn how to be resourceful: "In those tough times when I was really stressed, there was so much going on, and I wasn't getting any sleep. I was going from the World Cup into my exams. To know that there was that support network around me in the Ad Astra gym going from morning workouts to lectures and back again…just being in that little bubble, really helped me."
She also learned time management: "Being a student athlete and living far away you have to factor in the hour drive or bus, then you need to factor in that hour run."
Adding in a global pandemic and a bout of glandular fever, Lara hasn't had an easy journey but she discovered the importance of giving herself time to deal with these things.
So what advice does she have for student athletes?
"I'd say trust the process…keep doing the little things right."
"Keep the people, the good people close to you. The people who support you and have the same goals as you…they are the people that are going to give you the best advice rather than the people who are kind of in it for themselves."
To her fellow Ad Astra scholars, she empathises: "Trust that you're on the right path, and in the work you've done. Having a day off or having a week off will not impact your overall three or four years in college, or your next ten years of being athletic."
"Don't be afraid of rest."
There were many people who helped Lara through it all and they will be beaming with pride on her graduation day. Her mom, her younger sister, and her grandparents will be celebrating with her, but it's her mom in particular that she imagines will be most proud to see her achieve this goal.
She shares that her mom is, "a really strong woman, and I've learned so much from her."
Looking to the future, one event in particular is on Lara's mind.
"Right now it's like a full focus on the Olympics for 2024."
"At the moment I'm doing a bit of road racing, a bit of track racing, and it's for track cycling that I'll be building towards for the Europeans. We just had our senior Europeans, and another Europeans in February…that's the start of the Olympic qualification period."
Although she has applied for a postgraduate course, she is going to put it on pause until after the Olympics.
Through her course and over the summer she has been working as a research assistant at UCD "doing qualitative research and talking to people and hearing their stories." She hopes to continue this and other projects along the way to carry her forward until past the Olympics, and then she'll see where it takes her.
She's beaming when she says, "I'm just happy that I was able to break down that barrier that was there for cyclists. Now so many younger cyclists have said to me, 'Ah, now I can go to college, and I never believed that that was possible."
"I'm glad that I could break down that barrier and show people that it is possible, and that you can do both." And she reminds anyone starting off who might be in a similar position: "You have to be really careful with your communications, with your time management, with your health, but it is possible."
As she crosses the finish line on her BSc in Health & Performance Science, Lara is passing on the advice that her mother gave her: "You can do anything if you put your mind to it."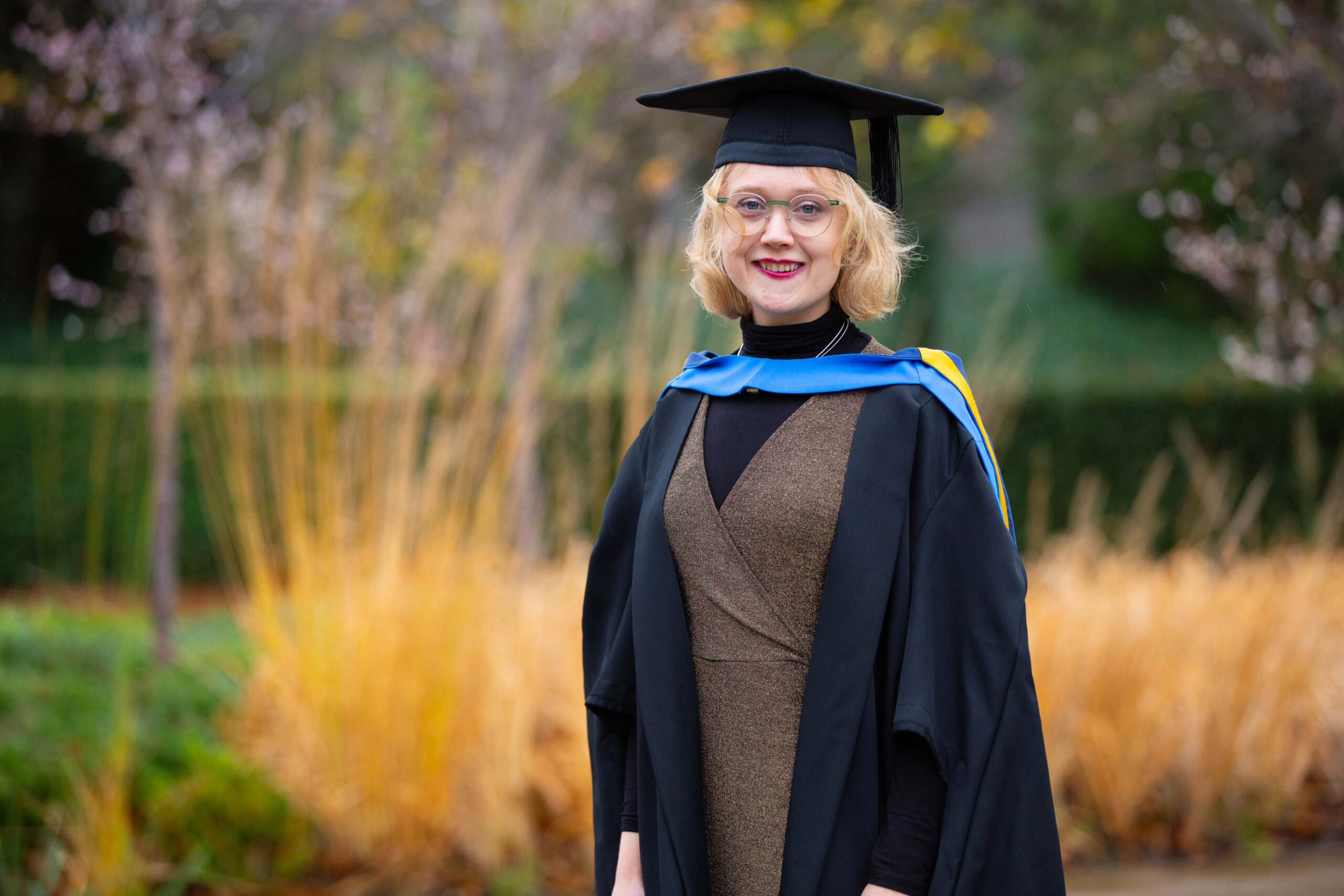 Jet Klokgieters - MSc Digital Policy
Studying an MSc in Digital Policy at UCD helped Jet Klokgieters decide to pursue a career abroad.
With an undergraduate degree in sociology and a research masters under her belt, Jet Klokgieters knew she wanted to explore more about the effects of digital technology on society.
Having completed her previous studies in the Netherlands, Jet now planned to study abroad. Her mother drew her attention to the MSc in Digital Policy at UCD, which was exactly what she was looking for. The fact that the course was one year long was a draw too, since Jet had just completed a two year masters degree.
She applied to the course and was delighted when she was accepted.
"Dublin is the heart of digital Europe with Google, Meta and all those companies having their headquarters there. The city itself is nice, and UCD is also a really good university. I think everything sort of came together."
To make the most of her experience studying in a new country, Jet had saved up over the years. This allowed her to afford to live in purpose built student accommodation in Dublin, and focus on her studies. She was keen to get to know Ireland better, and visited many of Dublin's museums.
"Dublin is quite different from the Netherlands, but also quite similar because it's still sort of Western Europe. I think Ireland also has its own distinct culture and is really unique."
Jet found UCD to be a very inclusive environment, full of people from all walks of life and with many different experiences. Some of her happiest memories from the master's are the daily conversations she would have with three friends she made at UCD.
"People were welcoming in UCD…I had friends. I felt at ease, happy and connected."
Jet enjoyed her course and the fact that the master's class was small, which she felt led to a better learning experience and provided her with the chance to connect with her lecturers.
"I tried to make the most out of the opportunities here. I talked a lot to the professors and asked a lot of questions in class."
An aspect of the course that surprised Jet was the opportunity to complete modules outside of her discipline in related fields, such as a law module that she took on data protection and privacy.
"I was not expecting to be able to do a module at master's level in law but they knew that there were students from Social Sciences, so they didn't make it too technical."
Jet enjoyed living and studying abroad so much that she is now exploring opportunities to work outside of the Netherlands.

Djamel White - BA English with Creative Writing
Despite leaving school early, Djamel White never gave up on his dream of becoming a writer. Now, the College of Arts and Humanities has awarded him the Annie Fanning Memorial Scholarship.
Writing is Djamel White's passion and he has determinedly honed and developed his craft, overcoming many obstacles along the way.
The Christmas before his Leaving Cert, Djamel dropped out of school but he still had dreams of going to university. He spent some time figuring out what to do next, before securing a place on an early school leavers course focusing on employment skills at Kylemore Community Education Centre in Ballyfermot.
"I knew that I could come out with the equivalent of an LCA, which would then get me into a PLC."
He went on to study media at Maynooth University, where he quickly realised "the practical nature of the degree" wasn't for him. The following year, the chance to apply to study for the BA in Creative Writing at UCD came up and he applied for the course, describing it as "a no-brainer."
"Before I started in UCD, I was just after dropping out of Maynooth University. I had worked in retail for a bit and I was doing an internship with Fighting Words, [whom] I had volunteered with previously."
"I was always very much aware of the MA and the MFA program… especially the notable names that would have passed through it."
"I want to be in a community of other writers, I want to have my work being read and criticised. Mostly it's that incentive to keep writing but it also makes your writing a full time thing, and I think it's really invaluable for anyone who's trying to squeeze writing in."
Excelling in his studies, Djamel was recognised and rewarded throughout his undergraduate degree.
"I was given the Humanities scholarship at the end of my second year…I got the highest GPA in the entire Humanities stream and that was a bursary, so it was nice."
The BA also provided Djamel with the opportunity to do an internship with the National University of Ireland at their headquarters in Merrion Square.
"Something everyone could benefit from is the internship in third year…getting the internship and putting enough effort into it that it would benefit me going forward as well, I would call that an achievement."
Djamel also got involved by taking on extra-curricular roles within the university, becoming a Student Ambassador, a Residential Assistant and then joining a pilot group as a Humanities Ambassador representing the College of Arts and Humanities.
He acknowledges that because he entered his undergraduate course as a mature student, it took him a little longer to get to know his classmates. Four years on, they have bonded and as they face graduation together, Djamel has the following words for his fellow students: "You've grown into really talented writers and it's a pleasure to read your work, and I hope that you keep writing…I know some of you have been published recently."
Currently, Djamel is working as a Publishing Assistant at New Island Books. He will be returning to UCD in the autumn to commence the MFA in Creative Writing programme and in another exciting development, he has been awarded the prestigious Annie Fanning Memorial Award.
"I'm excited about going into the MFA and working on my collection, having good supervision. I'll be teaching undergrads, which is really exciting."
In the meantime, Djamel is also exploring new opportunities to raise the profile of fellow writers and creatives. Alongside Clare Healy and Sarah Sturzel, he co-founded a new literary journal, Profiles, which is "a new publication dedicated to character-driven writing and portraiture."
"Again, I think that the beauty of being a writer is that you do kind of have to have your finger in a few different pies."