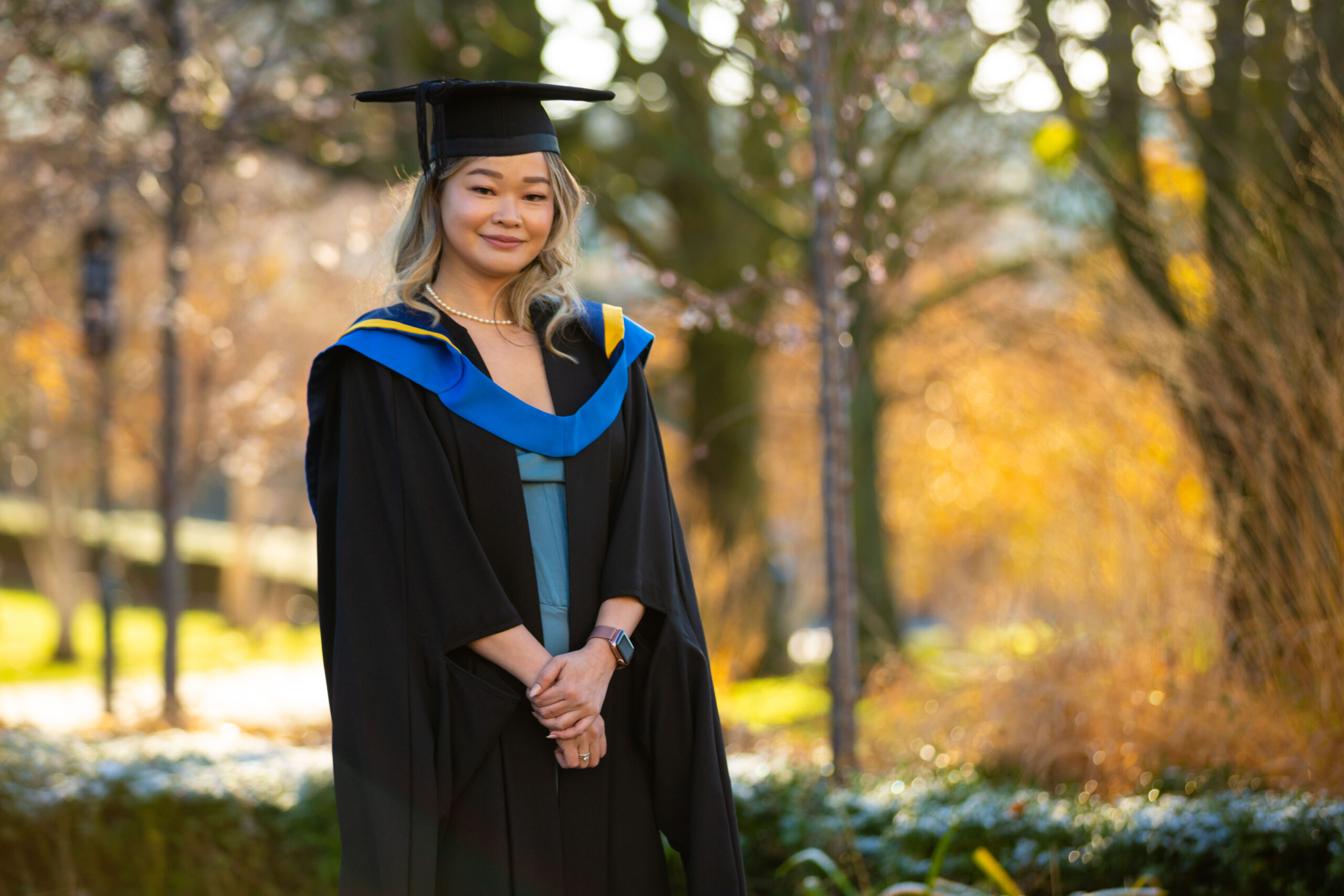 Valetha Fladrich is ready to take the next steps in her career after completing a master's degree in Human Resource Management at the UCD Michael Smurfit Graduate Business School.
A self-professed globe-trotter, Valetha Fladrich, has always been interested in traveling to new and exciting places. She grew up in Singapore and then went to study for her undergraduate degree in Australia.
Valetha then met and fell in love with her now husband who is from Germany, and moved to Europe after two years of a long distance relationship. They initially lived together in the Czech Republic, before moving to Ireland five years ago.
Valetha worked in human resources for a large multinational company for a number of years. She always knew that she wanted to return to education to further develop her skills and enhance her career prospects.
Eventually she decided to study for a MSc in Human Resource Management at the UCD Michael Smurfit Graduate Business School where she was impressed by the schools' global reputation.
"It's internationally recognised so it's great to broaden my network…I've studied in Australia, I've studied in Singapore and have never seen such an international cohort of classmates."
The employability of graduates was also a factor which influenced Valetha's decision to study at the UCD Smurfit School.
In particular, the programme provided an opportunity to specialise in the field of HR and earn a professional accreditation.
"My master's degree is Chartered Institute of Personnel and Development [CIPD] accredited. CIPD is the professional body for HR professionals…which means that going forward, apart from the Irish market, I could also work in the UK market. The CIPD accreditation is an equivalent to the SHRM certification in the USA."
While studying for her degree, Valetha also got involved with co-curricular activities. She saw these activities as an opportunity to connect with others outside of the classroom and apply what she was learning in lectures to real life situations.
"Undergrad, I was very focused on the academic side of things, so this time around when I was doing my master's, I wanted a change." 
Valetha took part in the Global Leadership Programme where she had the opportunity to be mentored and volunteered on the newsletter team producing content.
"We had a lot of sync up calls trying to brainstorm new ideas, how we can encourage people to join events. I really enjoy creating for social media, so I volunteered to do a few posters and I also came up with an idea whereby [students] could share stories about what they have done and how they feel about the programme." 
"I think going forward, I would be a mentor and hopefully I can help someone in return."
Having earned the Global Leadership Programme certificate, Valetha also achieved the UCD Advantage Award from UCD Careers Network and completed the Intercultural Development Programme.
Valetha has decided to further specialise in the area of Diversity, Equality and Inclusion (DEI) and is currently writing a dissertation on this subject. Moving forward, she plans to settle with her partner in Germany where she hopes to connect with fellow UCD alumni and stay in touch with the friends she made while studying at UCD.
"[UCD] will provide me with a solid alumni network…two of my classmates are originally from Germany, so when I travel over I also have the support of friends and guess what, they also specialised in HR. So that means, apart from friends, I also have a future potential network. You never know, we might be working the same company. I feel like the world, sometimes is very small."