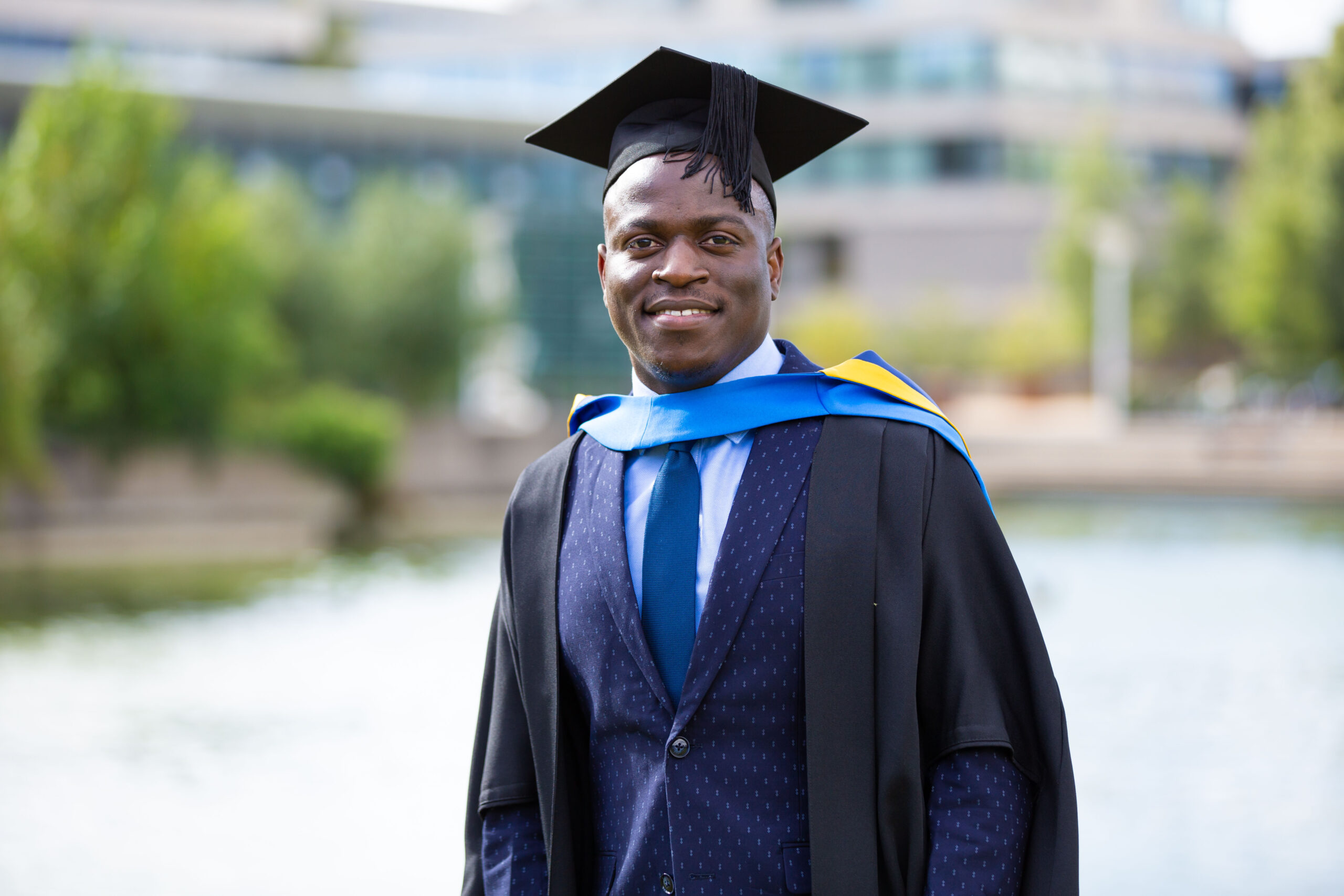 Ten years ago Samson Lubega came to Ireland seeking asylum. Now, he graduates from UCD having been a Réalta Scholar and an Access Leader, inspiring students from diverse backgrounds to consider higher education.
Samson came to Ireland from Uganda in 2012 as an asylum seeker. 
Initially he wasn't that interested in education, but the people he met along the way saw something in him and encouraged him to go on to study even though it meant starting as a mature student.
"I was 19 years old and a refugee when I started my Leaving Cert, and after that I had a gap year, so I applied to UCD to do a Diploma in Continuing Education." 
He was interested in Medicine at first, but through conversations with others  he discovered that he was particularly drawn to Engineering. 
After completing this Access and Lifelong Learning course, he was accepted on to an Engineering course at UCD – Chemical Engineering, and that's what he's been doing for the past 5 years.
"One of my special memories is being granted the Réalta Scholarship, because initially I was going to do only the Bachelor's degree…this enabled me to pursue a Masters and do an internship. With this you get one year of experience, and it made a huge difference to me getting a job straight out of college. During the internship is when I got into a graduate programme, so I feel it really helped me a lot."
Samson starts work at Eli Lilly on their graduate programme on the same day he graduate.
"I'll be a cleaning process engineer, because that's what I worked on in my internship and thesis." 
There have been exciting developments in this area recently, and Samson is looking forward to being part of the innovation and changes in downstream processing especially. 
"As time progresses, after 2 years, then I will change to something else. I really like bioprocessing and I think maybe I could be a manager one day, so I think in time I will do a masters in Project Management." 
He is proud to recommend studying Engineering at UCD because it allows students to "start off general and over time start to specialise or even add business into the mix."
Reflecting back on his experience, he assures potential students that "there is so much support and the labs are very good. Even when I went into industry, I was used to most of the machines because we had them in the labs."
One of his favourite modules was "downstream bioprocessing; growing cells into the bioreactors." He feels lucky to have discovered this and to be going into this area of work.
Outside of the classroom, Samson joined the Islamic Society and even though he wasn't on the committee, he "helped out with events, especially welcoming new members." 
Samson also got involved on campus through his role as an Access Leader, where he "supported students who visited and offered advice when they came in, to answer questions and to encourage them to join UCD." 
He is passionate about helping others who are in the situation he was in and is involved with the Dun Laoghaire Refugee Project. He is happy to report that "they have a few refugees [at DRP] who are considering studies at UCD!"
So what does it feel like for him to look back on the last 10 years in Ireland as this conferring milestone approaches? 
"I am really looking forward to [my graduation day] because it's been 8 years of constant studying. I'm excited and it will be emotional for me because I've come very far! When I think about it, I can't believe I've done that."
His parting words of wisdom for fellow classmates: "We should keep learning. We should always have that hunger for more knowledge. You can join the alumni and even donate to help students like me. My scholarship was made possible because of donors and we now can give back!"