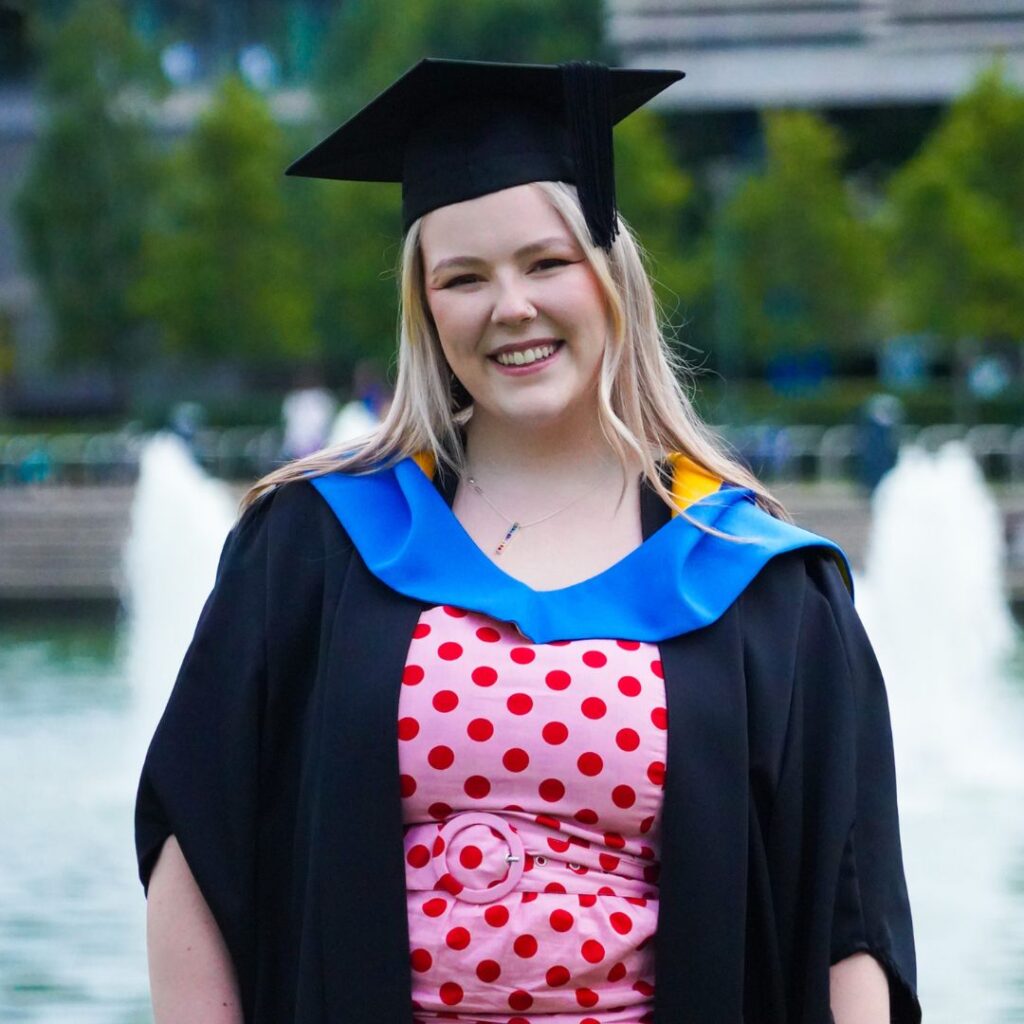 Off to Oxford! A former auditor of Dramsoc and the driving force behind impactful UCDSU campaigns, Niamh Scully has been at the heart of student life in UCD the last few years. After graduation, she is heading to Oxford University to study a master's degree in Women's, Gender and Queer History.
Niamh Scully was born and bred in Dublin. Her UCD story started when she studied for her leaving certificate in the James Joyce Library. Even then she thought, "this is where I want to be in six months."
Niamh was always really interested in Classics, English, and History, and when a new four year multistream BA Humanities course was announced, she realised she could continue to study all three subjects together.
Going into UCD, Niamh was determined to hit the ground running.
"I really wanted to take every opportunity I could going into first year. That was my plan…I [was] going to get the most of these four years."
She got involved with the UCD Students' Union and found a space where she could engage in activism, meet a wonderful variety of people, and lead campaigns for gender equality, LGBTQ+ rights and more recently, spiking awareness. The spiking awareness campaign in particular received national recognition of this very real and worrying issue.
One of her proudest achievements at UCD was when she directed her first DramSoc show 'Little Gem' by Elaine Murphy. The show explored the lives of three generations of Dublin women, and Niamh felt it resonated with her own family background. In her third year at UCD, Niamh went on to become the auditor of DramSoc and lead the society through a difficult period during the Covid-19 pandemic, when they couldn't access the theatre and had to meet up online. 
DramSoc has opened doors for both Niamh and other members of the society. She is actually just back from assistant directing a show at the Edinburgh Fringe Festival, written by another former auditor of Dramsoc. In a testament to how strong the bonds of UCD societies go, another UCD alumnus and the auditor of DramSoc in 2007 came to see the show in Edinburgh and lend support.
The opportunity to complete an internship at the Little Museum of Dublin came up during her time at UCD, and so Niamh built experience as an Archival Intern and went on to work there part-time as an Archivist.
In final year, studying queer histories in the 20th century for her dissertation led to her discovering a passion for "making that kind of history more accessible to people." She came out when she was younger, and felt very alone because she wasn't aware of Ireland's rich queer history. Building on this experience, Niamh is off to Oxford next to start a masters on Women's, Gender and Queer History and hopes to go on to do a PhD in this area.
For incoming UCD students, Niamh advises them to make the most of the opportunities available at UCD, particularly in seeking advice or guidance from lecturers.
"Talk to lecturers, email them, ask some questions….talk to them about potential ideas, because they are teachers for a reason. They want to help you and encourage you onwards. Anything they can do for you, they will…There are so many people in UCD that want to help you, and are giving you these opportunities. I think you should take as many as you can."
"Take classes you're interested in. Do essays that are on something you're actually passionate about. Don't just take the road with the least obstacles…I think it's really important to follow things that you care about or are interested in. It might be the last time you get to do it."