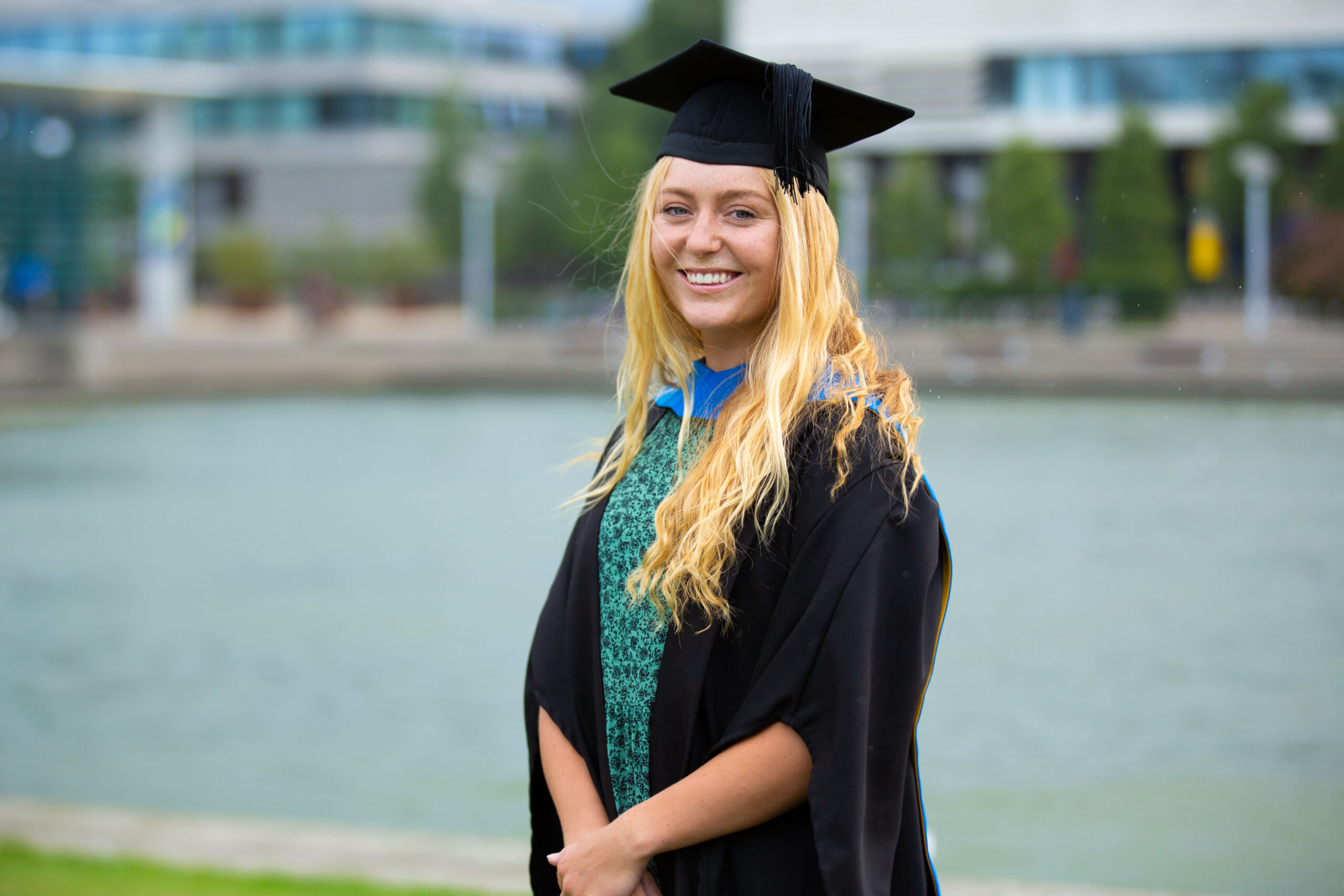 Elite cyclist, Lara Gillespie, has successfully combined a competitive career on the world stage with her studies. Now she is focused on the 2024 Olympics.
With a promising elite cycling career, big wins on the world stage as a junior athlete, and the prospect of the Olympics in Paris in 5 years time, it would have been understandable if Lara Gillespie had paused her plans to study at university.
Affording university was another challenge Lara faced.  She says, "I'm grateful to be able to live with my grandparents in Wicklow…when I was younger I knew that my only option to get to college, because of my family situation, was to get a scholarship. It was always my goal, since I was in primary school." 
In 2019, Lara opened her Leaving Cert results at the Junior World Championships and discovered that she had not only gotten the points to study Health and Performance Science at UCD, but she had also been awarded an Ad Astra scholarship.
Some of her coaches encouraged her to take the opportunity, while others cautioned that it would be really difficult to both study and compete at elite level. She also had no role model to look to for advice.
"I was so conflicted. No one's ever done this before. Everyone else on the senior Irish team was five to ten years older than me and they'd never gone to college, so it was a big step. I wanted to balance my life and prioritise what was important to me."
Lara would be the first. 
With a busy undergraduate course, intensive training camps, and countless international races – she juggled it all.
The little moments got her through it all. Mornings in the high performance gym: "with the music, with the people, with the laughs, with the chats." Her gym coach was "also one of my lecturers for college, and I think just even having that conversation with him about modules or essays really helped me."
It was important to learn how to be resourceful: "In those tough times when I was really stressed, there was so much going on, and I wasn't getting any sleep. I was going from the World Cup into my exams. To know that there was that support network around me in the Ad Astra gym going from morning workouts to lectures and back again…just being in that little bubble, really helped me."
She also learned time management: "Being a student athlete and living far away you have to factor in the hour drive or bus, then you need to factor in that hour run."
Adding in a global pandemic and a bout of glandular fever, Lara hasn't had an easy journey but she discovered the importance of giving herself time to deal with these things.
So what advice does she have for student athletes? 
"I'd say trust the process…keep doing the little things right."

"Keep the people, the good people close to you. The people who support you and have the same goals as you…they are the people that are going to give you the best advice rather than the people who are kind of in it for themselves."
To her fellow Ad Astra scholars, she empathises: "Trust that you're on the right path, and in the work you've done. Having a day off or having a week off will not impact your overall three or four years in college, or your next ten years of being athletic."
"Don't be afraid of rest."
There were many people who helped Lara through it all and they will be beaming with pride on her graduation day. Her mom, her younger sister, and her grandparents will be celebrating with her, but it's her mom in particular that she imagines will be most proud to see her achieve this goal. 
She shares that her mom is, "a really strong woman, and I've learned so much from her."
Looking to the future, one event in particular is on Lara's mind.
"Right now it's like a full focus on the Olympics for 2024."
"At the moment I'm doing a bit of road racing, a bit of track racing, and it's for track cycling that I'll be building towards for the Europeans. We just had our senior Europeans, and another Europeans in February…that's the start of the Olympic qualification period."
Although she has applied for a postgraduate course, she is going to put it on pause until after the Olympics.
Through her course and over the summer she has been working as a research assistant at UCD "doing qualitative research and talking to people and hearing their stories." She hopes to continue this and other projects along the way to carry her forward until past the Olympics, and then she'll see where it takes her. 
She's beaming when she says, "I'm just happy that I was able to break down that barrier that was there for cyclists. Now so many younger cyclists have said to me, 'Ah, now I can go to college, and I never believed that that was possible."
"I'm glad that I could break down that barrier and show people that it is possible, and that you can do both." And she reminds anyone starting off who might be in a similar position: "You have to be really careful with your communications, with your time management, with your health, but it is possible."
As she crosses the finish line on her BSc in Health & Performance Science, Lara is passing on the advice that her mother gave her: "You can do anything if you put your mind to it."