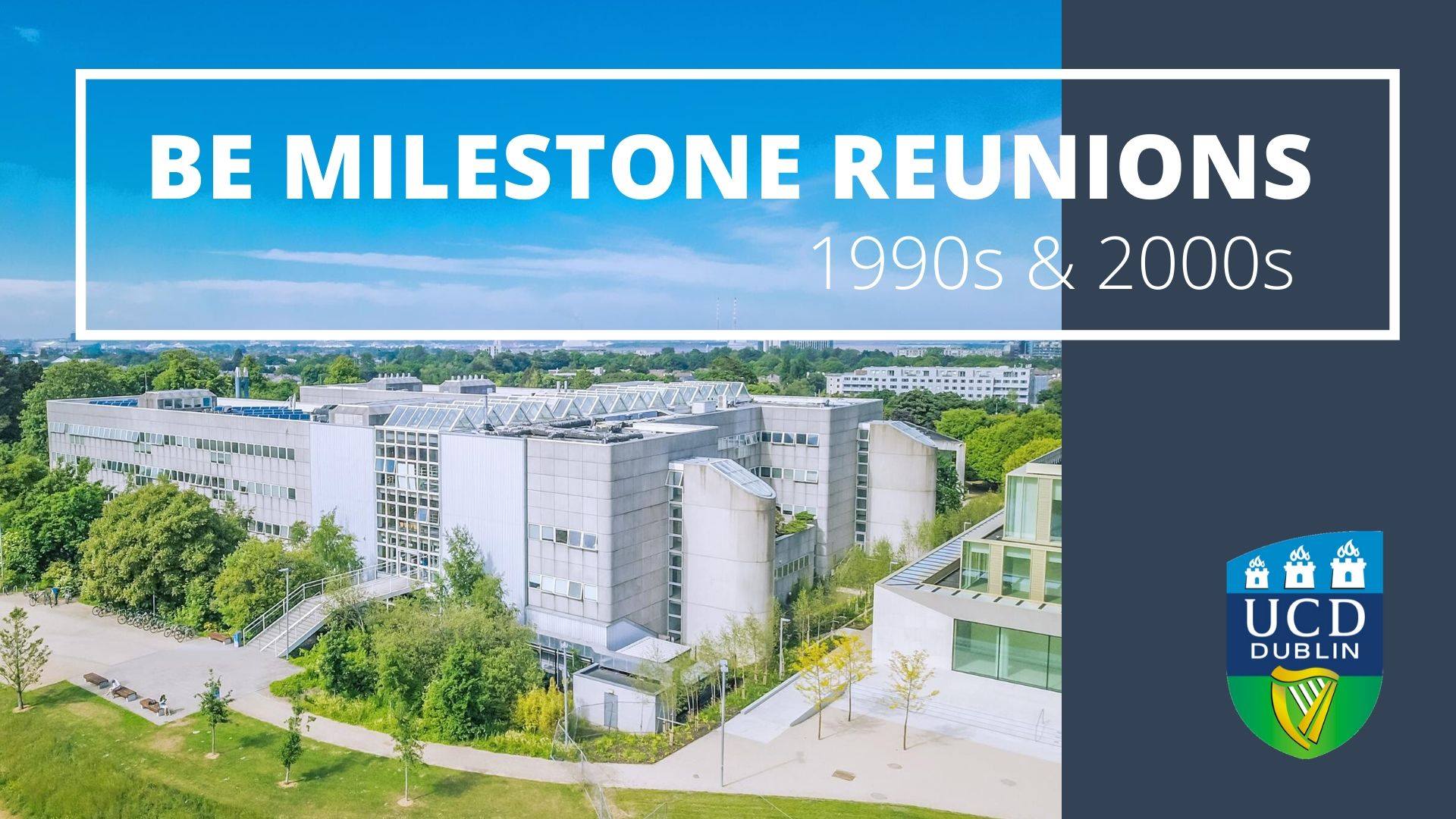 BE Milestone Reunions: 90s & 00s – Rescheduled
[This event was originally scheduled for 24 April 2020. However, following the Irish Government directive regarding Coronavirus containment efforts, UCD Alumni Relations suspended all events in March and April 2020. These are challenging times and the situation with COVID -19 is dynamic. We hope and expect that the rescheduled reunion will take place in November, but we will monitor the situation and keep you informed if anything changes.]
UCD Engineering will welcome the following milestone classes back to campus on 13 November 2020 for a reunion celebration!:
BE Classes of 1994 & 1995: 25th reunion
BE Classes of 1999 & 2000: 20th reunion
BE Classes of 2004 & 2005: 15th reunion
BE Classes of 2009 & 2010: 10th reunion
The event will provide you with an opportunity to renew old friendships and reflect on your time at UCD in a friendly, informal setting. There will be a special, optional tour of UCD Engineering, a chance to connect with members of the UCD Engineering faculty, and an opportunity for a class photograph.
Date: Friday 13 November 2020 (New, rescheduled date!)
Time: 18:30-20:30 (After 20:30, festivities can continue in the University Club bar)
Location: UCD University Club
Price: €15 (Drinks and canapes included)
Queries?: Contact Jenna, Alumni Relations Officer for Engineering and Architecture, by email (jenna.bjorkman@ucd.ie) or phone (+353 01 716 1696).
If you would like to avail of a tour of the UCD Engineering building, the tour will begin at 18:00 and will last approx. 45 minutes. Please indicate your interest in the booking form or email jenna.bjorkman@ucd.ie
Update your details
Recent move? New email address? To make sure you receive updates about your reunion and other UCD events, please make sure your contact information is up to date here.
Act as a class agent
Can you help rally the troops? Consider reaching out to your classmates via text, email or social media to encourage them to attend. We don't have updated contact information for your entire class so we rely on class agents to spread the word. View lists of 'lost alumni' for each class here.
Upload your memories
Do you have memories of your time in UCD Engineering that you would like to share? We would love to display stories, anecdotes, photos, posters, letters or any other memorabilia from your time as a student on the night. You can submit them online via this handy 'memory form,' drop into the Alumni Relations Office, or send via post.