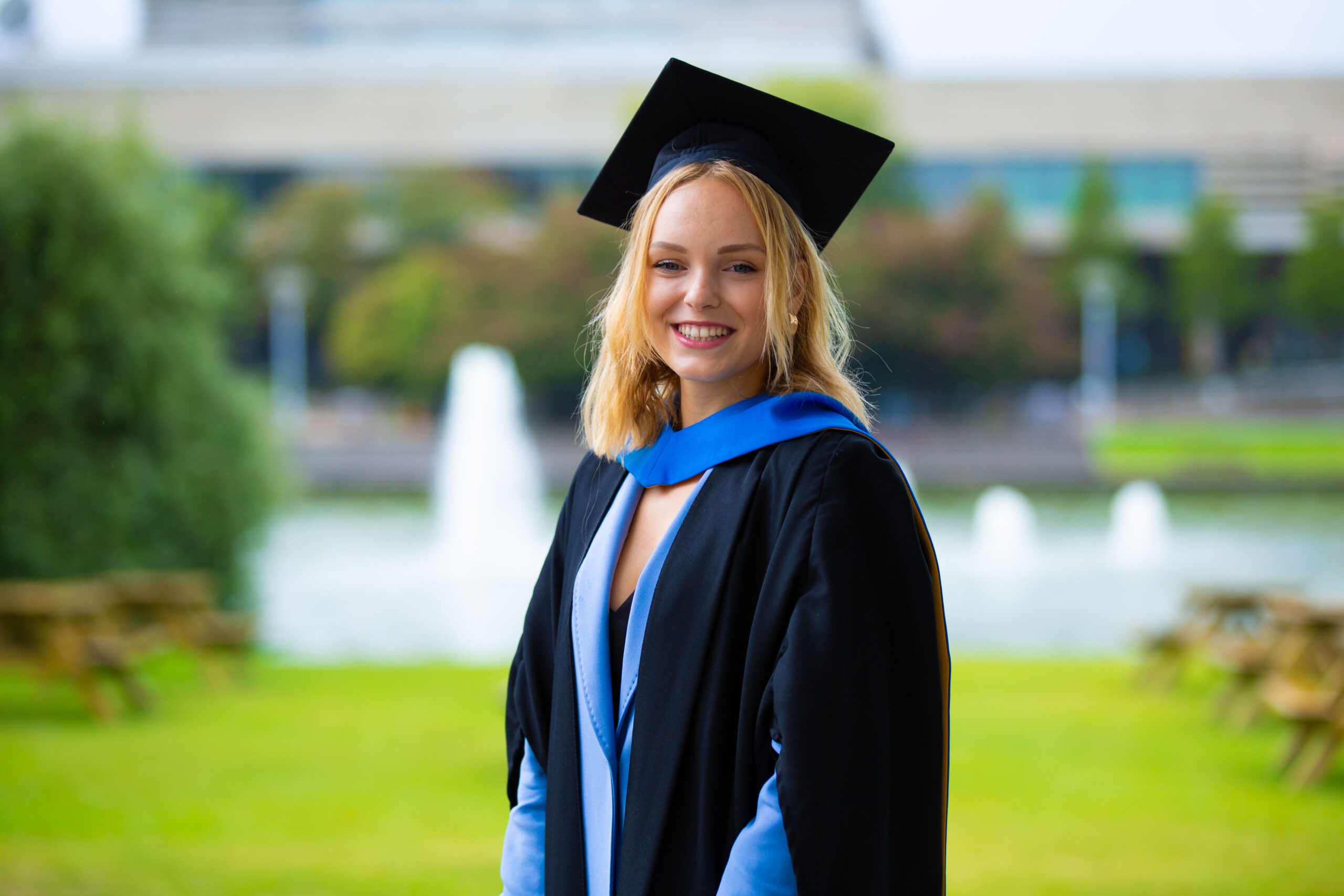 With war ongoing in her home country, Ukraine, Dariya Bazhenova took on a new role and spent her summer welcoming refugees to the UCD campus.
Originally hailing from Ukraine, Dariya Bazhenova moved to Italy at the age of seven and later came to Ireland as a teenager by herself to complete her education.
"At seventeen I had the opportunity to go abroad to improve my English. I decided to go to high school in Ireland so I went to school in Templemore, Tipperary."
She liked Ireland and the Irish culture so much that she decided to stay on and study for her undergraduate degree at UCD. 
A talented multilinguist, Dariya wanted to continue studying her favourite school subjects, languages, in college. To keep her career options open, she opted to study Business with French through the Commerce International programme at UCD Lochlann Quinn School of Business.
"[UCD] is one of the best universities in Ireland and I wanted to move to Dublin, especially after two years in Tipperary."
When teaching went online at the onset of the Covid-19 pandemic, Dariya returned home to Italy, where she kept busy by taking on an internship on top of her coursework.
"I couldn't just stay at home with Mom after two to three years living abroad, so I decided to do an internship in human resources."
Eventually Dariya was able to go on Erasmus, studying in Paris for a semester and then completing another internship through French where she focused on Sales and Business Development.
"The business was focused on the French market, so I expanded the product into Italy and some English-speaking countries."
While working as UCD Residential Assistant, Dariya received a call from her manager asking if she would be interested in working as a Key Liaison between Ukrainian refugees arriving at campus accommodation and management.
"All my friends were planning to go to Canada and America. I hadn't any summer plans, because of the war [in Ukraine]. My brother and Dad are still there. My Mam is fine, she's in Italy, but she's not 100% and so that's why I didn't want to leave Europe."
"When they arrived on the UCD campus…it was very, very emotional because I am involved in this…It's unfortunate that [the war] happened, but I had the opportunity to help my native country."
Reflecting on her UCD experience, Dariya said, "I am so proud of having contributed to this university and to the community that exists in UCD. To have given something, and to have received something back."
"Graduating from UCD is a stepping stone. It's one of the best universities in Ireland, and I am proud of myself."
Following her UCD graduation, Dariya will be returning to France to begin a Master's in Management programme at EDHC Business School. 
"It's in a small city in the north of France, Lille, and then from January I'll be in Paris for a year and a half. It's a two year program."  
"I am saying goodbye to Dublin for a while, but I might be back in the future."