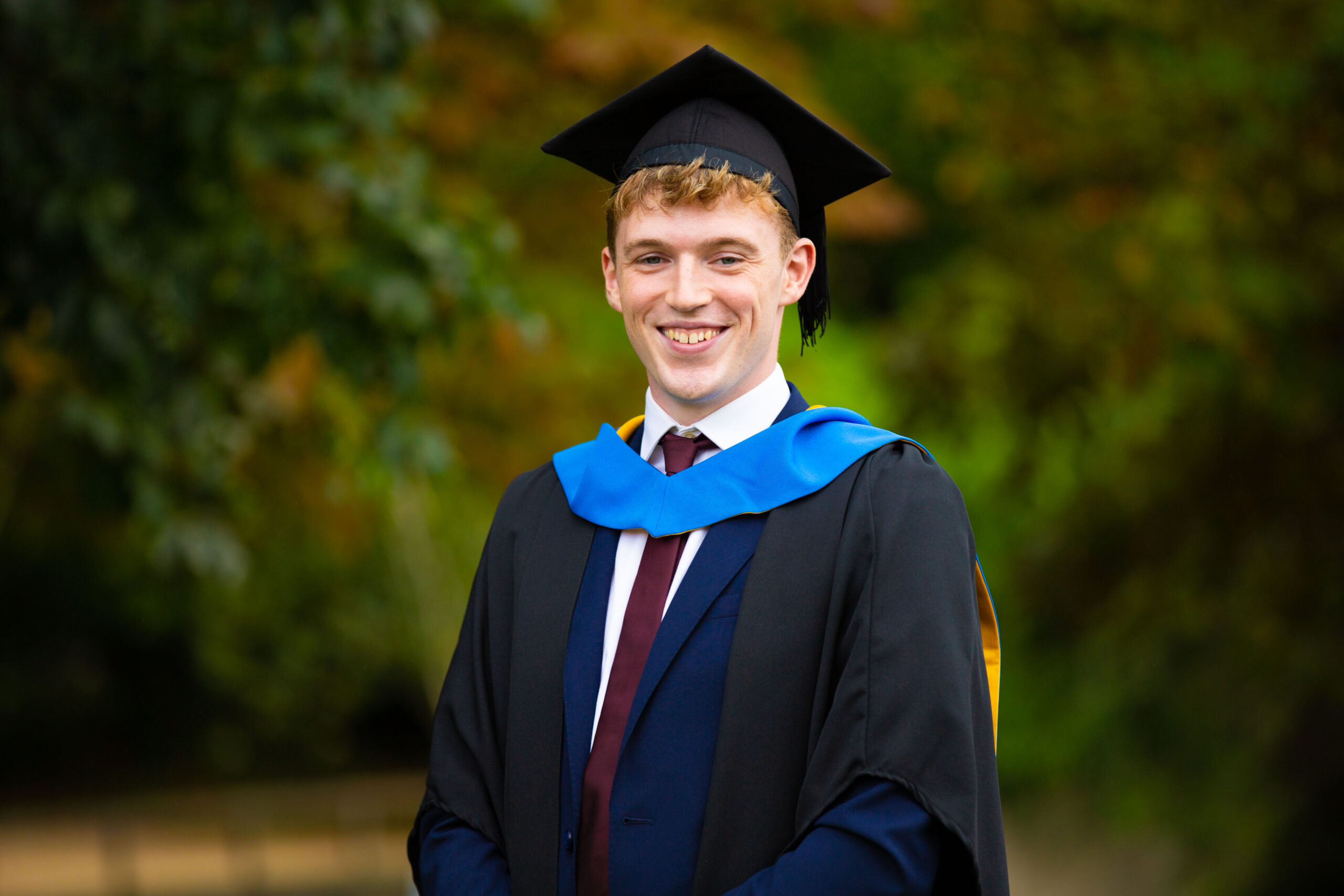 Cormac Gilnagh has worked hard to make his dreams of studying at university a reality. He has now achieved three degrees in law in the time that most students achieve one.
Having grown up watching American shows on TV, Cormac Gilnagh surprised his mam when he was young by asking when he would get his "trust fund". He quickly learned no such trust fund existed and to make his dreams of university come true, he would have to work hard and find financial support.
"The original plan was to do medicine. And then I remember seeing someone bleeding, and I was like, "Absolutely not"."
"UCD was always the end goal…I had an incredible experience going into the open day in Sutherland, and I just knew I was home already."
Going through the CAO offer process was gruelling. Eventually, Cormac got his papers rechecked, and received a 3rd round CAO offer to study at UCD. 
Despite his mam being partially deaf, she heard him cry out with happiness when he opened the offer.
With the offer in hand, HEAR funding and the generous support of the Cothrom na Féinne scholarship, college became a reality! His family were delighted for him.
"The day that I moved up to UCD, it was a whole family trip. My mam, my dad, my brother, my auntie and my cousin."
Cormac took up the BCL/Maîtrise course, a very demanding dual degree which afforded him the opportunity to study in two different countries and languages.
"Not only have I been to UCD, I've gone to France for two years, and none of that would have happened with any other university…I've ended up with three law degrees now, in the time that most people end up with one."
While he was studying at UCD, Cormac also worked four part-time jobs to supplement his Cothrom na Féinne scholarship. 
"I did that so I was able to fund upcoming years [of college], but I was able to take a back seat when I needed to. I knew I had the support from UCD."
One of these roles was as a Student Caller with UCD Foundation which gave him the chance to speak with hundreds of UCD alumni. He learned about their UCD experiences and shared his own. It offered Cormac the unique opportunity to raise funds to support students from disadvantaged and lower socioeconomic backgrounds, like himself.
"It was incredible to be able to hear [from alumni] who are doing incredibly well, and they want to give back to people who want to go to UCD."
The scholarship he was helping to raise money for, had made University possible for him.
Throughout his studies, Cormac was inspired and encouraged by lecturers and staff at the UCD Sutherland School of Law including Kevin Roche, Maureen Reynolds, Associate Professor Niamh Howlin and Dr Cliona Kelly. 
"Whenever I needed to go and talk to a lecturer or email them, they were more than accommodating and they were always so giving with opportunities." 
He also completed internships at several law firms and took part in the RTÉ One series 'My Uni Life' which followed the stories of students across Ireland and was hosted by the Irish Universities' Association. 
This autumn Cormac will be returning to Toulouse to continue his postgraduate studies before returning in 2024/2025 to become a trainee solicitor with Arthur Cox LLP. He has a particular passion for the field of property law. 
Cormac is keen to encourage new UCD students to get involved and try new things while they are at university.
"The sooner you try new things, the sooner things are going to feel right for you. It'll shape your way, your life and your career, and your studies in a way you don't expect it to."