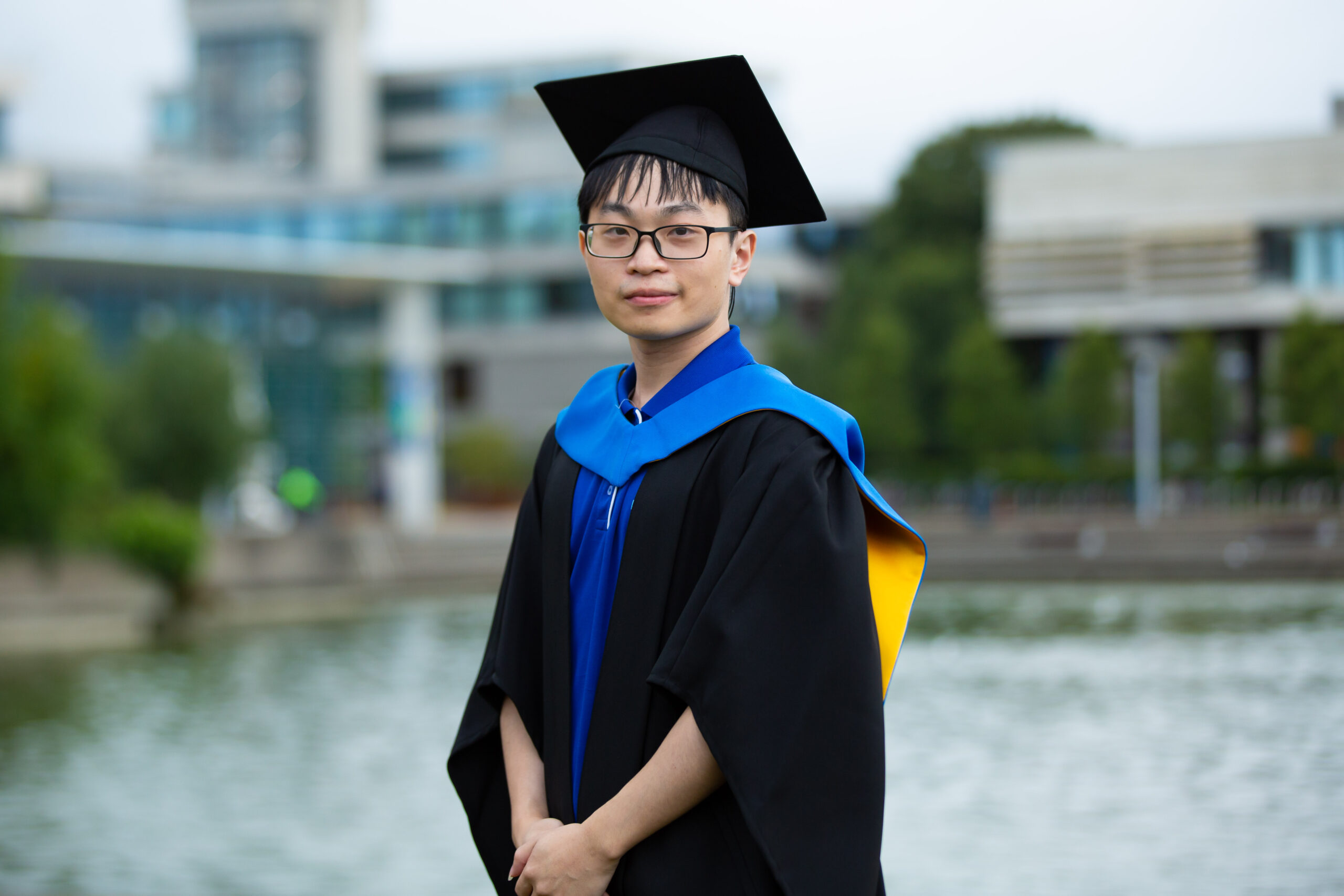 After coming from China to study horticulture at UCD through the Guangzhou-Dublin International College of Life Sciences and Technology (GDIC), Chen Chen is looking forward to graduating and pursuing his next steps.
Chen Chen is proud to be one of the students graduating from the collaborative programme between UCD School of Agriculture and Food Sciences and the South China Agricultural University in Guangzhou, the capital of Guangdong province in South China.
This partnership was established to create the Guangzhou-Dublin International College of Life Sciences and Technology (GDIC). It offers dual-degree programmes in horticulture, biological sciences and food safety & security.
Chen spent two years studying in Guangzhou before arriving in UCD in 2020. 
He shares what it was like to make the transition to studying in Dublin after starting his degree in China: "I had to study fully in English which was a challenge for me at first – there were many professional words that were difficult for me to understand. I had to review lectures and materials over and over again." 
He has grown a lot over the time he has been studying, and said that "UCD broadened my horizons and improved my English level."
Focusing on his course, Chen's initial interest in horticulture was in flowers, but he learned quickly that "it's not only about the flowers, but also about growing vegetables, fruits, and even mushrooms."
Alongside understanding more about the growing techniques, Chen had the opportunity to appreciate how integral plants of all kinds are to maintaining a healthy life. 
For his final year dissertation, Chen started a project to learn first hand about horticulture and endangered species protection. Inspired and encouraged by one of his lectures, he worked on protecting endangered species in Ireland, specifically the Cottonweed.
He explains, "It is quite an important species for the coastal environment, however the habitat has become smaller and taken by other species; there are only a few in the wild."
It all started when one of his lecturers "asked if I was interested in growing and protecting this precious plant. I started growing them in Rosemount, and finally I successfully grew them in the greenhouse." 
Chen thoroughly enjoyed his time in UCD, though it was a struggle to navigate studying remotely on Zoom during the pandemic. Through the return to face-to-face lectures and careful selection of elective modules, he was able to explore other interests. For example, he "learned Japanese and tried to understand more about linguistics."
It has been two years of discovery for Chen. Everything was different, especially the cuisine! He's eaten quite a lot of potatoes, tomatoes, and lamb over the last two years, but all in all he's glad to have had the experience to try new things here.
Chen's time studying at UCD helped him understand his interests and define his career plans. He plans to continue graduate studies and to "learn more about horticulture and related knowledge of soil science, landscape science, biostatistics and so on."
He has accepted an exciting offer to start postgraduate studies in Soil Science at the University of Edinburgh in Scotland. After studying there, he hopes to find work in his field of interest in the UK or to return to Ireland. 
During his time here, he found that "Ireland is a very nice place; people are gentle, kind, and friendly." He shared a fond memory: "When I was talking in Dublin City, a very kind gentleman stopped me and asked if I was lost. And I explained that I was just looking around. I was quite impressed by his kindness."
While studying at UCD Chen made friends from all around the world, including Ireland, Italy, and Nigeria, and is so excited to be graduating with them.