The sudden and recent passing of UCD Engineer, Prof Tom Brazil, brought a sense of loss to the UCD Engineering family. It was the kind of loss that is felt when someone, who has made a true impact on the lives of others, silently passes away.
Tom had only recently retired as Professor of Electronic and Electrical Engineering at UCD, sharing thirty-seven years of his professional and personal life with the University. Although he was officially retired, Tom remained connected and active within the faculty.
UCD Engineering first encountered Tom in 1969. He was a determined and focused young man, with a strong sense of duty, responsibility and a curious mind.
The steeply sloped lecture Theatre, known as Room 53 in Merrion Street, became Tom's home for the next four years. It was the place where Tom first encountered many of his mentors, academic heroes and best friends. They say that you can spot a UCD Engineer by their enquiring mind and their desire to innovate. Tom was the embodiment of the typical UCD Engineer, coupled with a wonderful wit and an innate ability to see the funny side of everything, he became a popular student during his time in UCD.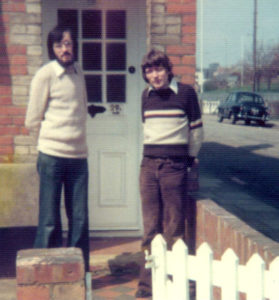 Professor Anthony Fagan shared an almost 50-year friendship with Tom, one which brought them from UCD student to UCD academic. They studied at undergraduate and post graduate level together and both went on to build their academic careers within UCD. Theirs was a true friendship and although Tony was one of a number of people who called Tom his friend, he is probably one of few who can say that he was privileged to have walked beside Tom, as he journeyed through the most formative years of his life. 'I remember sitting there and noticing a certain student down below me who seemed to be taking prolific notes at every lecture. Once when I had missed a lecture and needed to catch up I thought I'd ask to borrow this student's notes. What a great idea that turned out to be! The notes were accurate and comprehensive. The student of course was Tom and we became good friends after that. I now know that everything he did in life, like those notes, was accurate and comprehensive.'
Tom was a hard-working student and a high achiever. Aged just 20, he graduated in 1973 at the top of his class. Both he and Tony commenced their PhD studies under the late and eminent Prof. Sean Scanlan. Prof Scanlan was a new arrival to UCD Engineering and became a personal and professional mentor to Tom, throughout his life. Tony recalls the summers of 1975 and 1976 as being particularly memorable, from the time spent in the 'tiny, airless and effectively windowless'  postgraduate room in the basement of Merrion Street, to the afternoons spent escaping the heat on Dollymount Strand, true friendships were formed during that time and many adventures were had.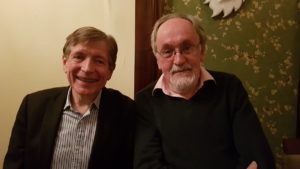 'I remember once there were four of us, including Tom, camping in Kerry. You can't spend an evening in a tent, so we would go to the pub. One night we rolled out of some establishment at midnight and I don't know what possessed us, but we decided to call into Met Éireann's weather station at Valentia. The staff were actually very nice and welcomed us by saying we had called at a good time as they were about to launch a weather balloon and we were welcome to watch. They started to give us simplistic explanations of what they were doing but after some very tough advance questions from Tom about telemetry and about the principles underlying atmospheric measurements using microwave radiometry they knew that in Tom they weren't dealing with the average person who might wander in from the pub at midnight! Who is his guy, I'm sure they wondered!' 
Tom wore many hats during his life, Tom the scholar, Tom the researcher, Tom the educator and Tom the International Superstar! In 1979, following a two-year stint as a research scientist in Plessey Research, Northampton, Tom took an academic position at the University of Birmingham. Tony calls this moment 'the emergence of Tom the educator!'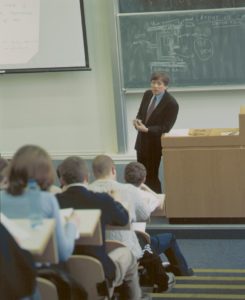 Tom returned to UCD in January 1980 and took the position of lecturer in the Department of Electrical Engineering. Tony cites this as the beginning of 'Tom the international superstar'. It was during his time in UCD that Tom founded the RF and Microwave research group, carrying out fundamental and applied research into radio transmitters and receivers. The work that Tom and his research group carried out helped to shape the world of mobile communication.
By all accounts, Tom was very modest about his great achievements however, Tony recalls receiving a message from Prof David Rhodes, 'a huge figure in Tom's field' who said that 'Tom was one of the brightest and most intelligent microwave engineers of our time'. Tom was noted for being generous with his time and his knowledge, 'Good academics help others to succeed' was Tom's mantra, throughout his time in UCD. His research group helped to produce some of the brightest and best research graduates, PhD's and Masters and helped to seed a very advanced mobile technology industry in this country.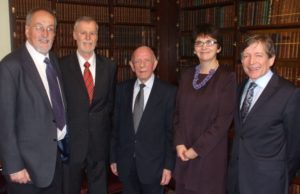 Tom's sense of always wanting to give back manifested itself in the plethora of 'extra-curricular' positions which he held throughout his career, positions which extended beyond the realms of teaching and research. Some of the positions which Tom held were; Professional Representative on the UCD Governing Authority for three five-year terms, Senate of the National University of Ireland, member of the RIA and fellow of the IEEE, secretary of RIA and Chair of their Research and Education Working Group. These were all voluntary positions, which were only granted to a small number of high performing academics.  What this illustrated was the energy, drive, ambition and altruistic aspects of Tom's character, traits which colleagues and friends of Tom would immediately defer to, when asked how best to describe him.
Tom did not take the responsibility which came along with these positions lightly and was able to balance these responsibilities, alongside the duty of being the Head of the School of Electrical and Electronic Engineering in UCD. This was a position which Tom held for fourteen years. 'He was no caretaker head. He chartered a steady course for the school through choppy waters of rapid and radical change all the while unwavering in his maintenance of sound academic principles. The worlds of engineering and academia are richer because he chose to work there.'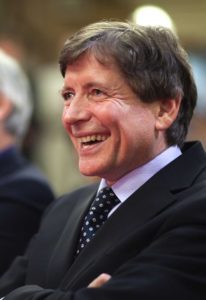 Tom retired from the position of full-time professor with UCD last September, but he always maintained a strong connection with UCD, and UCD with Tom. He will be remembered by his students as a talented teacher, an inspirational mentor and someone who was always generous with his time. The strong affection in which the students held Tom was never more evident than at his funeral, when they organised their own guard of honour, as a tribute to a teacher whom they held in the highest regard.
Tom's colleagues were his friends and his friends were his colleagues. Tony illustrates this by reflecting on the fact that 'Everyone who knew him regarded him as their friend'.  UCD Engineering has lost a true friend, however Tom's legacy will continue to live on through his achievements, his research and through his many friends and students who will miss him dearly.
'As humans we have limited time and energy; do something useful'- Prof Tom Brazil
Some of those who were close to Tom in UCD Engineering have kindly agreed to share their fondest memories of Tom with us.
Having joined UCD Engineering from an industry background to take up a career as a new academic almost 20 years ago, I can safely say that over my academic lifetime, Tom has been a constant point of reference until his sudden passing only 6 weeks ago. What do I think of when asked about Tom? Key words/phrases such as academic excellence, fairness, integrity, politician, family (both his own and the wider UCD) and fun all make it into my top 10. For academic excellence, Tom made no apologies in arguing in favour of the on-going need to insist on attaining the highest academic standards in education and research, and for the necessity of UCD Engineering to continue to build on its hard won reputation and International standing. That reputation was built over the decades on the work and contribution of many and, in the past decades owes a considerable debt to the influence and recognition given to Tom's own work and expertise in the microwave field. Nonetheless, when approached with issues faced by students (and staff), Tom would strive to find the most effective and supportive solution available, albeit without compromising on the required outcomes. A truly fair individual who mastered the judgement of Solomon frequently.  As a UCD graduate, Tom's network within, and his knowledge about, the University and Engineering alumni was encyclopaedic and, initially as a newly appointed Head of School, I found that his council, advice and support was both freely given and hugely supportive. With his passing, it is this advisory and supportive role, in combination with his humorous quips, that I will miss most strongly, having continued to rely on his input through my more recent roles – Prof David FitzPatrick, Principal UCD College of Engineering and Architecture.
Tom was an outstanding researcher, and he grew within the School of Electrical and Electronic Engineering a culture of research excellence.  In addition to that, he cared deeply about students and colleagues, and through his warm personality and light personal touch he developed the School as a supportive and friendly community.  It is very difficult to combine both of these features –  the drive for excellence and the caring support – but Tom succeeded in this both in his own work and in the culture he inspired around him.  This is his legacy for UCD Engineering – Prof Orla Feely, Vice President for Research, Innovation and Impact.
Tom was an inspirational leader within the School and University over many years. He guided our programmes, developed major new initiatives and was a trusted mentor to so many of us over the years. Throughout various restructuring and changes in the University Tom was always a voice of reason and vision, advocating for and ensuring adherence to the highest academic standards. The impact and legacy of Tom's contribution will be enjoyed by all of us for some time to come and is evidenced in the School, in his students past and present and in Tom's immense contribution to his field. The culture of integrity, support and excellence that Tom promoted and developed remains as strong and vibrant as ever and will be a compelling legacy for UCD and all who worked with Tom – Prof Andrew Keane, Head of UCD School of Electrical and Electronic Engineering 
Tom was not just a well-respected scholar or a great leader. He was a treasured friend and a great mentor. He had guided and helped many people to build their career and overcome difficulties in their lives. He often put his own interests aside to allow the younger generation to grow and shine. His wisdom, kindness and care benefited many of us, particularly young students and colleagues. He was a true gentleman. People often said, in this world, every single of us could have both friends and enemies, but for Tom Brazil, in his 65 years', there was never ever a single enemy. He always kept smiling and made you feel warm. If any conflict arose, he always effectively resolved it. As the former President of IEEE MTT-Society Dylan Williams said, Tom was a gentle soul to everyone – Prof Anding Zhu, School of Electrical & Electronic Engineering
I was privileged to be taught by Prof. Brazil in the second year of my undergraduate degree. He gave my year group our first introduction into semi-conductor technology a field he had grown up with and exuded a passion for. Despite his great achievements he lectured with a great humility and appreciation of the trials and tribulations that student life brought. He once remarked, to a rather unresponsive lecture theatre, that he'd seen us all in town the night before while collecting his son, all too aware of the goings on of 'freshers week'. His commitment to students was evident in his support of our student society 'ElecSoc', Prof. Brazil served as senior treasurer since its establishment many years ago. He provided great support to myself as I took on the role of auditor of the society in May of last year and despite being semi-retired always went out of his way to meet with us and check on our activities. Reflecting with classmates, we all agreed as well as being dearly missed by his family, he'll be a great loss to the students of UCD Engineering and that we'll be forever grateful to him for the knowledge and passion he imparted to us as his students – James Hayes, Auditor of UCD ElecSoc Student Society