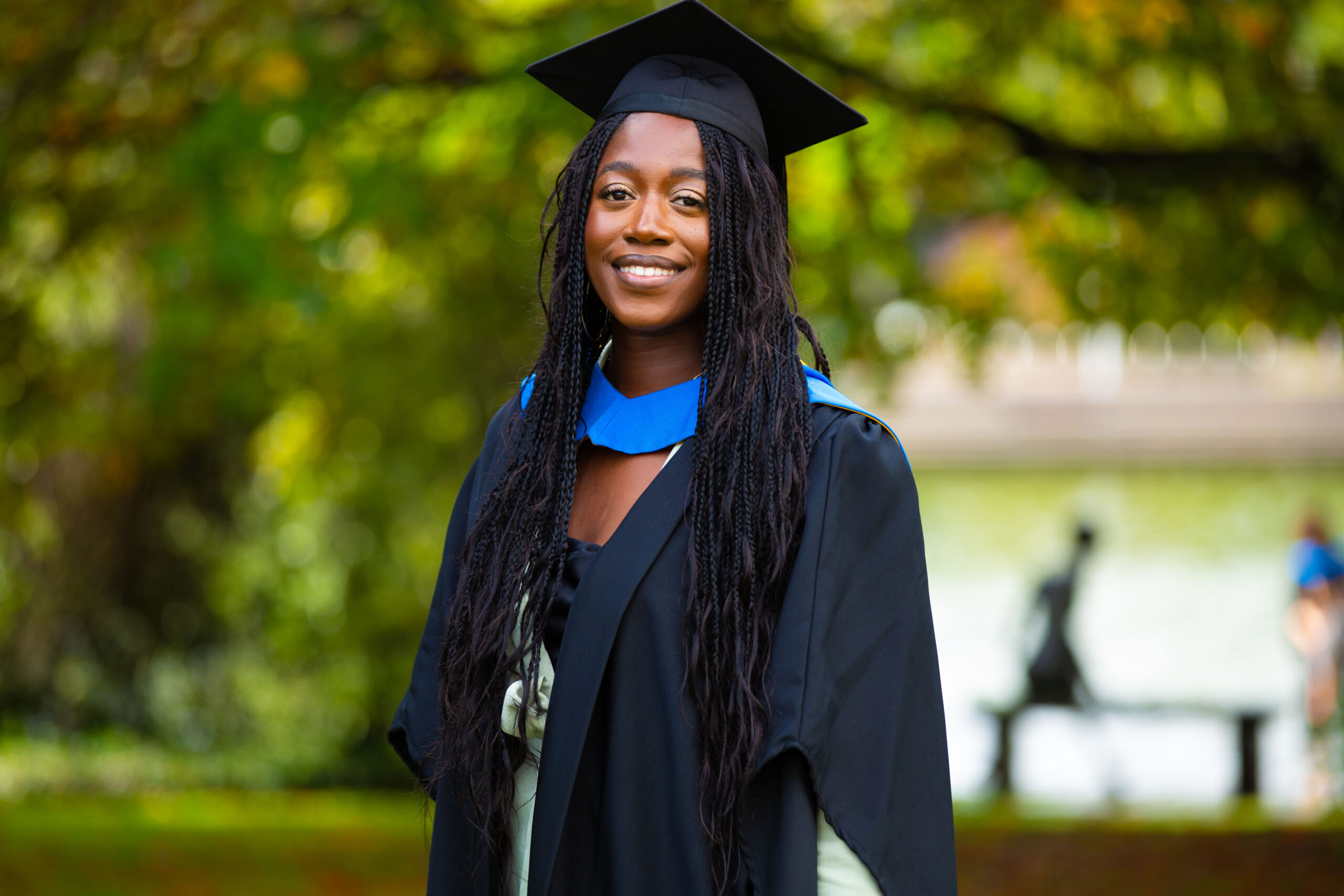 Look out London! Anu Bode Favours is graduating from Computer Science at UCD and is on her way to London to study for an MSc in Health Data Analytics and Machine Learning at Imperial College.
Anu Bode Favours came to Ireland when she was 4 years old and hadn't left the country since, until this year when she went to Dubai. And now she's heading off to London in October. 
Her life has been full of surprises, but she feels she's on the right track now. 
Initially, she was "hellbent on Medicine" but when the CAO offers came out and she didn't get the course, she was gutted. The BSc Computer Science with a specialism in Data Science at UCD was the next best fit.
With a bit of encouragement from her dad and her mom, she is happy to report that now she believes, "it worked out for the better." 
"In 6th year it's a really big decision to make…you just have to do what's best for you in the moment." 
Reflecting on her undergraduate experience, Anu shares: "Initially I found the course really difficult. It was a very big jump and I don't think I realised there would be so much Maths. So first year was a real struggle for me, second year I got more comfortable and had more of an understanding of the concepts, and it was third year where I really found my stride. When we chose I streams, I chose data science, and I think that served me a lot because I chose something that I was genuinely interested in to combine all my interests together."
"Intro to Python was my favourite. We had to do big projects, but we got to see the results. It was really rewarding." 
Another satisfying challenge along the way was her final project on a "time series analyser" which she explains, is "a way of presenting data over a certain period of time to understand and observe data." Impressively, she made a website to drop data files and create the X-Y axis; an easy way to run the data. 
Anu was actively involved in a number of co-curricular and extracurricular activities at UCD. Having come through the Access route, she became a digital ambassador, a science student leader, got involved in the Christian Society and the African Society, and even did a campaign with the HEA focusing on women in pStem.  
All of these projects, she says, "made [her] experience in UCD even better." 
One of the obstacles she faced in first year was commuting from a small village in Meath. 
"There was only one bus to my village and one bus back… so it was difficult to get involved."
Notwithstanding the housing crisis, "if I were to give advice to students it would be to live as close as possible… or at least accessible with more regular bus times…college in general is not easy. There are fun parts, but it's tough." 
She experienced this in final year, when she really felt burnt out and genuinely didn't know how she was going to get through it. 
"It is a testament to the people I have around me, all the people I have supporting me, helping me, and pushing me." 
Lately she's been doing an internship in NHS Digital and this further solidified her career choices. She explains that, "with STEM I was able to combine my interests and pursue things I really love." 
In October, Anu is off to Imperial College London to do an MSc in Health Data Analytics and Machine Learning. 
"I couldn't have done all of this without UCD, and all of the caring people I have around me at UCD." 
Next big challenge is finding a place to live in London for her Masters. And after that?
"… I hope I get a job."
So, look out London Alumni Chapter members, Anu is on her way and looking forward to meeting you all!